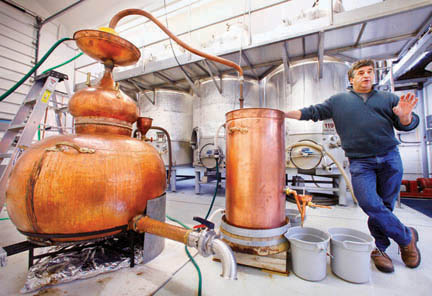 When the flame was lit under the giant copper still, Philippe Coquard's thoughts drifted.
He was about to find out if an old dream could be bottled, and opened on a day years later with the same sweetness intact.
The French-born winemaker recalled a time about 20 years ago in France, visiting his family and checking out distilleries with his father-in-law Bob Wollersheim. The two had enjoyed a little after-dinner drink of cognac and different brandies, and wondered whether they could make their own.
"I remember exactly the time and place we were talking about how it would be nice to make our own brandy, and make a Wisconsin cognac-style of brandy," Coquard said.
But for winemakers, brandy was a new venture, an exciting idea that was only a dream.
The idea never left Coquard's thoughts. In 2009, he was involved in getting a Wisconsin law changed that said distilled products could not be under the same business structure as a winery.
Once that hurdle was cleared, the flame was lit in 2010 on a copper still that came from Portugal. And next Saturday, Coquard Brandy will make its debut at Wollersheim Winery near Prairie du Sac, which began in 1972 when Bob and JoAnn Wollersheim moved their family to the property where wine was made starting in the mid-19th century.
"The sad part of this is, (Bob) never saw the result of the dream. He passed away in 2005," Coquard said. "We never knew if (this) would ever be possible."
When he purchased the Portuguese still from a friend in Italy, Coquard was a winemaker in a new world.
"In the moonshine world, everyone says you can make brandy with anything," he says. "Well, maybe not."
But if you start with a good wine, he believed, you will create an outstanding product.
Making brandy is not unlike making moonshine. But forget any image of Tickle and the rest of the cast on the TV show "Moonshiners" hiding in a woods making liquid fire.
"We call it legal," Coquard said with a laugh. "Legal moonshine. But you know our equipment is very basic and that's part of the charm and beauty of it. It doesn't have the bells and whistles."
When he first set up the still, Coquard didn't know what to expect — how long do you boil the wine? How long to cool?
"Really, what happens next?" he said. "You learn as you go."
For the first batch, Coquard chose grapes native to Wisconsin that the winery grows. The brandy, he says, will be a purely Wisconsin product. St. Pepin, La Crosse and La Crescent grapes are used in the process — all grapes created to grow in the state's harsh climate.
Unlike making wine, however, there is no vintage comparison for a product like brandy. "Quite often the expression of a specific vintage is expressed by the growing season in the fall," Coquard said. "If August and September are dry and hot, you have a beautiful vintage. With regards to brandy, we have to pick the grapes before they are fully ripe."
For every 100 gallons of wine, 14 gallons of brandy are made. For his first year Coquard made 350 gallons of brandy.
And in THE brandy-drinking state, the supply will not last long. "Our hope is we have enough for the day," he said of the event next weekend.
Wisconsin is such a brandy state that it's Korbel's top customer: The California company ships a third of its product here — about 139,000 cases a year.
But for staple drinks like the old fashioned, a popular bar drink, brandy drinkers will now have a local choice, as well.
The first time he put his nose to the brandy and took a sip, Coquard was surprised by how aromatic and fruity the taste was.
"Which is something you would not expect," he said. "You're drinking a spirit at 120 proof and you think it's going to be hot fire. But it was impressive and shocking to me and a lot of us, like 'Wow, it's already sweet and fruitful.' I think the cause of that, or the reason for that, is starting with good wine."
The brandy has sat in oak barrels for two years, the requirement for the distilled wine to be called brandy.
The plan is to bottle all of the brandy from the first few years, keeping only a few bottles back for keepsakes, Coquard said. But with bigger production in the future, he will get into 5-year-old brandy, and also 10.
"Right now we didn't feel we were going to have enough (to keep any back). Knowing that it's going to sell out in a day or a few hours," he said. "I wanted to make sure we had enough for the market."
To make enough brandy, Coquard says the winery will need to get grapes from other growers in the state. And he's encouraging people to grow more grapes here.
While making brandy is a new venture at Wollersheim, the idea is slowly moving across the state. Jon Hamilton, owner of White Winter Winery in Iron River and president of the Wisconsin Winery Association, said he is going to be making some brandy products in the near future.
"As far as wineries go there are a couple of us looking at (making distilled products). I just sent in my application," he said.
"It's a natural extension for wineries to do that, because we can attach this to what we do already.
"Philippe has done a fabulous job, I was down there a few months ago working with him on some projects."
The first winery in the state to release distilled products was AeppelTreow Winery and Distillery in Burlington.
"There are more all the time," said AeppelTreow owner Charles McGonegal, who started making distilled products in 2009, releasing their first vintage a year later.
"Still, most of the distilleries in the state are stand-alone distilleries, but I know a lot of people talking about the combination like we've done and Wollersheim has done," he said.
"I think you will see some in-state grown brandies in the future where a winery works with a distillery."
McGonegal also has kept a Wisconsin theme with a whiskey made out of sorghum grown in Elkhart Lake. The winery also offers an apple brandy and a pear brandy.
Coquard said he hasn't heard of a lot of his friends in the wine-making business wanting to get into brandy, or other lines of distilled products.
"So, I'm not sure how many other wineries will go into brandy making. My view is the more the better," he said. "Would be nice for Wisconsin, being known as the brandy (drinking) state, why not make it here as well?"
The brandy Coquard makes will not carry the Wollersheim name. He said that name is known for quality in the wine world, so why not start a new brand for the distillery? The Coquard name on a product is the start of a new era, he says.
This era may include flavors like apple brandy in the future, and perhaps bourbon. But they definitely will stay true to an all-Wisconsin theme.
When he was making the brandy, Coquard said he couldn't help but think of Bob throughout the process. This is a sipping brandy, like they enjoyed after meals.
"As pure as it gets, from the vine to the barrels," Coquard said. "There's nothing in between. No artificial colors, or artificial sweeteners. No monkeying around. As good as can be."