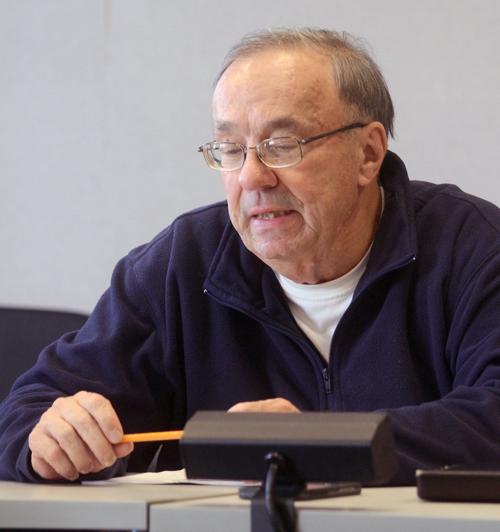 Sauk County Board Chair Marty Krueger misrepresented a statewide organization's position on a local ballot initiative Monday in his effort to kill the proposal.
During a meeting of the board's Executive and Legislative Committee, Krueger spoke sternly against a proposed countywide advisory referendum on redistricting reform. He said the Wisconsin Counties Association does not support it.
"Well, as a member of the executive committee of the WCA, I want to tell you that WCA is not supporting this," Krueger said Monday. He said the organization's executive director, Mark O'Connell, told him the proposal would only "irritate" state lawmakers.
O'Connell responded to questions about Krueger's remarks in an email Tuesday. He said the WCA does not take a position on the proposed Sauk County advisory referendum, but supports the county's right to include it on spring election ballots if it so chooses.
"WCA does not support or oppose individual county decisions regarding placement of an advisory referendum on the ballot related to redistricting," O'Connell said. "WCA supports the ability of a county to have an advisory referendum on any issue the county deems appropriate."
The WCA itself passed a resolution in September — as did the county board — urging state legislators to enact nonpartisan redistricting reforms. So it's not clear why the organization would oppose the Sauk County ballot question on the basis that it would "irritate" lawmakers.
O'Connell did not answer questions about that. "These questions are best directed to the state Legislature," he said.
Krueger has sparred politically with the county supervisor who proposed the advisory referendum, Peter Vedro of Baraboo. If approved, Vedro's resolution would require a question on April 3 ballots asking voters whether Wisconsin lawmakers should enact non-partisan reforms to the way political boundaries are drawn.
Despite vocal and emailed support from 13 members of the public Monday, the three committee members present did not send the resolution to the full board for its consideration. Members described it as a wedge issue outside the purview of county government, and said ballot questions should come from citizen petitions, not the county board.
However, at the request of several supporters, the committee agreed to reconsider the resolution again prior to next Tuesday's board meeting when all five of its members are present.
Asked to respond to O'Connell's statements Tuesday, Vedro said he read them "with great relish." He said Krueger "seems to have confused his own personal agenda" with that of an organization he is involved with.
Krueger is secretary-treasurer of the WCA's Board of Directors, and previously served as its president.
Also during Monday's meeting, Krueger said that former Republican state Sen. Dale Schultz of Richland Center, a champion of redistricting reform, "did not advise" the county board to pass the resolution.
But when asked directly about his position in a phone interview, Schultz neither supported nor opposed the proposal. He said he would "decline on giving (the county board) any advice" on the matter.
"I'm not aware of this resolution exactly, so I want to be clear about that," Schultz said, adding that he believes the best way to encourage redistricting reform is through educational efforts and local government involvement.
Krueger, who is running unopposed in the April election, did not respond to multiple requests for comment Tuesday.
The board chair's comments came just days after he was forced to amend an affidavit involving a lawsuit over documents because it contained inaccuracies. A recording disproved some of his sworn statements.
Editor's note: This article was changed Jan. 12 to reflect the committee as a whole did not approve the measure for consideration by the full Sauk County Board.
Follow Tim Damos on Twitter @timdamos
Be the first to know
Get local news delivered to your inbox!