The dirt on Devil's Lake Bistro's latest innovation is that there isn't any.
The downtown eatery is growing its own produce in a hydroponic garden at owner Rebecca Powell Hill's rural Baraboo lavender farm. Lettuce and tomatoes are grown in tubes under lights, giving Powell Hill control of her costs, access to homegrown produce year-round, and fresh ingredients for bistro dishes.
"You want to know who's growing your stuff," she said.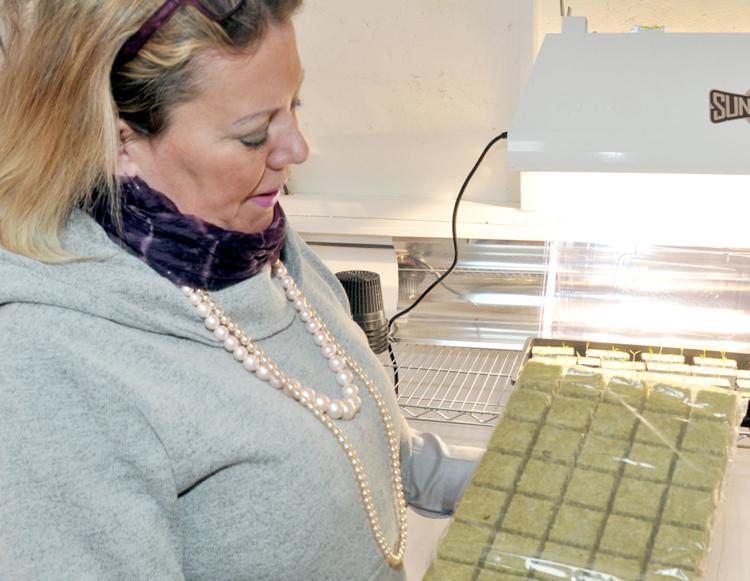 She and husband Jim Hill recently bought a former garlic farm next to Devil's Lake Lavender. There they're transforming an 1895 farmhouse into a rooming house and an adjacent outbuilding into a hydroponics operation. She had long considered the move, but this year's romaine lettuce recall prompted her to act. The bistro will close this week to make the transition, reopening April 23.
"It made us think about the dangers of not knowing exactly where your food is coming from and knowing the grower," she said. "We never want to use anything with pesticides or herbicides in our kitchen. We had to destroy hundreds of dollars of product in last year's recall and there was no reimbursement."
Using produce from the garden will decrease the restaurant's food costs, which can run more than 40 percent of gross revenues. The cost of organic vegetables, lettuces, tomatoes, fruits and herbs skyrockets in winter.
Powell Hill is now growing kale, iceberg lettuce, herbs and tomatoes. Over the summer, she'll continue a longstanding partnership with a local strawberry farm, but in winter she'll be able to grow them herself. Bistro chef Trisha Churchill is developing new recipes and uses for the hydroponic products as well as using standards like watercress sandwiches.
"It isn't just cost that is driving us," Powell Hill said, noting that she strives to make the restaurant environmentally conscious. She has discontinued serving straws at the bistro and begun using biodegradable packaging. Uncooked spaghetti has replaced plastic stir sticks in the coffee.
After participating in a beach cleanup along Lake Michigan with her daughter, a Marquette University student, Powell Hill was shocked to find so many plastic straws.
"I decided over a year ago, the bistro was not going to contribute to hurting the environment in that way, or any other thing we could do to reduce plastic use," she said.
Using LED lighting and a nutrient system, the hydroponic garden can produce 10 pounds of herbs per week and 140 heads of lettuce per month. The grow time for tomatoes, romaine and herbs is 23 days.
"You literally put the plant pod in and watch it grow," Powell Hill said. "The plants grow two to three times faster than crops in a field and use 90 percent less water."
Going hydroponic was a logical move for Powell Hill, whose lavender farm already produces fresh ingredients for the bistro's lavender-themed menu. The Fourth Avenue eatery is part of a robust trend that has seen retail giant IKEA begin growing hydroponic lettuce for use in its salads.
"My adult children are both vegetarians," she said, "and that is a growing market that is not going away."