Business partners Brian Buchanan and Brett Williamson are bringing to Baraboo the sport that sparked their friendship, a pastime Buchanan said could become "the new bowling."
The friends opened 608 Axe Throwing on Oct. 15 at the end of a nondescript strip mall on Broadway Street, near the Courthouse Square. They remade the former office space with dark greys, bright reds and natural woods to match the plywood around five single lanes, separated by metal cages, and one double lane with its own lounge corner.
"The sport is basically for everybody, for anybody," said Buchanan, a Baraboo resident for the last six years. While it carries a stigma, he said axe throwing is fun and easy to learn.
"You could walk in the door at any moment and within a half-hour you might beat one of us, who have been doing it for so long, because you might not realize how good you are at it. It's a sport like no other, for sure," he said.
When customers arrive, a staff member will greet them and talk them through the required waivers before teaching them the safety rules and how to play, Buchanan said. Only one axe should be thrown down a lane at a time, according to the first rule. No one should be handing an axe to anyone else; instead, put it in a bucket for the other person to retrieve. Don't cross the red line until the other person throws and the axe comes to a complete stop. And don't walk behind anyone while they're throwing.
"Safety and training are the most important aspects to this because if you're trained right and you feel safe, you're going to do it right every single time," Buchanan said.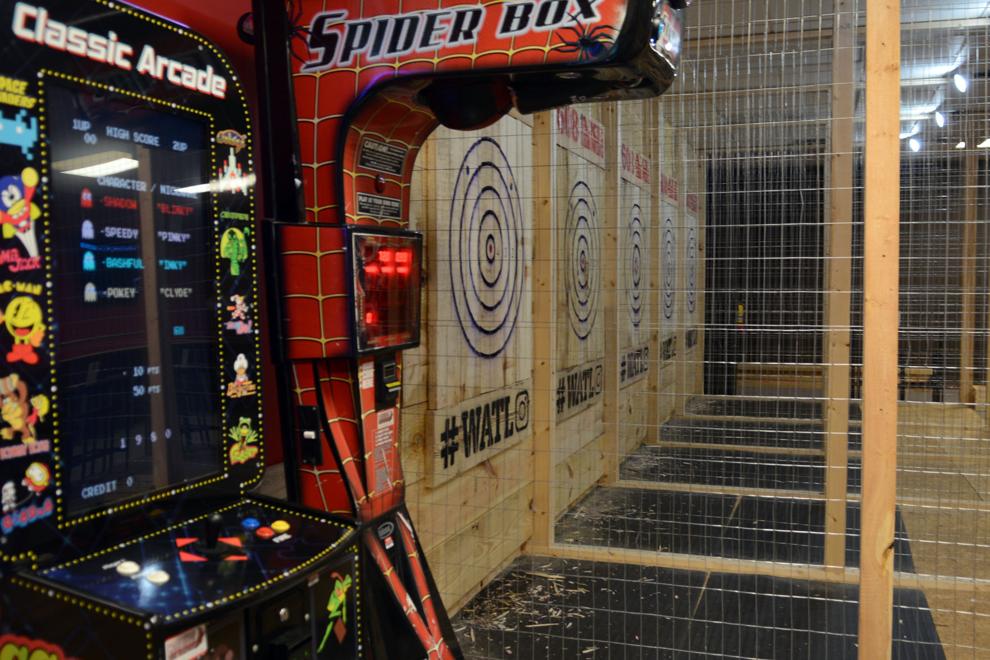 Insurance also "is key," he said. For insurance reasons, throwers must be at least 10.
Once the players are comfortable and are able to stick the blade into the wood target at the end of their lane, they can begin to play. Sessions last one hour — starting after safety and training — and cost $20 per person. The business also serves beer, seltzer, cider, soda and water.
Games become progressively harder, each teaching a different skill, and end with "608," a game that even Buchanan and Williamson haven't beaten, the former said. Buchanan said the only way to earn points in 608 is by hitting the bullseye or the "killshots," which are two spots near the top of the target. A bullseye gets six points, and a killshot gets eight; anything else on the board is worthless, he said.
Their business' name comes from that point system, in addition to Baraboo's area code.
The pair met through axe throwing when they became interested in it around the same time a couple of years ago, they said. They began playing at Asgard Axe Throwing in Wisconsin Dells before making frequent weekend trips to another venue in Plover and traveling together to compete in tournaments around the country. Now Buchanan views Williamson as something like an older brother, even though both are 37.
Williamson, who's lived in the Dells since 2004, said he finished his first tournament in the middle of the pack and realized "there's a much bigger world of axe-throwing outside of our small community." He said his competitive nature led him to practice "and it sort of spiraled out of control from there." He's traveled to more than a dozen tournaments.
The axe-throwing community is his favorite part of the sport, he said.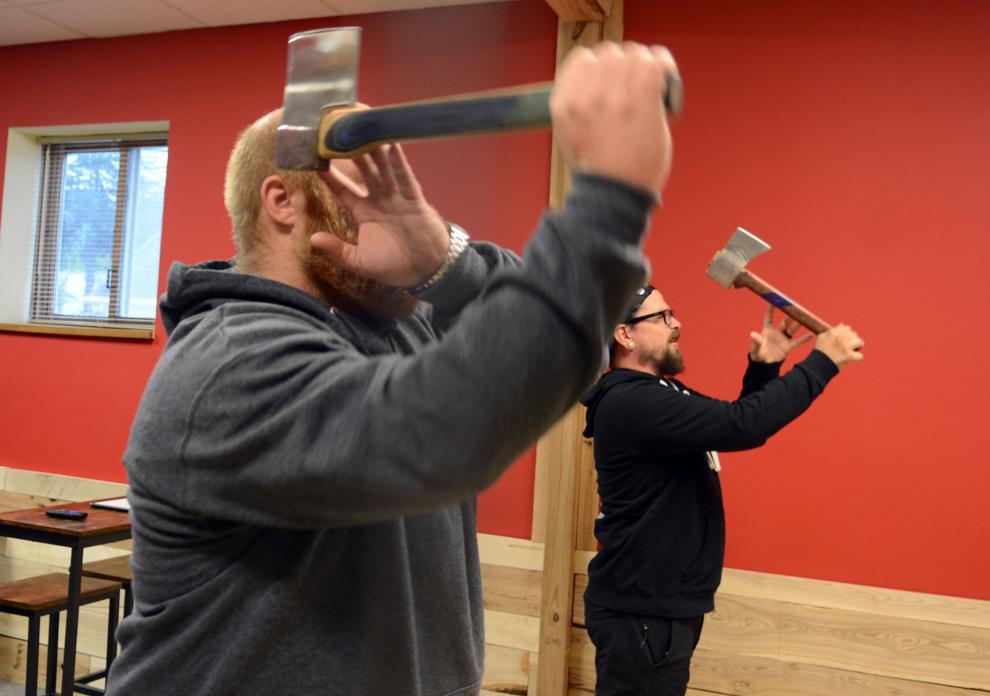 "They're very accepting, very forgiving," Williamson said. "They don't care if you're a beginner, a professional, color, gender, orientation. They're accepting of everybody. There's a lot of really close friendships that develop at tournaments with people all over the country that you only see at a tournament."
They saw that community manifest when they held a soft opening for their business in mid-October. Buchanan said all of their axe-throwing friends from Midwestern states turned up to support them and throw some axes. Since then, business has been good, he said, including reservations and walk-ins.
Buchanan and Williamson decided to open the venue together about a year ago.
"We just kind of wanted to do our own thing," Buchanan said. "We wanted to kind of do it our way, teaching the sport, growing the sport, stuff like that."
For all the activities and attractions Baraboo offers during the day, he said it's short on things to do at night or when it's too cold to be outside. He said axe throwing could fill that niche as something like bowling that people can do anytime, whether competitively or just for fun.
They chose Baraboo in part because of its tourism industry and potential market, but also because it has a similarly supportive community, he said.
"The fact that the community is so supportive of everything that the community does was a big selling point for us, as well as the fact that we'll host local leagues, we'll host the World Axe Throwing League, which is like our version of the NFL," Buchanan said.
He said they also want to support the Baraboo community and get involved with other events, while spreading enthusiasm for their pastime of choice. The business has donated lane time to Bikers Against Child Abuse and sponsored a Dells High School student's trip to a leadership conference, they said.
"The sport has done a lot for us, so it's kind of a thing that we want to do (the same) for others as well," Buchanan said.
Follow Susan Endres on Twitter @EndresSusan or call her at 745-3506.