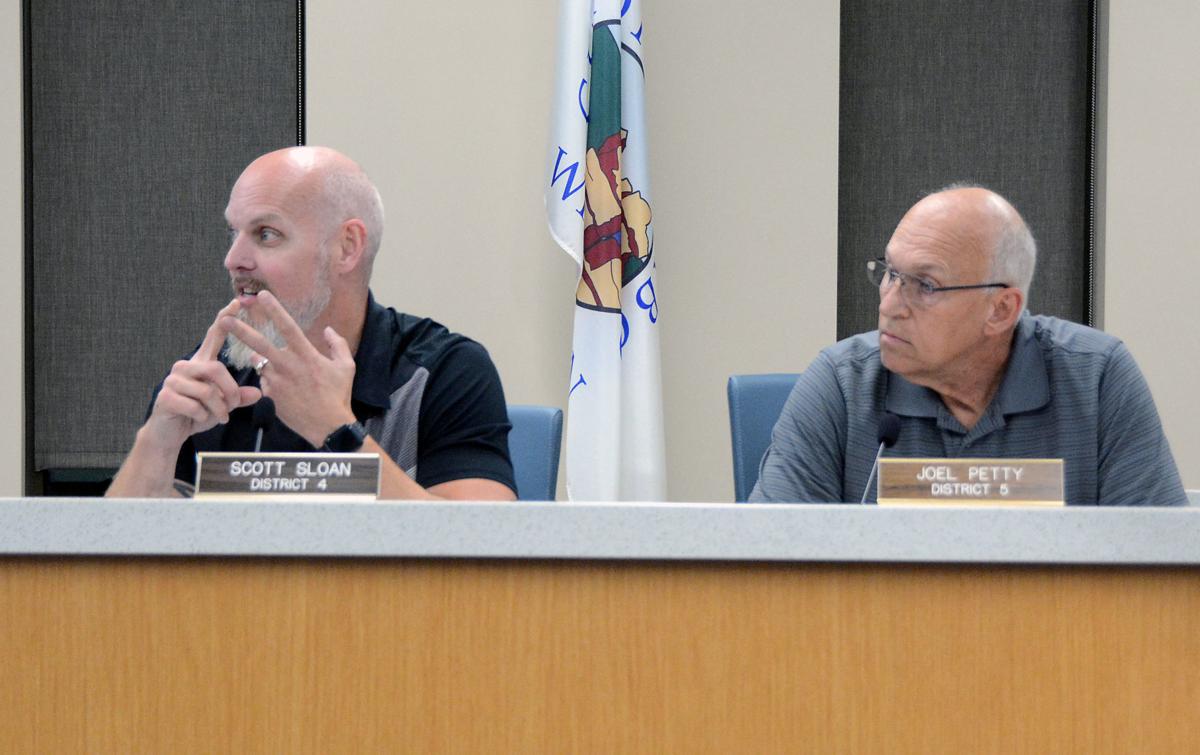 Baraboo leaders are on the hunt for potential new revenue streams to bolster city street maintenance funds.
In what Mayor Mike Palm jokingly referred to as the most talking Baraboo Common Council member Phil Wedekind has done during a meeting in a long time, the alderman called for city staff to examine a number of possible revenue sources Sept. 10.
City Administrator Ed Geick said all of the topics approved for further evaluation will be researched by staff, then considered by a number of city committees.
The measures were suggested during discussion of the city's capital funds. One is a city-based vehicle registration fee, commonly referred to as a wheel tax, of $20 per vehicle for residents. This would result in roughly $260,000 of increased capital for the city, according to Director of Public Works Tom Pinion.
Pinion said the added revenue would significantly help the city's street maintenance projects. Though this year, the city is looking to borrow $750,000 for street updates. Pinion noted that in the nine years he has been in Baraboo, the budget for annual repairs usually is about $450,000. A wheel tax would apply specifically to passenger vehicles and light trucks.
In April 2018, 57% of voters rejected the idea of a wheel tax during a nonbinding referendum. Nearby Portage approved a $20 registration fee in 2017, bringing in $152,000 in its first year.
Wedekind moved to have staff explore the impact of a street light utility as well. Geick said the nearest community with this type of utility is Prairie du Sac. While the city doesn't own most of the street lights in Baraboo, Geick said it pays regular monthly maintenance fees to Alliant Energy. The city also owns decorative downtown street lights. Estimates during the meeting noted a utility could bring in roughly $150,000 per year.
Resort tax
Council member Tom Kolb called for evaluation of a possible premier resort tax as well.
According to the Wisconsin Department of Revenue, the resort tax is a local retail sales tax authorized by the state Legislature. Law dictates municipalities only can use revenue from the resort tax for infrastructure needs, and the 0.5% tax only can be applied to tourist-specific purchases. Places that would have an added resort tax would include department and variety stores, candy shops, dairy product retailers, bakeries and food stores, clothing stores and other retail facilities as well as restaurants.
You have free articles remaining.
Council member Scott Sloan objected to raising taxes on residents in a city with "few" tourists during the meeting.
"All you're doing is raising the sales tax on your own people," Sloan said. "We are not the Dells, we are not Lake Delton, where they have a gigantic influx of tourists to pay that sales tax."
He called the suggestion "ridiculous" and noted that the city would "have an exodus" if it were to add all of the fees approved for consideration.
Wisconsin Dells and Lake Delton, which have a large amount of tourists due to water parks and theme park attractions, have a higher resort tax at 1.25% instead of the 0.5% standard in other municipalities.
Seven Wisconsin communities use the tax, according to the DOR website. One is Rhinelander, where Baraboo Streets Superintendent Tony Gilman previously worked. Gilman, a native of the city, said he was employed in Rhinelander when the process to pass a resort tax began. In 2017, it was enacted. According to the state DOR, the city of 7,500 received more than $830,000 in sales tax distributions in 2018.
Gilman said a resort tax at 0.5% would not be obvious to most shoppers and would benefit from revenue gained from more than just city residents, a selling point for Rhinelander when it held its referendum in 2015. If someone were to make a tourist-related purchase at $100 for instance, the resort tax only would add 50 cents.
That would vary from an increased vehicle registration fee, which would be $20 for every vehicle in the city, but paid only by Baraboo residents. Wheel tax measures have increased in recent years as state infrastructure has declined in quality. Currently, 25 municipalities and 11 counties have one in place, with the fee ranging from $10 to $30.
Geick said the possibility of a street light utility was discussed during a Public Safety Committee meeting roughly a year ago, but the measure hasn't yet been examined by staff.
While Baraboo officials plan to borrow $750,000 for streets projects, upgrades are an expensive undertaking for municipalities. In addition, Palm said during the council meeting that borrowing for the money comes with an added fee in interest costs, so that $750,000 becomes $805,000. Gilman said the resort tax might be the best option for the city.
"You're talking some serious money to get some work done," he said.
For one mile of roadway, Gilman said repairs cost roughly $1 million. For a street like Eighth Avenue, a main thoroughfare in Baraboo with four lanes that stretches nearly two miles from one end of the city to the other, that means that the city would need about $3.5 million for just one project.
Baraboo council members also voted to ban bikes at the city skate park at Campbell Park on a unanimous vote.