Spherical imaging can take you anywhere on the globe. And the trip is getting cheaper all the time.
Step in front of a panoramic screen and take a ride on an eagle's back over the Dolomite mountains. See the aurora borealis burn above Alaska in all directions. Go face-to-face with an elephant on the African plain.
"You're transported to another place altogether," said Rick Markley of Baraboo, who spent this week introducing the latest virtual reality technology to prospective clients at Ho-Chunk Convention Center. "It's a big wow factor."
Markley owns Aspect Multimedia of Baraboo and creates content for The Elumenati, a Milwaukee firm that sells immersive projection technology. Using fish-eye lenses, panoramic screens, 360-degree cameras and planetariums, they can show people what it's like to climb a mountain or stroll through downtown Baraboo. Unlike the solitary experience afforded by virtual reality goggles, projection technology allows groups to share the experience.
"They want to get out of the head-mounted displays to keep the social aspect of it," said Adam Wales, Elumenati's sales director.
This week he and Markley projected images onto a panoramic screen, an inflatable planetarium and a globe-shaped screen. They pitched 360-degree tech's applications to business groups and media companies. A chamber of commerce can use spherical imaging to offer virtual tours of a community. Tourist destinations can showcase their attractions.
"You're showing what it is to live, work and place in a place," Markley said.
Architectural firms can create renderings of building designs that customers could virtually enter. Employers can create training videos set in a virtual version of the workplace. First responders can develop training simulations for robbery and active shooter scenarios.
"There's no limit, really, to what can be done," Wales said.
Markley began dabbling in virtual reality and 360-degree imaging in 2015. In just three years the technology has advanced rapidly, allowing him to shoot high-resolution video, record spatial audio (sounds come from multiple places, not just a central speaker), and deliver three-dimensional effects.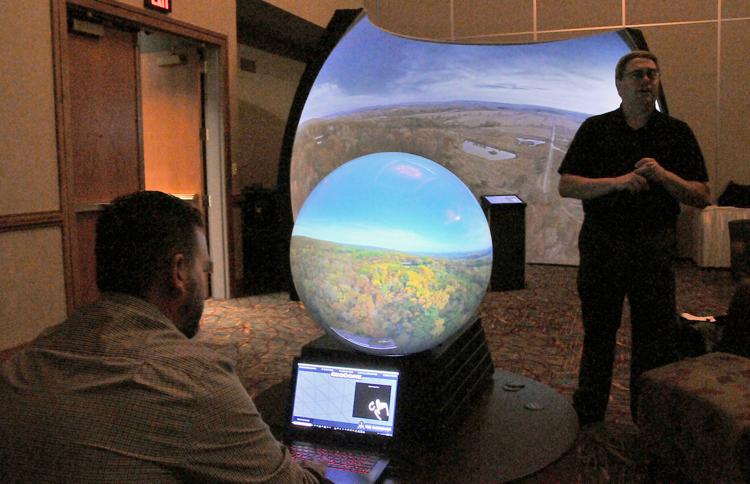 Markley has created virtual tours of local businesses like Spa Serenity and Just Imagine Toy Store. He's also developing virtual excursions for the elderly, disabled and infirm. With 360-degree video, anyone can experience rock climbing and sky diving. "We can bring the experience to them," Markley said.
Museums have used 360-degree imaging for years in planetariums and IMAX theaters. With the tech improving while also becoming more affordable, it's becoming a viable option for businesses. Systems that might have cost half a million dollars previously now sell for less than $100,000.
Even smartphones have 360-degree camera capability, and such images can be uploaded to Facebook and YouTube.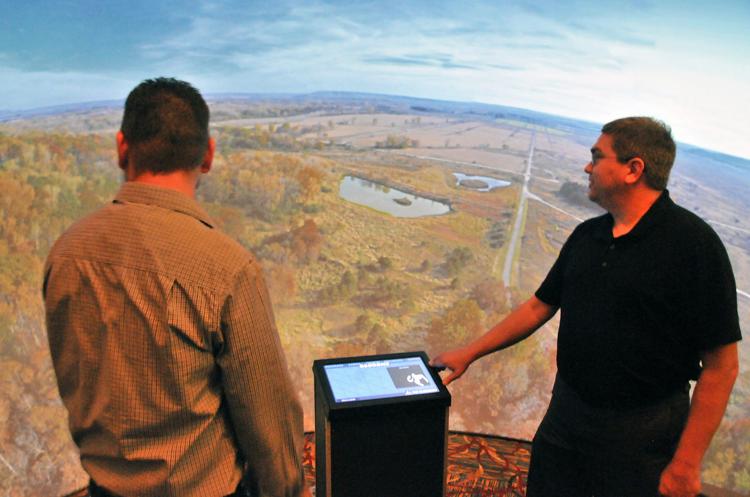 "I think it's rapidly accelerating," Markley said. "The commercial applications have really exploded."
"That has made it accessible for everyone," Wales said, noting the technology is most effective when it's displaying great images. "It's only going to be as good as the content, no matter how hard you try."
"We're just kind of scratching the surface on it," Markley said. "I think we'll see more development in this type of marketing."