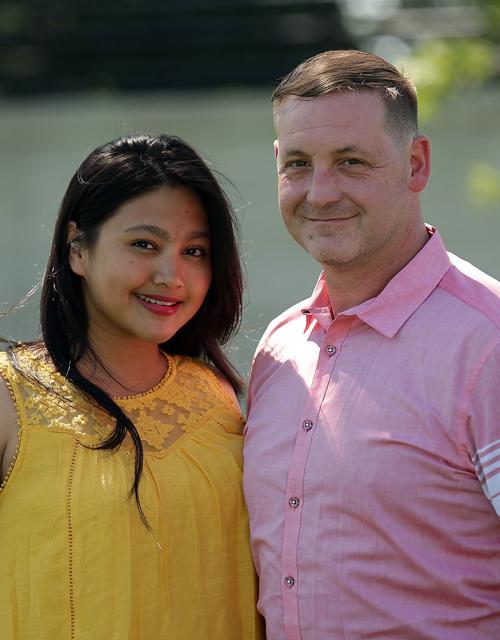 Leida Margaretha was shopping for furniture but instead found a man. And starting Sunday, both of them will be television stars.
She was shopping online when she saw a personal ad posted by Eric Rosenbrook, an avionics technician who lives in Baraboo. Margaretha clicked on the ad and, well, things clicked between the Indonesian and the Wisconsinite.
"I was looking for a chair," she said with a laugh.
The couple chatted online and via video calls for seven months before meeting in Japan, where she was working as a teacher. He proposed marriage. She accepted and threw in a twist: applying to appear on the TLC show "90-Day Fiance." Entering its sixth season, the show features six couples uniting in the U.S. and hoping tie the knot before having to return to their home countries.
Margaretha, 29, was excited about the prospect of appearing on reality TV, but didn't get her hopes up. "We never knew we'd get accepted," she said.
Rosenbrook, 40, was reluctant. "I haven't watched TLC in probably a decade," he said. "It was a rather big shock when they replied."
He has lived in Baraboo for the past year after stints in Reedsburg and Sauk City, communities close enough to allow his daily commute to Madison.
Both halves of the couple are divorced with children. Rosenbrook has three daughters. Margaretha has a son.
They entered the relationship from contrasting backgrounds, a dynamic "90-Day Fiance" will explore. He lives a middle-class lifestyle. She comes from a wealthy family that lives in a tiny neighborhood in Jakarta. In a promotional clip, Rosenbrook rejects Margaretha's suggestion that he hire a maid.
"It's been a test," Rosenbrook said, "a trial and a tribulation."
There was drama right from the start, as Margaretha's passport barely arrived in time for her to fly to New York, where Rosenbrook and the TV cameras met her. They quickly had to grow accustomed to having their lives recorded. "I don't even like being in pictures," Rosenbrook said. "It was an experience."
The couple agreed the camera crew was, for the most part, enjoyable to have around. "They're fun people," Margaretha said. "We liked them."
Recording sessions were scheduled in advance. "It's not like they're in your face seven days a week, 18 hours a day," Rosenbrook said.
His family greeted news about the couple appearing on reality TV with eye rolls and groans, but eventually warmed to the concept. Hers was immediately excited by the prospect. Margaretha was a model, actress and pageant contestant back home. "I never planned to become that here," she said. "I just want to live here."
Filming began in June. So far, the couple only has seen the first episode, set to air at 7 p.m. Sunday. "We don't look so bad," she said.
They couldn't reveal the outcome of their 90-day challenge. And they can't decide, if they were invited to appear on reality TV again, whether they'd accept. "We will have to see," Margaretha said.
Follow Ben Bromley on Twitter @ben_bromley or call him at 745-3507.