When a Baraboo nonprofit detailed its first car in 2016 for a program meant to help the unemployed and underserved gain job skills and re-enter the workforce, Robert Dunn picked up a rag and started cleaning.
Several stops and starts later, Dunn recently helped People Helping People detail its 500th vehicle through the Work Ready Program — and "if opportunity allows," PHP founder Rev. Bill Harris said he intends to hire Dunn as an official employee in November.
"He didn't find himself quite the first time he was here, so God willed him a second chance at this," Harris said. "So he's back now, and he's doing a lot better — a whole lot better."
Founded in 1998, PHP focuses on providing job training, food, guidance and other forms of assistance to people with few resources, aiming to help them be productive members of society. In that goal, Harris has found Dunn to be a success. He said Dunn now "takes ownership in his way of thinking, because we've explained to him that everything that we say or do, everywhere we go or not, starts with a thought."
People Helping People founder Bill Harris says his organization has come a long way since it…
Eighteen people, including Dunn, have graduated from the Work Ready Program since its start in 2016, Harris said. Program participants clean vehicles mostly provided through a partnership with Baraboo Motors Group, though they also accept private-owned vehicles.
"There is hope available, because this place down here at 805 Broadway is a place for love for the loveless and hope for the hopeless," Harris said.
His past
Originally from Reedsburg, Dunn, 33, describes his childhood as "rough." His mother and stepfather — whom he greatly admired — divorced when he was in seventh grade, marking a difficult time. Both parents were on probation at the time, and it wasn't long before Dunn found himself running afoul with the law.
He used drugs and dropped out of high school his junior year. At 19, he was charged with a misdemeanor for possession of marijuana, according to court records. At 20, he was sentenced to probation for disorderly conduct.
But there were two crimes for which he wasn't caught that caused him to feel the most guilt: Dunn sexually assaulted a child when he was 15 and a different victim when he was 21. During a stint in a psychiatric ward, he told workers about his crimes and soon turned himself in to Child Protective Services.
"I felt bad for what I did, so my whole purpose was to get the information out there, because I didn't know how the victims felt at the time," Dunn said. "Now that I've been through groups and stuff, I'm more aware (of) what the victim impact is."
He doesn't shy away from talking about the crimes and harm he caused other people, reflecting on how his thoughts at the time had snowballed into something "really bad." It echoes the mindfulness Harris encourages.
Charged in 2006 with two felony counts of first-degree sexual assault of a child — one of which was dismissed but read-in for consideration during sentencing — Dunn received seven years in prison and 10 years of extended supervision.
Dunn, who has a High School Equivalency Diploma, struggled to find work after his release from prison but has managed to stay sober for the last 10 years.
"I'm glad to be away from it," he said of his past drug abuse.
His present
Now living in Baraboo, he first turned to People Helping People around 2016, when Harris expanded its mission with the Work Ready Program.
You have free articles remaining.
"I walked through the door and Bill was like 'I need you more than you need me.' Because I was looking for a job and he was looking for someone to help him at the same time," Dunn said. "Thank God that worked out."
Harris taught him how to detail cars, work Dunn enjoys for its simplicity despite being physically demanding. He also helped Dunn consider his options with different employment programs and land other jobs, but Dunn repeatedly returned to PHP after problems arose at each, sometimes ending with his firing.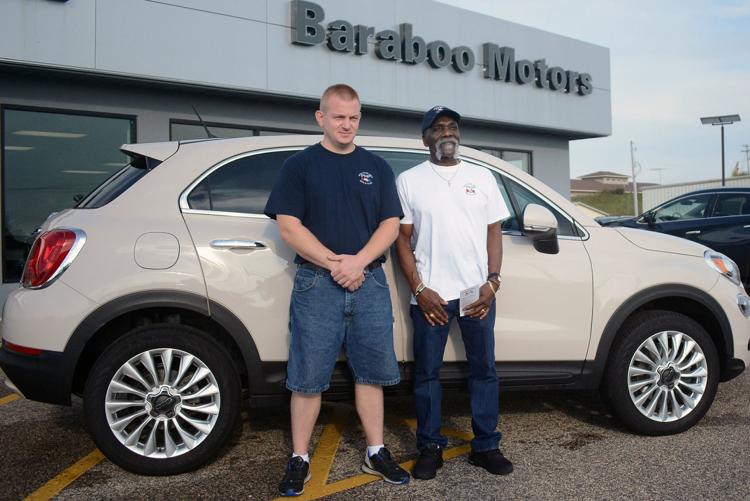 Dunn had spent his life making decisions that would lead to prison, Harris said, because "his heart's broken." Harris uses the phrase to communicate that people who struggle with making bad choices aren't bad people.
"Robert made a commitment that he wanted to turn his life around and he wanted to be a productive individual in society, and that's what we do here," Harris said. "We help men realize the cause of their brokenness, and we put a treatment plan along beside that to help them find themselves."
In the process, Dunn said PHP has "allowed me to humble myself."
"This is where I want to be. I didn't like my previous jobs, but I like my work here," he said. "I believe in what Bill's doing."
Harris isn't the only one who's noticed how much Dunn has changed just in the last year. Jennifer Dahlk, a career service specialist at the WorkSmart Network program, has overseen Dunn's progress and evaluations since early August. She said she recently talked with a co-worker about "how much of a difference we see in him and how beautiful it is to watch that transformation."
"He is very mindful," Dahlk said. "His whole attitude about life has changed. He has become a very positive, great role model."
His future
Dunn will graduate from a Wisconsin Department of Workforce Development program in early November, after which Harris said he plans to hire him to supervise the detail shop and continue the other work he does for PHP currently as a volunteer.
Dahlk noted Dunn's employment at PHP would be a success for the WorkSmart program.
"The most important thing that I would say with Robert is just how his changing in thinking has really made him very motivated," she said. "He has worked really hard and he's done amazing. And I'm proud of him."
He's so motivated that he's considering becoming an entrepreneur, despite worries about the extra responsibility and administrative duties, thanks to Harris encouraging him to start his own detail shop. Dunn even signed up for business courses, Dahlk said.
"I feel like (Harris is) trying to push me in a better direction," Dunn said.
Editor's note: This article was updated Oct. 29 to correct information regarding Robert Dunn's parents and their history with the justice system.