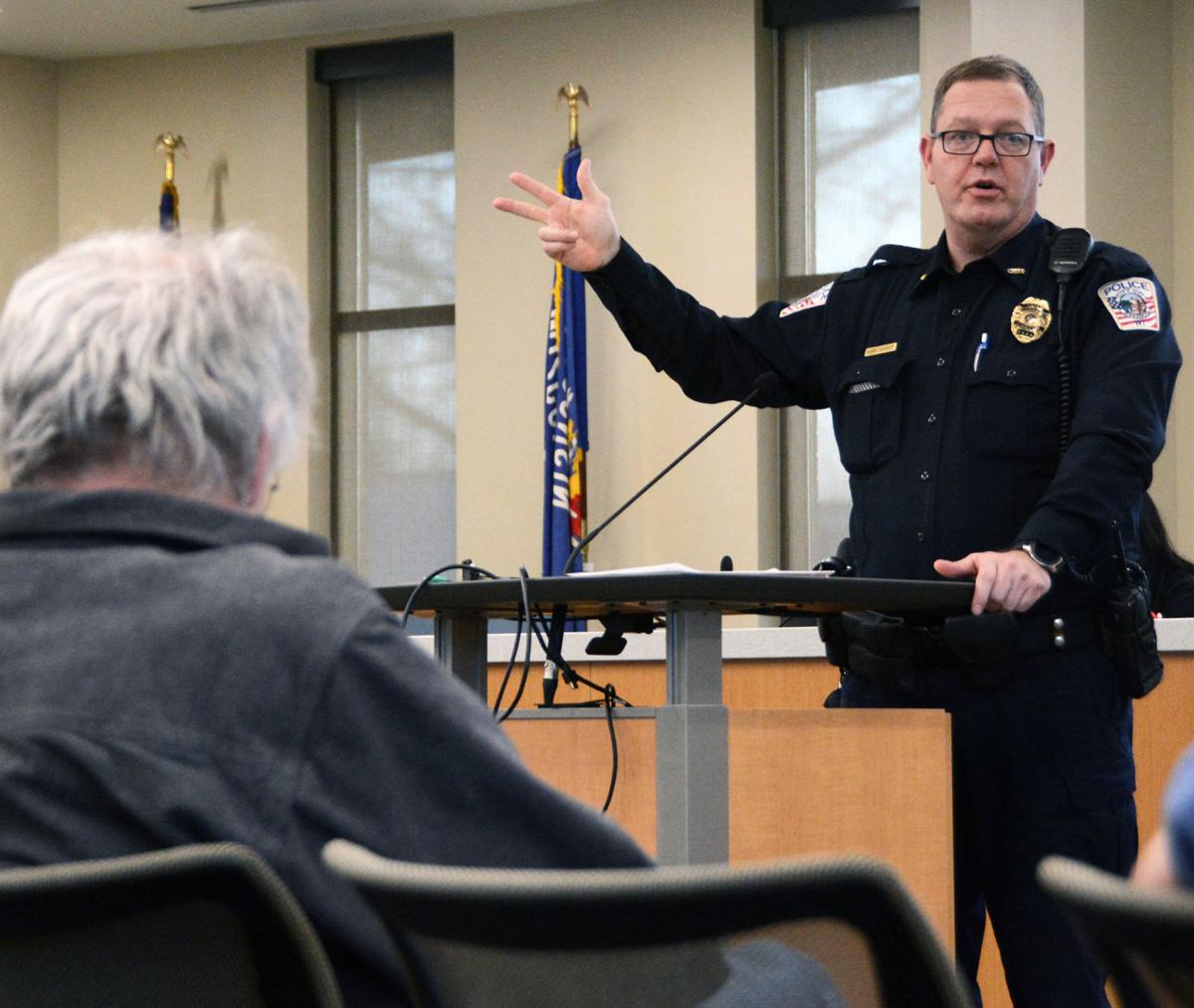 In an effort to create more visibility in local policing, officials have teamed up with the Baraboo Acts Coalition to host a virtual presentation in which questions about policing will be answered.
Baraboo Police Chief Mark Schauf will be doing the answering in the pre-recorded "community conversation." People who want to ask questions need to submit them via an online form by Feb. 9. The aim is to shine more light on the policies of the Baraboo Police Department.
"This is just an opportunity for the police department to, hopefully, answer the questions that the community has, have the transparency to show what we do," Schauf said. "Because people will not understand what the police do without us explaining so they can understand and then we can move forward with what needs to change."
The program was organized by the Baraboo Acts Coalition and was not difficult to arrange or seek help with, co-chair Marcy Huffaker said.
"I think lines of communication between communities and the police department can only be a positive thing," Huffaker said. "We wanted to make sure this was an idea other organizations thought also was important so we started asking around to some of the local service organizations and other well-known community organizations."
Partners in the planning include Baraboo Public Library, Baraboo Kiwanis, Baraboo Optimists, Baraboo Young Professionals, Downtown Baraboo Inc., the Rotary Club of Baraboo and the University of Wisconsin-Madison Extension Sauk County.
While the event will be pre-recorded in part out of concern for public safety during the COVID-19 pandemic, there is also a hope to answer as many questions as possible. Currently, organizers are aiming for an hour long video, but Schauf said he hopes to answer all questions. Huffaker said they could shoot more than one video.
They plan to post it in late February on the YouTube channel for the Baraboo Public Library. A specific date for its publication has not yet been set, Huffaker said. It will likely be distributed on a number of online platforms, Schauf said.
While Schauf contends that Wisconsin police are "highly trained" that "holds to a very rigorous standard," he said he understands the public doesn't have insight into everyday actions. For instance, if an officer uses any force beyond simple handcuffing, body cameras and reports are reviewed by subject matter experts within the department to make sure officers are following department policy but also state standards.
Baraboo PD is also certified by the Wisconsin Law Enforcement Accreditation Group, Schauf said, which is voluntary and requires agencies to comply with the highest standards in policy and procedures, administration, operations and support services, according to the WILEAG website. Despite these steps, Schauf said the forum can make the department even better by also bringing light to concerns by residents.
"I think it's the start of what we need to do to push policing forward in 2021," Schauf said.
The coalition has been active in promoting inclusivity within Baraboo since the revelation of a prom photo featuring Baraboo High School boys was released in November 2018, placing the community in a national spotlight as the students appeared to be giving a Nazi salute. The goal of the group is to make Baraboo feel like a safer place to live for everyone, Huffaker said.
With the national and state coverage of police shootings and specifically, the video recording of former Minneapolis police officers holding a Black man named George Floyd to the pavement as he died, Huffaker said people have been curious about policing practices at the local level. When someone brought up the possibility of a forum, she suggested it to the group and they all agreed to begin organizing it.
Schauf said the element of planning a video rather than hosting a live event also allows him to seek out experts on certain topics within the department. Rather than him citing statutes or case law, he can enlist the help of another officer who can make a short appearance to explain how it is handled within the department.
Mayor Mike Palm will accompany Schauf during the forum. It will be moderated by Community Resource Development Educator Jenny Erickson of the UW Extension Sauk County office.
Huffaker said an aim of the event is to create "more open lines of communication." Both Huffaker and Schauf agree that the questions should not be an end, but the means by which more open discussion can bloom.
"I hope that this spurs more conversations, because for policing to grow and for people to understand policing, it's going to take us talking about it," Schauf said. "And until we all talk about it, we won't get better."
Follow Bridget on Twitter @cookebridget or contact her at 608-745-3513.