Aubrey Lewis waited as Baraboo Police Officer Mark Creighton opened the truck doors for K-9 Whelen to greet an old friend Saturday at a dog wash fundraiser outside the Baraboo Police Department's garage.
"I don't think he's forgot about you," Creighton told the 8-year-old girl from Sauk City as she reached out to rub behind Whelen's ears.
Aubrey raised $400 on her own this year to give to the Baraboo Police Department's K-9 program. Her goal was $200.
Doctors at Hill-Dale Veterinary Care in Baraboo once saved the life of her grandmother's cat, Molly. Aubrey wanted to get involved ever since she learned local veterinarians work closely with the Baraboo Police K-9 program.
Aubrey was supposed to visit Whelen last month, but their visit was put on hold when Creighton had to respond to a robbery incident in Baraboo.
"She understands Whelen has a job to do," said her grandmother, Jean Bauernhuber of Reedsburg.
"She's a dog lover," added Aubrey's mother, Trisha Armstrong of Reedsburg.
Whelen, a mix between a German shepherd and Belgian Malinois, is the first Baraboo Police K-9.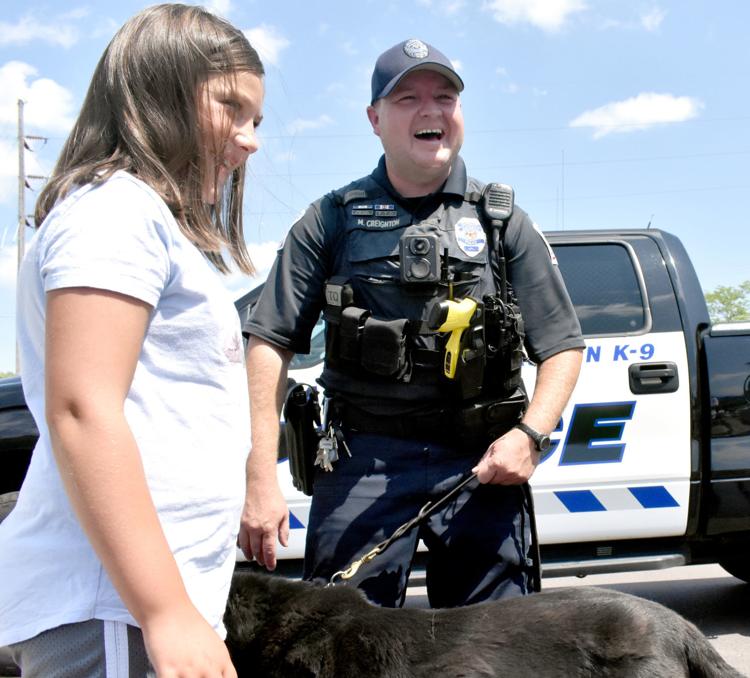 "It's a game-changer for law enforcement," Creighton said. "Our program is based off donations ; it's not a budgeted program. It brings so many people in the community together. The community has always been behind the K-9."
Volunteers from several area veterinary clinics helped wash the dogs Saturday.
Among the volunteers was Hill-Dale Practice Coordinator Ashley Gronholz of Baraboo, who scrubbed right behind the multi-colored ears of Sky, a corgi and border collie mix who tolerated bath time without a howl.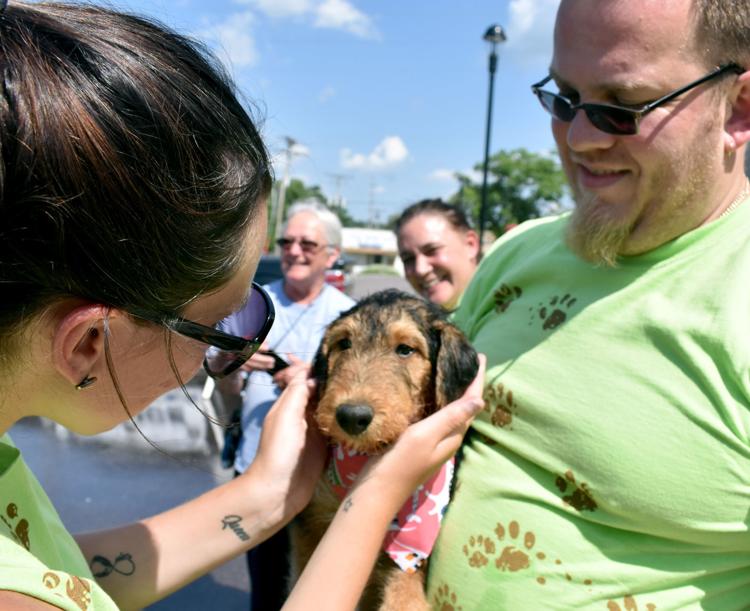 You have free articles remaining.
Amanda Meier, Baraboo, wrapped a bandanna around the fuzzy neck of Zrubi, an Airedale terrier, as a gift for also being a good boy during bath time.
And, of course, treats were plentiful on scene as dogs vigorously shook their coats dry.
Louis Wenzlow, Baraboo, couldn't help but snap photos of his pug, Rosie, as she got the queen's treatment with a full bath and back rubs.
"We like helping them out with their K-9 unit," said Carol Nemitz, Reedsburg, a second-time donor at the annual event.
Nemitz said she loves coming out to see all sorts of unique dog breeds.
"It's awesome," said Melissa Deke, Baraboo. She's glad to see the local police dog program succeed.
Creighton said the local dog wash fundraiser has gotten bigger every year. He said the police department's new location helped, due to more parking space and easier public access.
In 2018, the Baraboo Police Department raised roughly $1,500. This time around, he estimated donors brought in 100 dogs and gave about $3,000 collectively.
All proceeds went to the local K-9 program, and community members also donated soap, brushes and other materials needed to clean the dogs' coats.
While many K-9 teams retire within five to seven years on average, Creighton said Whelen is 10 years old and in great condition. This is partly because Whelen is a single-purpose search mission K-9 and isn't wearing down his body as fast as apprehension dogs.
"He's doing really well, his health is good. He's not slowing down, that's for sure," Creighton said.
Sitting through bathtime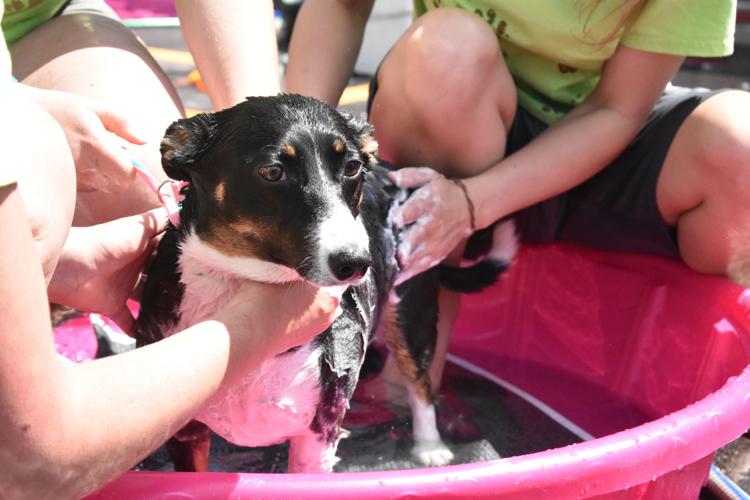 Rosie the pug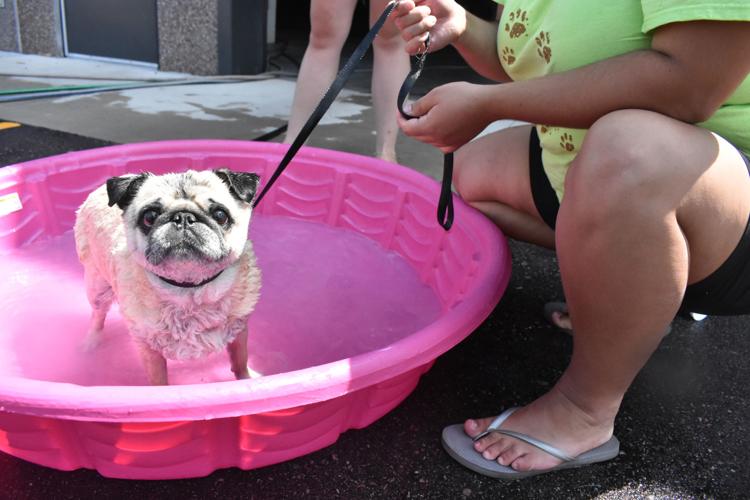 Louis Wenzlow takes a picture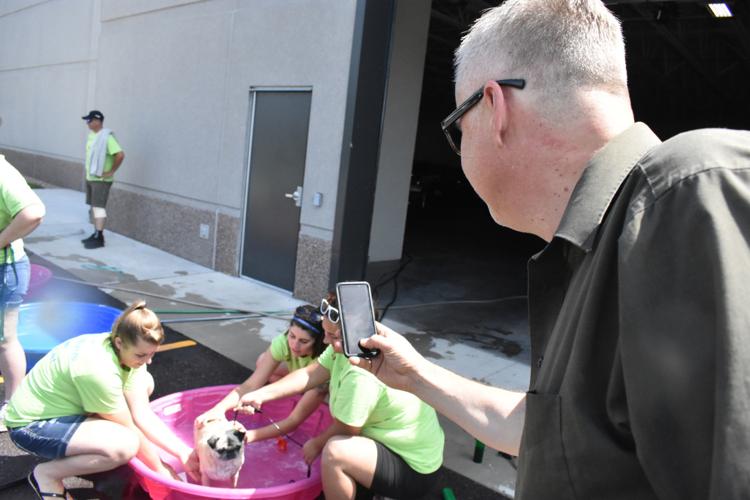 Stanley the Third gets pampered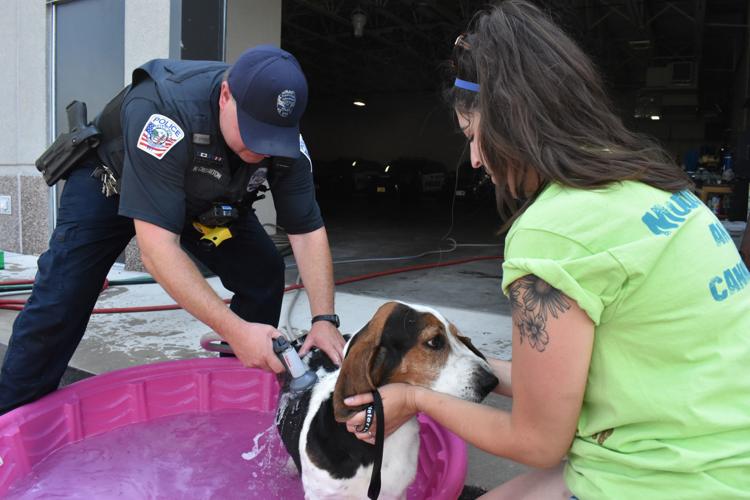 Mark Creighton and Aubrey Lewis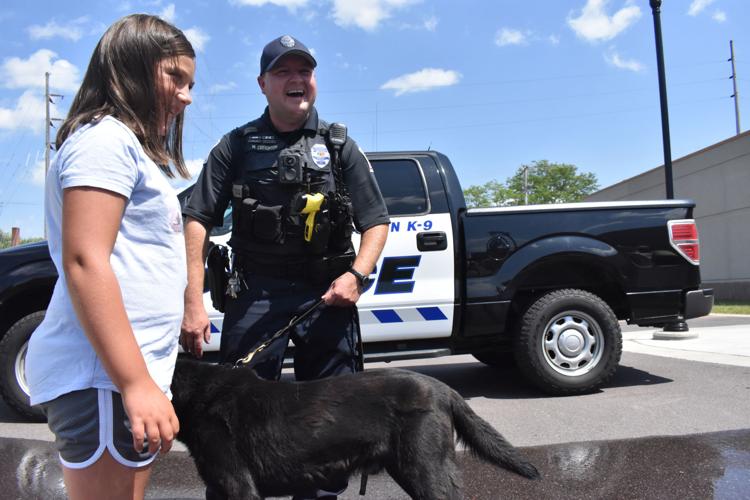 Stanley III gets scrub-a-dubbed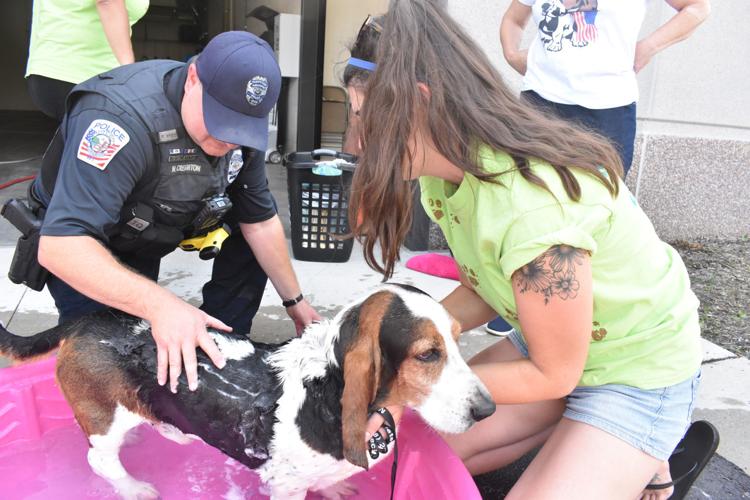 Cache catches a treat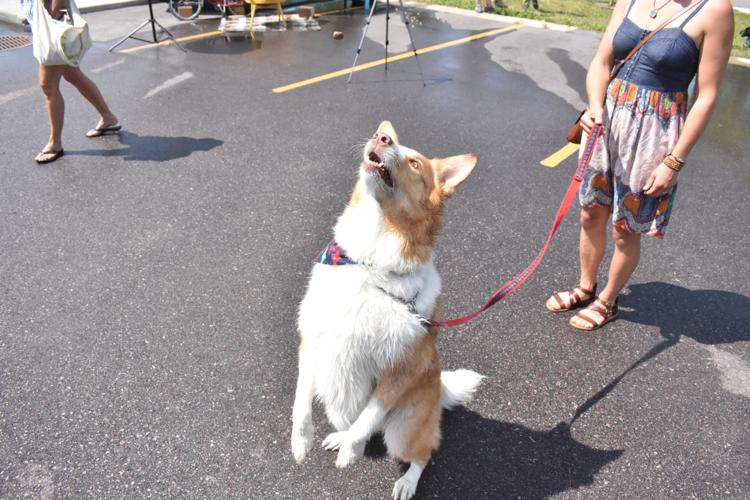 Zrubi gets a bandanna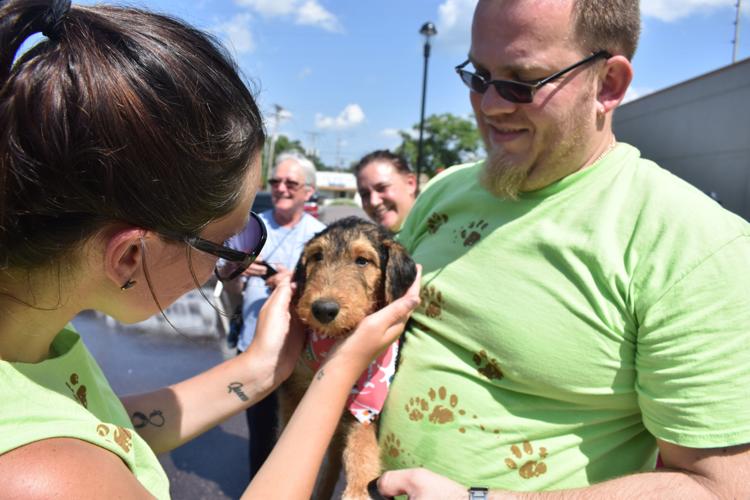 Officer Creighton washes a dog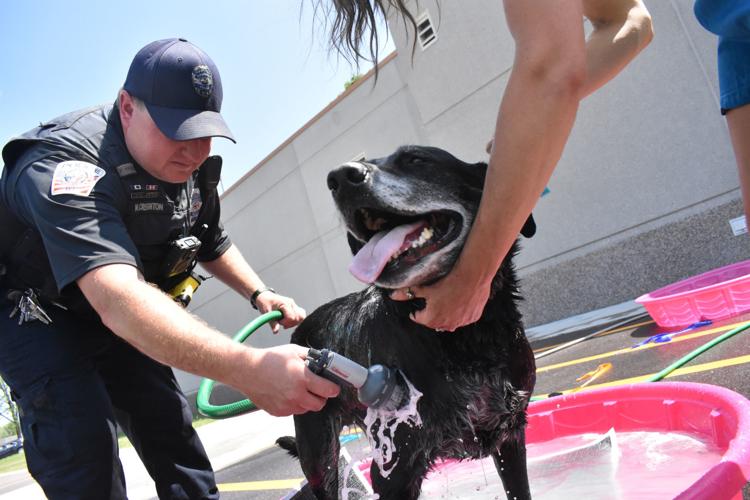 Shake, shake, shake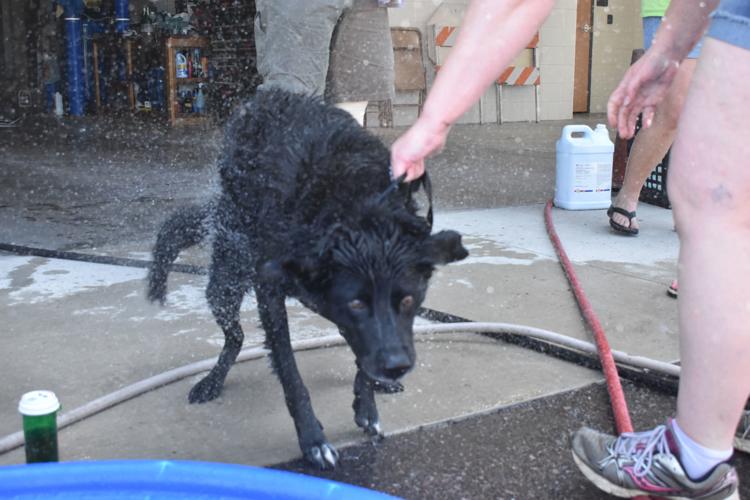 Shake it off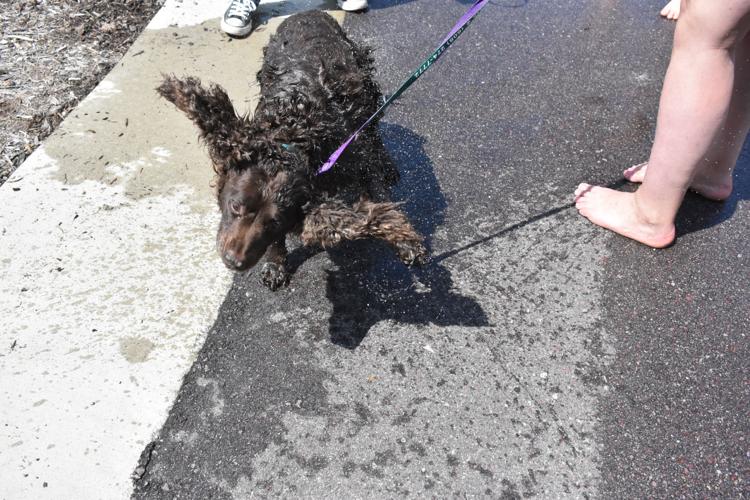 Golden Retriever gets dried off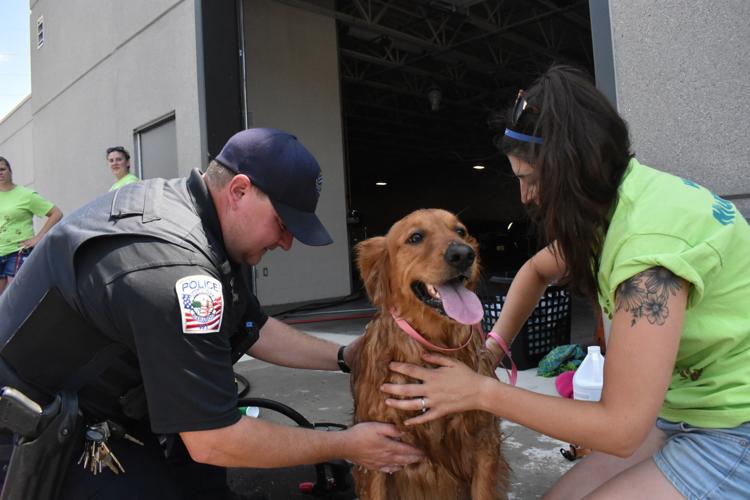 Rinsing off Oliver the Shih Tzu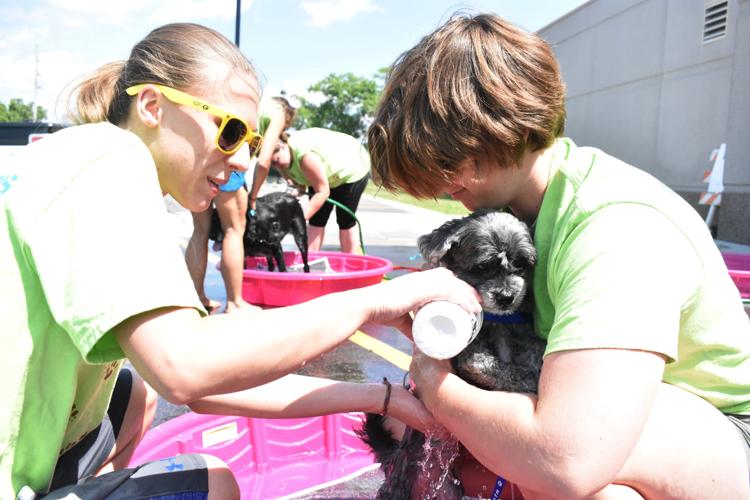 Emptying the bath tub