This year's Baraboo High School musical isn't the same old song and dance.
On Friday, students will open their production of "On the Town," a classic musical that was based on a ballet and features songs written by Leonard Bernstein. It's about three American sailors on shore leave in New York City who quickly meet young ladies and try to make the most of their 24 hours on land.
"One of the things Bernstein liked to do wasn't song and dance, but song then dance," director Amanda Lang said. "Instead of having big musical numbers where everyone is singing and dancing the whole time, he liked to use both methods separately to help tell the story."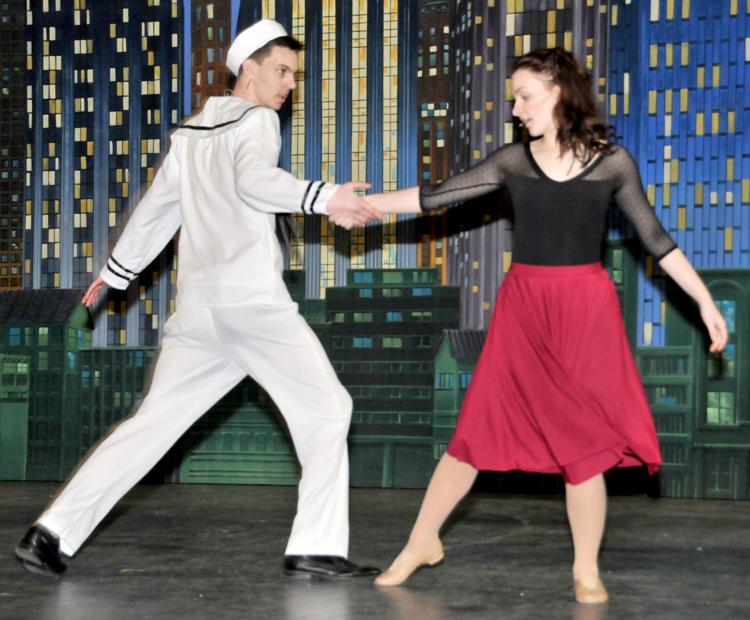 Six upperclassmen lead the cast as the three couples exploring New York.
"This has been a cool year because I do have so much experience and talent in the upper class, especially this group of seniors that will be leaving," Lang said. "I loved the fact that I knew this show would be able to showcase that pretty well because it has so many roles."
"This show has a perfect mix of laughs, singing, dancing and heart to it," senior Brayden Turner said. "It's unlike anything I've performed in before and I am very excited for Baraboo to see this show."
Lang said the intricacies of Bernstein's compositions, combined with snow days that canceled rehearsals, forced the cast to work independently.
"The kids this year have taken on this challenge and run with it," she said. "They have given it their everything and it shows."
Another senior in a lead role, Kaylee Castleberry, said the musical's quirky humor balances its touching dance numbers.
"It has a comedy flair unlike all the other shows we've done and, combined with the incredible dance sequences and 1940s class, people are sure to enjoy it," she said.
An orchestra made up of students and community musicians will play notable songs including "New York, New York;" "Lonely Town;" "I Can Cook, Too;" and "Some Other Time." On stage, the three sailors — played by Turner, Josh Hackbarth and Matt Lane — encounter ladies — Castleberry, Rachel Walter and Claire Bromley — and immediately hit it off. But when Bromley disappears, Lane and friends hit the streets of New York in search of her.
"I think it has amazing music and a cute story, and it is totally different from anything we have done in the past," Lang said. "Instead of just relying on the words of the songs to advance the plot, Bernstein writes a lot of orchestral numbers and has the physical movement tell part of the story. I think the audience will be blown away by the way the kids handle that difficult challenge."
While BHS is losing a dedicated senior class, Lang said another crop is on its way. "There is a bunch of young new talent that came out this year, so it has been really fun to watch them work off of the older kids and all come together to make this beautiful piece," she said. "It has been such a blessing to know that I can trust them with this show."