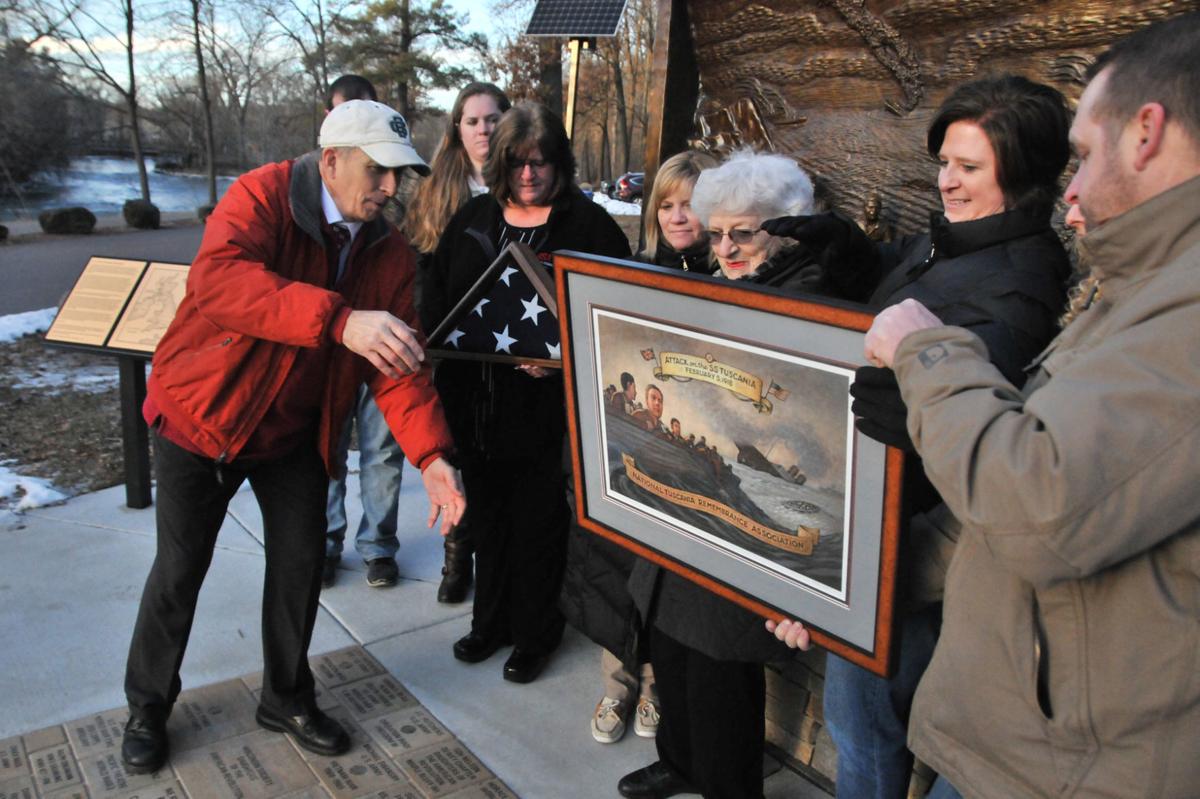 More than a century after Edward Coughlin sailed to Europe to fight in World War I, his burial flag will cross the Atlantic.
Coughlin was among the celebrated "Baraboo 21," local soldiers aboard the USS Tuscania who survived a February 1918 German torpedo attack off the coast of Scotland. Last fall, boosters spearheaded by Baraboo High School history teacher Steve Argo dedicated a memorial at Lower Ochsner Park to the casualties, the survivors, the English ships that fished both from the sea, and the Scottish villagers who rendered aid and buried the dead.
On Wednesday, Coughlin's descendants presented his burial flag, given to the family upon his death 60 years ago, to Argo. He will ship it to the Islay Museum in Scotland, where the flag will be displayed as part of an exhibit commemorating the Tuscania sinking.
"We just want it to go to a good place," said Colleen Bicknell, Coughlin's granddaughter.
The "Baraboo 21" returned to town after the war and became community leaders. A bottle of whiskey intended to be passed along until it reached the last of the attack's hundreds of survivors across the nation already is displayed at the Islay Museum.
You have free articles remaining.
Jerry Coughlin, Edward's son, got to hold the bottle last year, as Argo brought it to Baraboo before sending it to the museum for the sinking's centennial. The younger Coughlin, himself a U.S. Navy veteran, died in August.
The family decided donating Edward Coughlin's burial flag to the museum would make a fitting tribute. "It's nice for my children," said Joan Coughlin, Jerry's widow.
In exchange, the Baraboo 21 Club, a high school group formed to support construction of the memorial, gave the family a print of California artist Renee Graef's illustration of the Tuscania rescue.
"He could've been one of the guys in the lifeboats," Argo said.
Argo's daughter Solveig, a member of the Baraboo 21 Club, said the memorial drive has educated students about World War I and subsequent conflicts. "It has done so much good," she said. "A historical event is something you'll never forget."
Coughlin family members said they're honored to contribute to a museum exhibit. The flag will join the bottle of J&B, as well as photographs of the disaster, artifacts recovered by a dive team in the 1970s, and an American flag hand-sewn by the women of Islay on the eve of a mass burial of American casualties. "It's incredible," Bicknell said.
Coughlin's descendants marveled at being able to comfortably hand over the flag at an outdoor memorial in January in Wisconsin. "The sun was out," granddaughter Cathy Coughlin said. "It was a sign."
Follow Ben Bromley on Twitter @ben_bromley or call him at 745-3507.