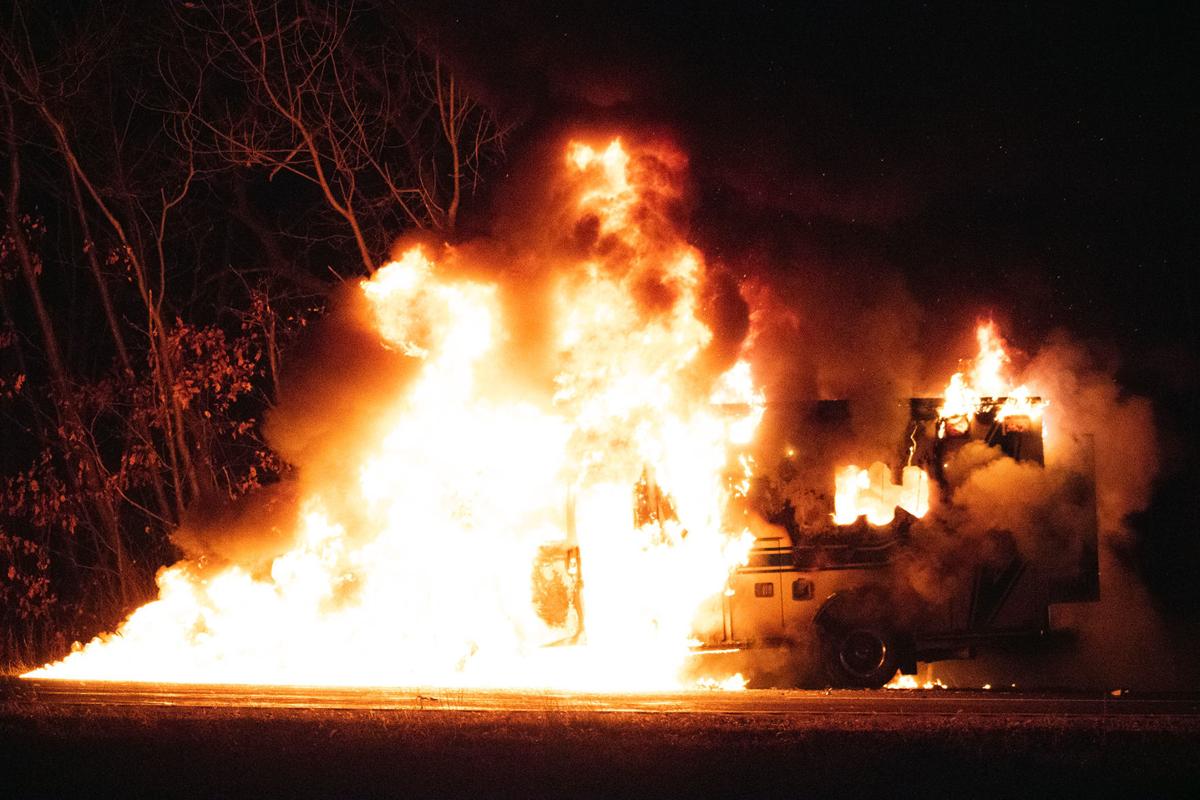 Officials say it's unclear exactly what caused an ambulance to catch fire Sunday before bursting into flames along a highway south of Baraboo.
"It sounds like we might not find out what caused the fire, but from what we can gather it looks like it originated in the engine compartment," Tomah Area Ambulance Service Capt. Heather Daly said. "Once it reached the oxygen tank that is right behind the driver's seat, it exploded."
Sauk County Sheriff Chip Meister also said Monday he did not know what caused the fire.
The ambulance was transporting an elderly woman in critical condition from Tomah to Madison.
Two paramedics who were inside the vehicle suffered smoke inhalation but are doing fine, Daly said. The patient was safely removed before the explosion occurred and was unharmed in the incident.
According to news releases from the Sauk County Sheriff's Office and the Tomah Area Ambulance Service, someone alerted dispatchers around 6:39 p.m. that flames were visible underneath an ambulance traveling south along Highway 12 near Baraboo.
The paramedics inside the vehicle began to experience engine failure about six minutes later and pulled off to the shoulder of the highway south of Baraboo near the Sauk Prairie State Recreation Area.
After one of the paramedics noticed flames coming from the right side of the vehicle, the two crew members pulled the patient from the ambulance on a stretcher, bundled her in blankets and called 911.
The ambulance burst into flames after the patient was safely removed, officials said.
Local emergency crews arrived on scene and Sauk Prairie Ambulance assumed responsibility for transporting the patient. Another ambulance from that agency transported one of the Tomah paramedics to Sauk Prairie Hospital in Prairie du Sac for smoke inhalation treatment, according to news releases.
The other Tomah paramedic continued with the patient to University of Wisconsin Hospital in Madison. During the ride, officials say, that paramedic also began to show signs of smoke inhalation and later was admitted to the Madison hospital's emergency room.
Tomah officials said an investigation into the cause of the fire is ongoing. The ambulance — a 2015 Chevrolet Diesel Duramedic Road Rescue — was a total loss.
The sheriff's office reports that southbound lanes of the highway were shut down and traffic was diverted onto Ski Hi Road for about two hours.
Follow Tim Damos on Twitter @timdamos or contact him at 608-745-3513.