An arrest has been made in the homicide case involving the death of Christopher Lytle, according to the Sauk County Sheriff's Department.
Detectives made contact with Amber Lundgren, 35, the morning of Oct. 10 in Richland Center and confronted her with evidence obtained during the investigation. Lundgren admitted to causing Lytle's death Sept. 21 at the location where the body was found, authorities said.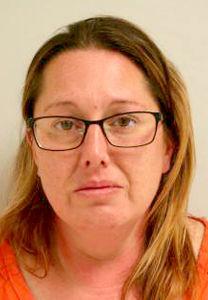 Detectives have concluded Lytle was known to Lundgren and the incident was not a random act.
"This was a difficult case to work," said Sauk County Detective Lt. Chris Zuncker. "A lot of hours were spent in a short amount of time to bring this case to a conclusion."
You have free articles remaining.
Lytle's body was found Sept. 22 after deputies responded to reports of an unresponsive man off of Levee Road in the town of Fairfield. Lytle was a native of Westfield.
An autopsy conducted Sept. 23 determined his death was a homicide, but no cause of death has been released. Specific details of the crime and Lundgren's statements are being withheld before evidence is presented in court.
A probable cause statement is being prepared and will be sent to the Sauk County District Attorney's Office and a date for Lundgren's bail appearance has not yet been set. She is currently in custody at the Sauk County Jail.
"We are pleased with the results of this investigation," Sauk County Sheriff Chip Meister said in a statement. "I commend the diligent work of the detectives who worked this case and thank the numerous other agencies who assisted us along the way to bring this to a successful resolution."
The Sauk County Sheriff's Office received assistance from the Columbia County Sheriff's Office, Wisconsin Dells Police Department, Baraboo Police Department, Wisconsin State Crime Lab, Sauk County District Attorney's Office, Wisconsin Department of Justice Division of Criminal Investigation, Midwest Organized Crime Information Center, Ho-Chunk Casino Security, Richland County Sheriff's Office and the Richland Center Police Department.
You can reach Jake Ekdahl on Twitter @JakeaEkdahl or contact him at 608-697-6353