Hikers at Devil's Lake State Park may have noticed a helicopter hovering over the bluffs late last month as part of a practice rescue mission involving Baraboo first responders and multiple state agencies.
The dummy positioned among rocks on the west bluff Aug. 29 wasn't a real person needing an airlift, but Baraboo Fire Department Lt. Mark Willer was glad to have the practice in case anyone ever is so severely injured that they can't be carried out by a standard rope rescue team.
"We just got involved because it was kind of something that we knew we needed to practice, because my belief is that we will have a call at Devil's Lake where getting them out via ground might take too long and we need to have the ability to call these helicopters from West Bend," he said, referring to a Wisconsin Army National Guard aviation facility that participated in the exercises. "They're the only ones that are capable of doing it in the state that I'm aware of."
Capt. Joe Trovato, spokesperson for the Wisconsin Department of Military Affairs, noted the exercises have a larger purpose than just practicing a specific scenario for a specific place, like Devil's Lake.
"It's more about the relationships that you build through regular exercises" between state, local, volunteer and even federal agencies, he said.
"It's a team effort any time there's an emergency, and the more that we can develop those relationships now during training situations, the better we'll be prepared for a real emergency, if and when that actually occurs," Trovato said.
Among others, Baraboo EMS, Wisconsin Emergency Management, the state Department of Natural Resources and the Wisconsin Drone Network took part in exercises Aug. 29 at multiple sites across south-central Wisconsin, according to a National Guard news release.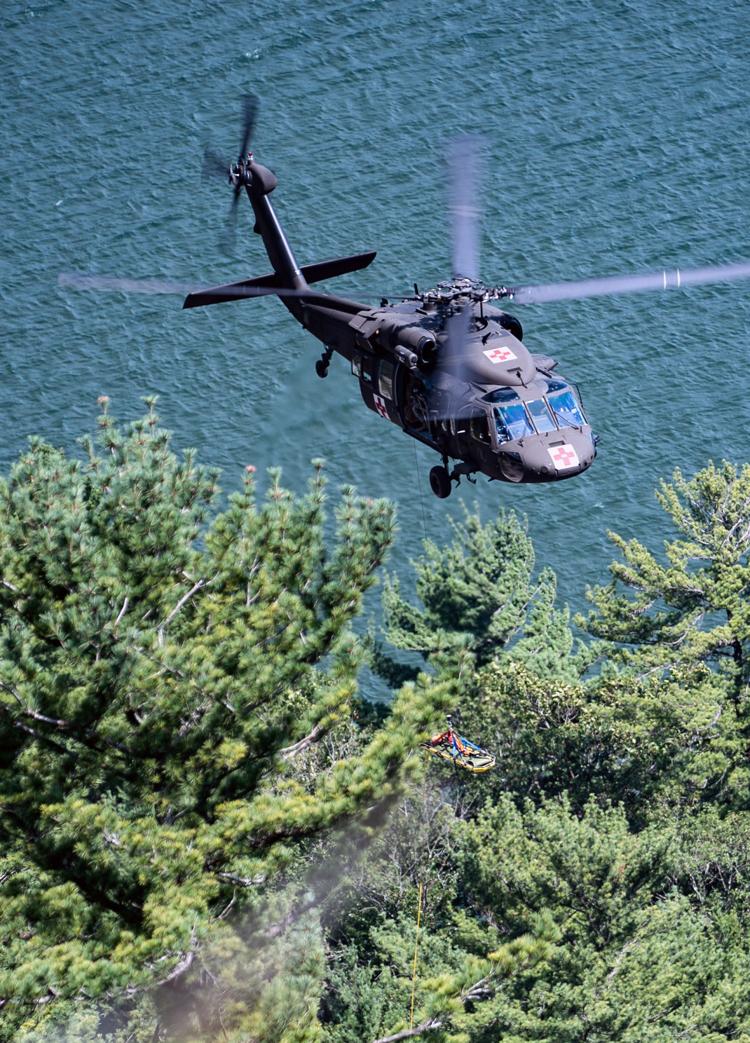 At the Sauk Prairie Recreational Area, crews conducted a reconnaissance scenario in which aircraft searched the area by sector to find a target, placed there ahead of the exercise, Trovato said.
He said locations were chosen partially for their unique topography, as well as for the relationships and skills offered by local first responders.
Willer, who led the Devil's Lake ground search team during the first simulation and rode in the helicopter during a second, said his agency was lucky to be part of the interagency exercises. Before this and one other preliminary training, the Baraboo Fire Department had never worked with a helicopter, he added.
You have free articles remaining.
Ten Baraboo firefighters, Willer and Fire Chief Kevin Stieve participated last month.
In the exercise, a Civil Air Patrol fixed-wing aircraft and National Guard helicopter flew over the west bluff to conduct an aerial search for the manikin representing an immobile patient, according to the release. Once they found it, the air crew told the Baraboo Fire Department team how to get to it from the ground.
"They led them right to it. It worked perfectly," Willer said.
The ground team then helped a National Guard paramedic load the patient into the UH-60 Black Hawk helicopter, which flew to safety.
Their efforts may have annoyed some hikers, especially with the noise of a helicopter flying at eye level to the West Bluff Trail, Willer said, though he hasn't gotten any complaints.
"We just wanted to thank them for understanding that we're doing the training out there and that we don't plan on doing it every month — it's just something we wanted to try this one time and maybe we'll do it again in the future at night," he said. "But it really helped us become better at having that tool in our toolbox."
Though the chances of needing to conduct this kind of rescue at the park are low, Willer said it's good to know such teams are available to help if necessary — and are competent. He spoke highly of the flight crews and their skill at working with other agencies.
Most years, the fire department gets about 20 calls to Devil's Lake State Park, roughly five of which involve a rope rescue, he said. The rest usually are for minor injuries.
This year, he said, only one incident required a rope rescue while less serious "carry-outs" also numbered less than half of the average year. He doesn't know if the lower numbers are a fluke or if people are being safer, but either way, "it's good," he said.
The Wisconsin National Guard has assisted in a few search-and-rescue missions throughout the state over the last year, Trovato said, including one involving kayakers stranded in a marsh last fall near Fond du Lac.
"Any time that we get to exercise across multiple levels of local and state government, that's a great opportunity for us to train now when the stakes aren't that high for a time when there is no room for failure," Trovato said.
Follow Susan Endres on Twitter @EndresSusan or call her at 745-3506.