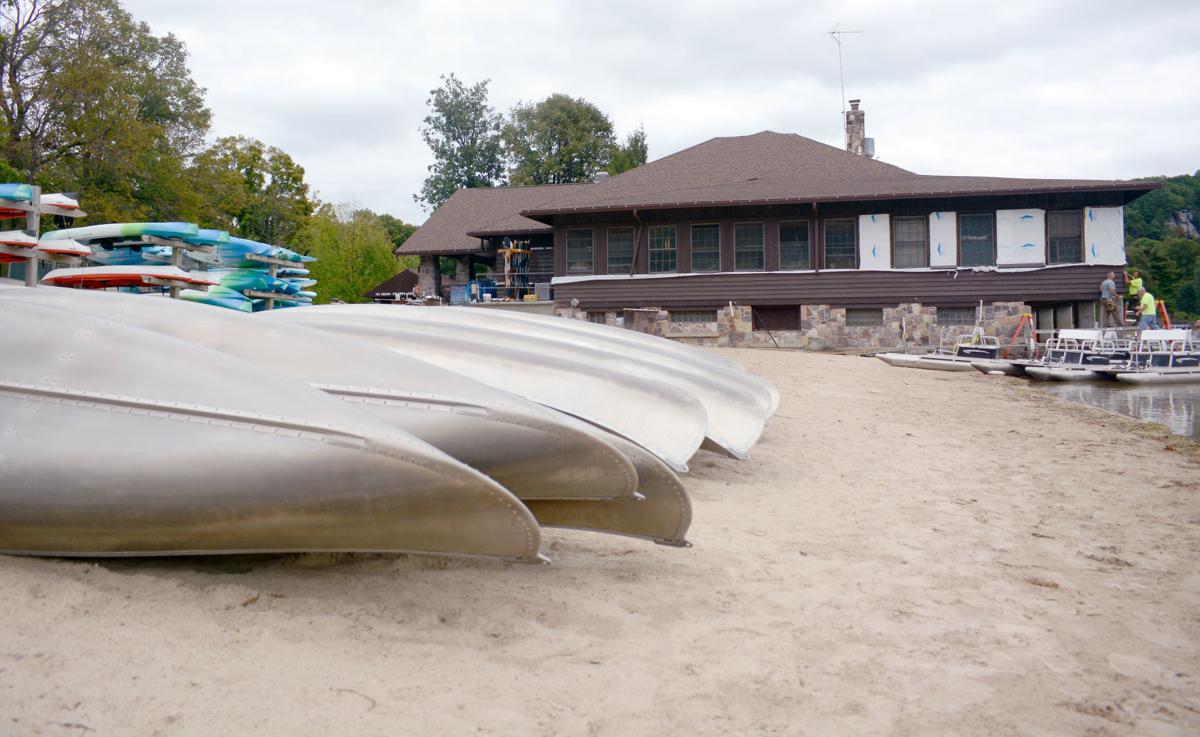 MADISON — The Wisconsin Natural Resources Board approved a $105,000 donation Wednesday to build a new boat rental facility on the north shore of Devil's Lake State Park.
Boat rentals currently are handled by the Devil's Lake Concessions Corp. using a makeshift counter at the loading dock on the west side of the North Shore Chateau. Concessions Corp. General Manager Kevin Flock said watercraft rentals have become increasingly popular in recent years, and the new facility will expedite incoming and outgoing customers.
Flock said watercraft rentals have increased in popularity over the past five years and he expects the trend to continue.
"We're approximately 4 ½ times busier from a watercraft rental standpoint than we were in 2012 and 2011," Flock said.
The donation from the Friends of Devil's Lake State Park and the Concessions Corp. will finance construction of a new building across from the Chateau. In addition to relocating boat rental operations, Flock said the new facility will allow for offseason storage of boating equipment.
"Some of it will be used for storage – life vests, kayaks, paddles, oars and things of that nature," he said. "It will also give us the ability to have significantly more incoming and outgoing windows for the watercraft rentals themselves."
Concessions Corp. is a nonprofit organization that operates independently of the park and the Wisconsin Department of Natural Resources. It runs the park gift shops, concession stands and campground store. Its proceeds fund upkeep and improvement of Wisconsin state parks.
Flock said the facility will allow the group to expand its guided kayak tours and offer hiking and boating tours. He said the group may explore partnerships with local outfitters to offer other recreational opportunities, like scuba diving and rock climbing.
Flock said Concessions Corp. intends to offer the new services within the first year of the facility being built. That the timeline will depend on when the group can find capable instructors.
"It's all going to depend on how the outsourcing goes," he said. "We want to make sure they are people who understand how busy we are and are capable of taking that on."
A blog post on Skillet Creek Media raised several questions about the new recreation offerings, including whether the state would deny future permits to private outfitters who compete with park concessions services. Devil's Lake State Park superintendent Steve Schmelzer said the park will not deny commercial use permits for services or businesses that are paid for outside the park
"There will be no change for that at all," he said.
Schmelzer said the new facility will be built by Glenville Timberwrights in Baraboo. The architecture of the building will remain consistent with the Chateau and other existing structures. It will also include changing rooms. Schmelzer said construction is slated to begin this fall and should be completed by next spring.
Follow Jake Prinsen on Twitter @prinsenjake
Be the first to know
Get local news delivered to your inbox!