Baraboo High School will offer its first full aviation course next spring with the help of a 2005 alumnus.
Co-instructor Brandon Scott piloted Black Hawk helicopters for the U.S. Army in Madison after graduating from Baraboo High School and earning a bachelor's degree in history from the University of Wisconsin-Eau Claire. Over more than a month this summer, he donated his time to teach six Baraboo students about traffic patterns, radio communications and route planning, among other aviation-related topics, out of a hangar at the Baraboo-Dells Regional Airport.
"It's something I've been interested in since before I can remember," Scott said in an interview last week. "I was a former helicopter pilot, and aviation has just provided me with so many personal and professional opportunities that if I can pass an ounce of my excitement onto the kids, I've done my job."
The summer aviation course has been running since 2017, with the exception of 2020, said Joe Canepa, a flight instructor who helped launch the program with BHS teacher Dan Rhode. Their goal, Canepa said, is to expose students to aviation and the variety of careers it offers, from air traffic controller to mechanic to pilot.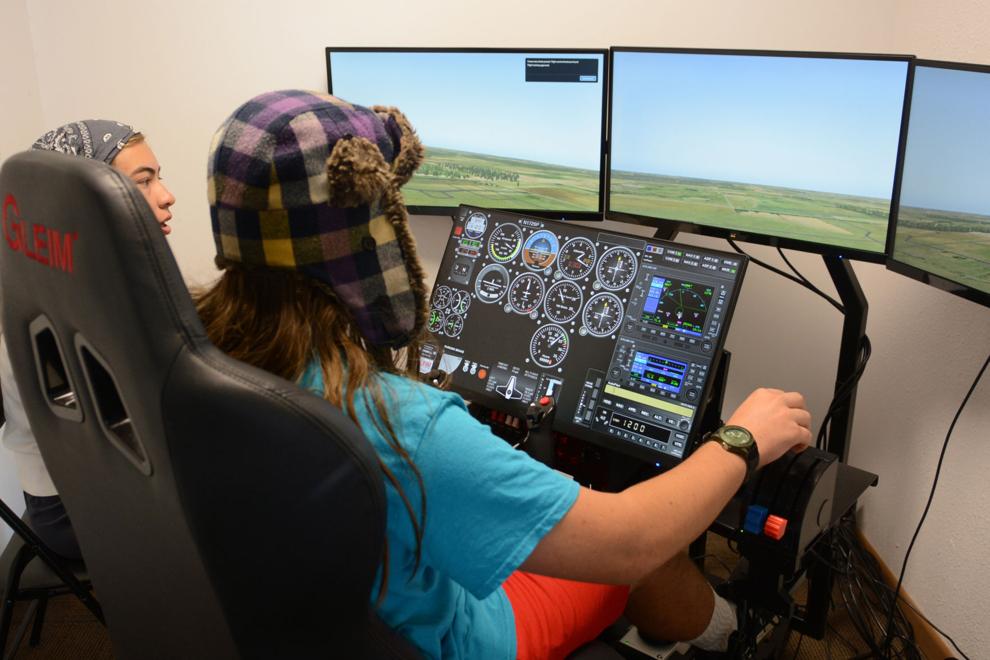 As of this year, almost 30 teenagers have participated in the Students in Aviation program, which plans to expand to area school districts in the future, according to a news release from Canepa. His business, Ryte Byte Inc., and program organizers helped raise enough money to purchase four flight simulators for students; two are housed at the Baraboo-Dells airport, one at the Reedsburg airport and the fourth will soon be delivered to the Portage airport, the release said. Ryte Byte also donated all of the training materials.
Scott and Rhode proposed creating a new "Introduction to Aviation" course they will co-teach at the high school in the spring of 2022. The Baraboo School Board approved the semester-long elective June 14 at an estimated cost to the district of $15,000 per year, which is lower than the school's emergency medical technician course that costs about $20,000. There is no fee for students taking the course, Scott said.
Like the summer school program, it will prepare students to take the Federal Aviation Administration written test that precedes flight training and a pilot license, but it will be held at the high school rather than the airport. Scott said BHS will be one of the only schools in the state with an aviation program as part of its curriculum.
Students will not do any actual flying, except through a computer flight simulator, he said.
Canepa said the program has the support of local businesses, pilots who use the Baraboo-Dells airport and the airport commission.
"We're all obviously super excited about it," he said.
Rhode told the school board the district is "really lucky" to have Scott.
"This is a really cool opportunity," he said. "I'm really excited to be involved with this, and hopefully we can toss a bunch of students your (Scott's) way and they can have a blast."
Scott, who also works in human resources at Flambeau, said last week he appreciates the opportunity himself.
"I'm very grateful to Joe, the school district and Flambeau for working to make this program possible," he said.
Summer school course
In between practicing radio calls, navigation and flying July 12, most of his summer school students said they would like to take the course this spring.
Jordi Rodriguez, 15, and Logan Smouter, 14, said Scott is a "great teacher" who makes class fun and entertaining, both noting that they'd recommend the class to anyone. Rodriguez said he initially thought aviation was a good option to help him pay college tuition, and now he "definitely will" sign up for the course and plans to pursue a career in aviation.
"This man right here has actually made me pay attention somehow," Rodriguez said of Scott. "I don't pay attention in everything, but somehow — and I'm actually grateful that he's just here and every day he gets up in the morning just to teach us."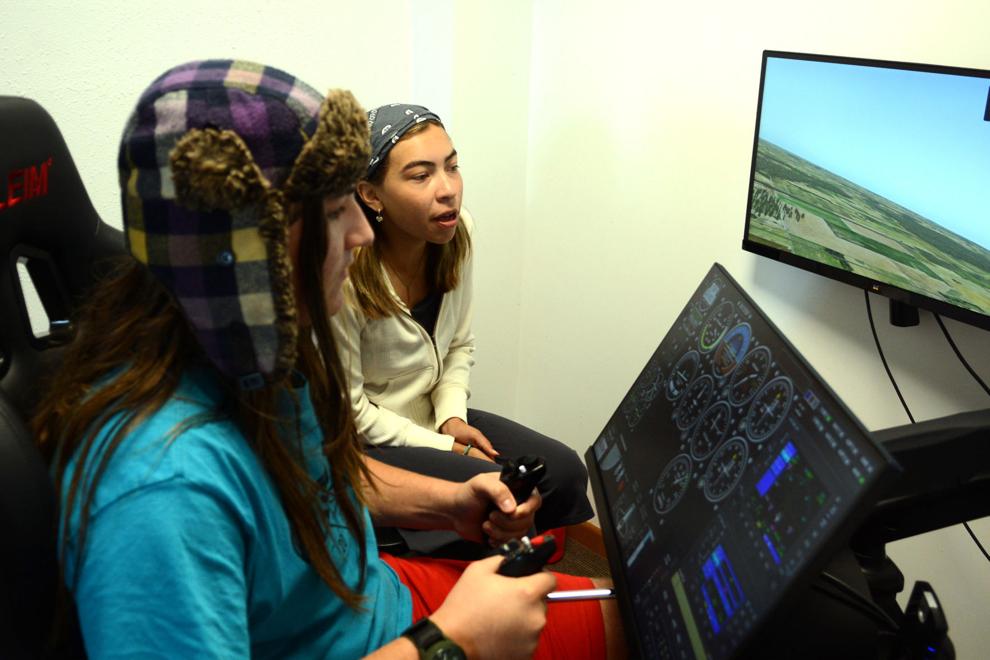 Avary Benavides, 17, sat in the co-pilot's seat at the FAA-approved simulator housed at the Baraboo-Dells airport, helping 15-year-old Hunter Tikkanen navigate "flying" over the Baraboo area. Scott said Canepa provided the technology, on which pilots can log flight time, and the airport commission provided the room rent-free.
Benavides said she's learned "quite a bit" from the simulator, including the meaning of the various flight instruments. In a textbook, the instruments look like "a bunch of gibberish," she said, but while flying in the simulator, "it comes together in your brain a little bit better."
She said she'd like to take the spring course but can't because her senior schedule is too full. She plans to study for the FAA test on her own and use Scott and Canepa as a resource to get her pilot's license as she considers becoming a corporate pilot.
On July 9, she and her fellow students had the chance to fly — with instructors — in a real plane after class, a few of them getting to control the yoke, she said.
"I was right under where the bluff line was, flying over Devil's Lake," she said, "and that was just such a cool experience."
Rodriguez said he enjoyed the opportunity, too: "Best experience of my life," he said.
Follow Susan Endres on Twitter @EndresSusan or call her at 745-3506.