In a symbolic move, two unions representing Baraboo School District employees have opted not to sign employment agreements offered by the district this year, leading the school board to declare an impasse in negotiations.
The Baraboo Education Association Executive Board wrote in a letter to the school board dated Sept. 16 that the district's initial 2019-20 compensation proposal, known as a master agreement, "will lead to counter-productive inequities between colleagues and staffs."
"We, as a district, are making great strides to improve equity for our students, as we should," the letter states. "The same concept must be applied to our staff. The proposal is counter to the concept of equity."
The district offered the teachers union a base wage increase of $1,000 for each returning full-time employee, which is a standard vertical movement on the salary matrix for Baraboo teachers. It offered the Secretarial Clerical Organization a raise of 39 cents per hour.
Because the district couldn't reach an agreement with either bargaining unit, the school board declared an impasse in negotiations with both after meeting in closed session for more than two hours on Oct. 28. Kevin Vodak, school board president and chairman of the Personnel Committee, said that action means, by state statute, that the district's final offer — which was the same as its initial offer — is imposed on employees.
State law limits raises
According to Wisconsin law since Act 10 passed in 2011, schools cannot offer wage increases that are higher than the consumer price index unless voters approve it in a referendum. Districts can offer more in supplemental pay, but unions are barred from negotiating anything other than base pay, so supplemental compensation is solely up to a district's discretion.
Vodak said the district offered the maximum increase allowed by law.
The proposal to the BEA included language noting the committee was considering supplemental pay that would bring full-time BEA member salaries up to a minimum of $41,000 and increase base pay by $1,000 to $38,000 for those with a bachelor's degree, $40,000 for a master's degree and $43,000 for a doctorate.
In total, the teachers union received $183,000 in supplemental pay, according to District Administrator Lori Mueller. Including the consumer price index raise, BEA compensation increased overall by 4.21%, Mueller said. The secretarial group got $3,120 in total supplemental compensation.
Both unions object to the salary matrices used to determine how the district distributes salary funds, said their representative Bill Froelich, Wisconsin Education Association Council Region 5 director.
"It's kind of a convoluted operation," Froelich said. "One of the aspects both groups have issue with is the costing methodology that the district uses to calculate their base wage."
Though their objections aren't necessarily with the master agreements, they refused to sign them this year because "it gets down to the principle of the matter," Froelich said, adding that the issue isn't as "black and white" as some people may think.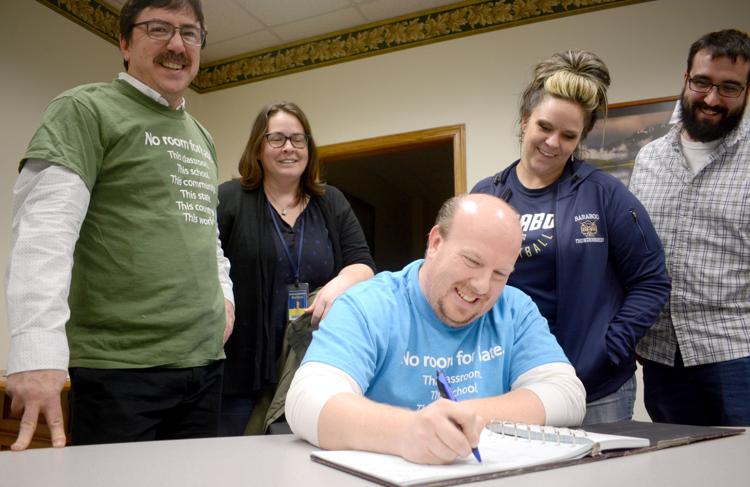 This is the first year the Secretarial Clerical Organization hasn't settled with the district's offer, he said. In the last three years, negotiations with the BEA have ended at an impasse twice, Vodak said.
Formula labeled 'unfair'
Froelich noted one of the biggest problems stems from the district prioritizing new employees. Each time it has raised starting salaries to be more competitive with other districts, the teachers who were hired under the previous starting amount were bumped up to match their new colleagues.
"You have some people that have been working here for several years that are going to be making the same amount as someone that was just hired this year, and that's what really bothers the teachers," Froelich said.
He emphasized that neither union resents new hires, but wants to look at the "fairness" of how salaries are determined.
By not adjusting anything but starting salaries, he said the district is "creating a quagmire with the rest of the salaries," particularly for those teachers who have worked here for five to 15 years. CPI raises apply to base pay, not a teacher's actual salary which could include supplemental pay, he said.
"Any school district that tries to only apply the CPI raise is not doing justice to its employees, because it does not take into consideration that it's an artificial number that doesn't address the cost of living. It really doesn't," Froelich said.
The teacher salary matrix, last updated in 2014, according to Froelich, includes 27 steps. In simplified terms, that means it would take the average teacher 27 years to reach the top step — a static amount that won't be worth as much then as it is now. Froelich said some teachers are leaving the district because they're realizing their career earnings won't be where they want them to be by the time they retire, he said.
He compared Baraboo's existing salary matrix with a car that keeps breaking down regardless of the money being poured into it.
"Maybe it's time to buy a new car," he said, adding that the district is struggling to hire people at the salaries in the schedule and is instead having to offer amounts higher than starting.
"The district allegedly is going to address some of these (issues), but they did not share any plan or show the BEA how they were going to do that," Froelich said.
Compared with nearby districts and those in the Badger Conference, Froelich said all positions in the Baraboo secretarial union "are lacking as far as top wage," though starting wages are competitive.
Vodak said that the school board addressed some pay inequities with supplemental pay, despite not being able to address them through negotiations with the unions due to Act 10.
More discussion wanted
The Personnel Committee engages in two types of meetings with staff unions: negotiation sessions and "meet and confer" sessions. By law, the parties can only discuss a narrow set of topics during negotiation meetings, but they aren't as limited when they meet and confer, Vodak said. He said the committee held two meet and confer sessions with the teachers union this year.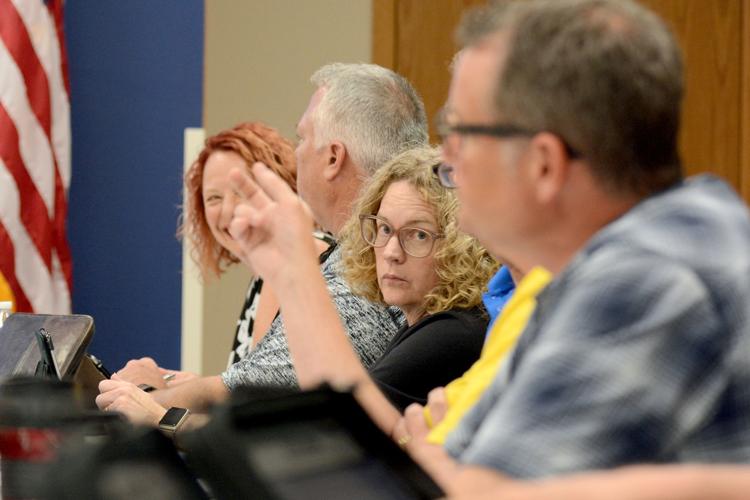 However, the discussions usually take place right after negotiations, which Vodak acknowledged are "essentially confrontational to begin with." This year, he said the committee "tentatively" agreed with both unions to meet more frequently to confer with their representatives throughout the year.
"If the point is to have open lines of communication, it makes sense to try and have that a little bit more frequently," he said, later adding, "Time will tell whether we make that happen or not — or whether we all make that happen — but that's the goal."
The board learned about the inequities in pay affecting teachers who have been in Baraboo longer through the meet and confer process, Vodak said.
"It's been the board's desire to address what we can based upon budget constraints," he said. "No matter what we do, it's not going to fix whatever the perceived inequities are for everybody, but the board has a dedicated path to try to address those as we can."
The BEA and SCO represent all employees eligible for those groups, though not all are members, according to Froelich. He declined to say how many are members.
Follow Susan Endres on Twitter @EndresSusan or call her at 745-3506.
Be the first to know
Get local news delivered to your inbox!