Baraboo School Board members got a slight raise after a district employee moved for each member to be paid $3,000 and the board president to be paid $4,000 this year during the October annual meeting.
Last year, the seven board members were paid $75 per meeting they attended, regardless of their particular office. Ranging from just under $2,000 to just over $3,000, the average member was paid $2,657 in 2018-19.
While most individual members will make only slightly more than they did last year, the new salaries represent an 18% increase overall. Board salaries totaled $18,600 last year and will be $22,000 this year.
Compensation for school board members is set each year during the annual meeting by district electors — residents of voting age who attend the public meeting. To avoid a conflict of interest, board members cannot take part in discussions or vote on that resolution.
State law allows school board members to be paid an annual salary or a stipend for each school board meeting they attend.
Resolutions for the annual meeting, included in a packet given to attendees, were prepared by the district's parliamentarian, attorney Mike Julka of Madison-based Boardman & Clark.
Board President Kevin Vodak said prior to the meeting Julka had suggested changing the language in the salaries resolution to an annual amount rather than a per-meeting amount, as had been standard in the district for at least several years, because annual salaries were more common among school districts with which Julka works.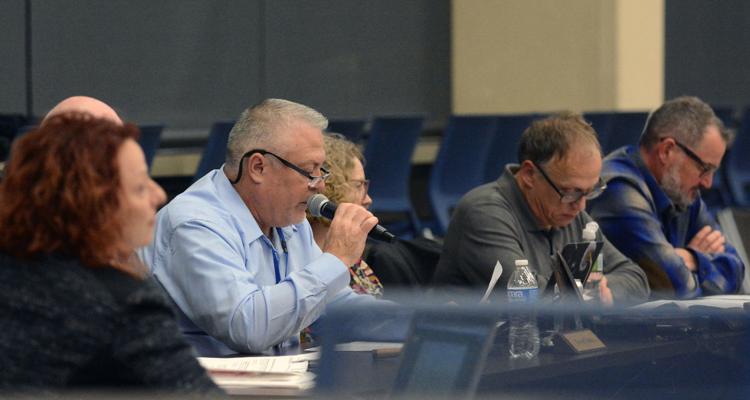 "So he (Julka) wrote the resolution, I OK'd the resolution that he wrote and then it was put in the annual meeting booklet," Vodak said.
In the meeting packet, the resolution left blank spaces for the salary amounts.
John Gunnell, a behavior coach at one of Baraboo's elementary schools, wrote in an email that he landed on $3,000 and $4,000 for board president because they were "in line with what a school board member makes on a yearly basis."
You have free articles remaining.
"I have attended past annual meetings in Baraboo and there are often questions regarding board member salaries. I was simply hoping to move the meeting along," Gunnell wrote.
The motion passed with no opposition, while board members abstained. According to Administrative Assistant Ellen Weiland, 27 electors signed in at the meeting. Most were district staff.
Board Vice President Doug Mering said he originally didn't want to change the way members were compensated.
"I did not want this, but this was the way our legal counsel directed us to go," Mering said, adding that he didn't want to make "a nickel more off of this than what I did in the past."
Mering said he plans to donate the difference between his previous board salary and the new one to the district's Student Assistance Fund.
Out of all seven members, he and Vodak will see the largest increase from last year. Mering will get roughly $1,000 more and Vodak will get about $900 more.
In 2016-17, board members made $50 per meeting, according to District Administrator Lori Mueller. During the next two years, they made $75 per meeting.
Member totals vary depending on factors including which committees they served on and whether they were newly elected to office. Some committees meet more frequently than others. The president carries extra responsibilities which require a larger time commitment, Mering said.
In 2016-17, amounts ranged from $600 to $2,400, averaging $1,694. In 2017-18, they ranged from $375 to $3,450 and averaged $2,359.
Most board members serve on two committees, except for Vodak and Sean McNevin, who serve on three, and Mering, who serves on one.
Mering estimated he attends up to 16 meetings per month for his official duties, though not all are eligible for compensation. Vodak estimated he attends between 40 and 50 per month.
Follow Susan Endres on Twitter @EndresSusan or call her at 745-3506.