Community members can get a personal tour of the construction at Baraboo's middle school, as crews continue to make progress ahead of schedule.
Brian Horras, construction manager from CG Schmidt, said his workers have been able to get into many spaces they weren't expecting this early, thanks to the flexibility of Jack Young Middle School's administration, staff and students, which means they will have less to do over the summer.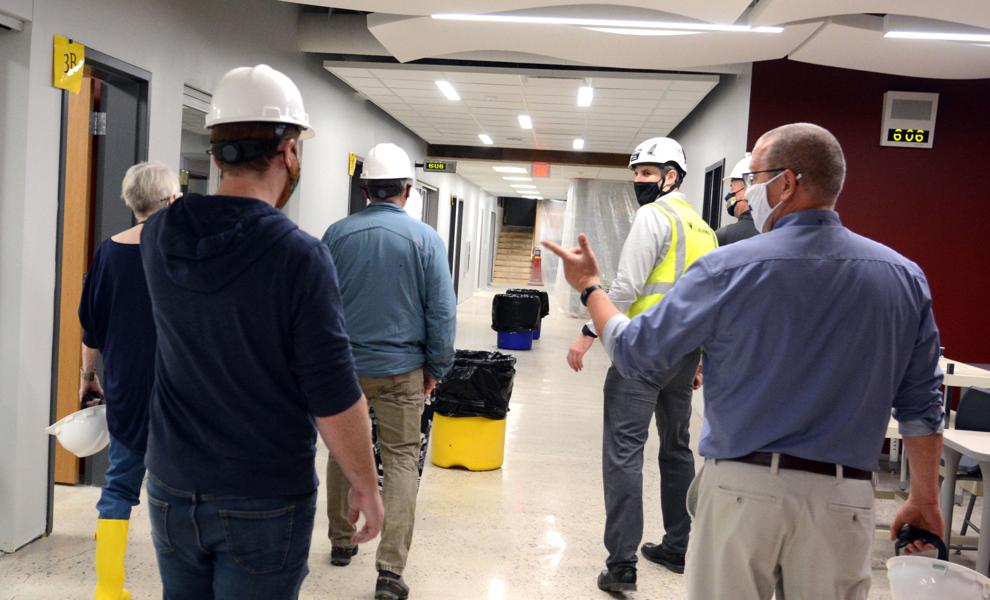 "They've saved the district a lot of money by being so flexible," Horras said Monday at the end of a school board tour of the building.
But because not everything can be moved up in the timeline, the $41.7 million renovation and addition will be finished right before students return this fall, the same as previously planned, Horras said.
The band room, which wasn't supposed to be started until summer, is already done, along with the adjacent practice rooms and jazz ensemble room. Staff have already moved into the new student services area, now located next to the front office and featuring "acoustical rooms" to block noise when a student is having an outburst. The auxiliary gymnasium and some academic spaces are also completed.
Lockers are mostly installed, and demolition of the old kitchen has begun. Crews have been framing, pouring concrete and installing steel for the new "monumental stairs," which replaced the old ramp, over the past several months and they will be taking down scaffolding next week, Horras said.
Prior board tours already revealed the new commons area and library.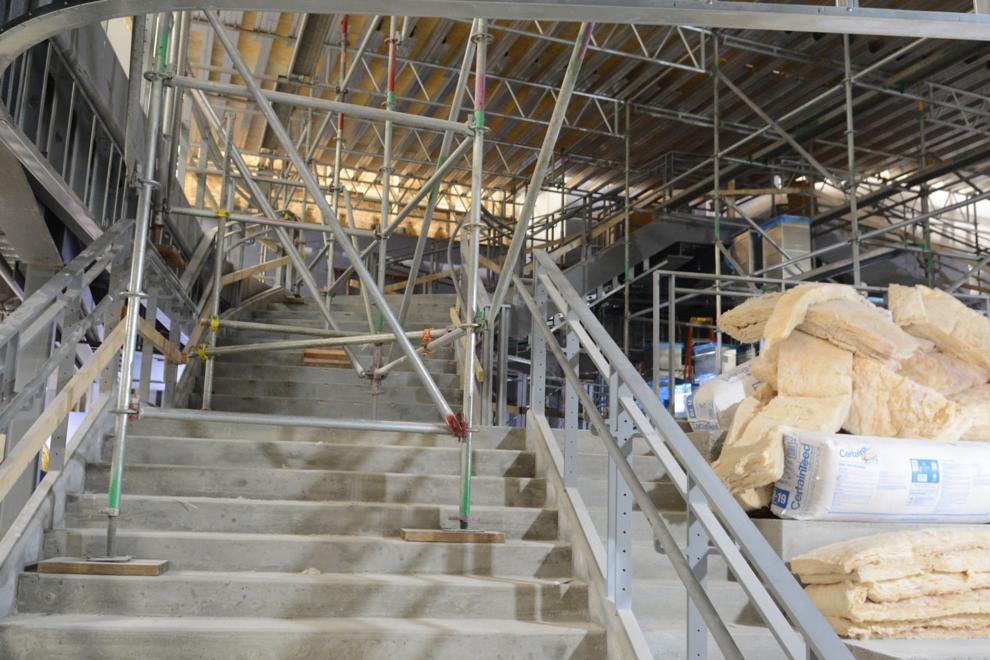 Horras said project leaders recently commissioned the Little Eagle Arts Foundation to create a Ho-Chunk cultural art installation about the history of the thunderbird for the school's new entryway.
Alex Schenck, a Baraboo School District alumnus who was recently elected to the school board, walked through the building Monday for the first time since construction began last spring. He was a student at Jack Young "a long time ago," he said, and called the changes "an upgrade."
"It's nice. It's definitely nice," he said.
The project is under budget, allowing the team to put the savings toward items that weren't initially included, such as repaving the front parking lot, according to Horras.
District Administrator Lori Mueller will offer tours of the construction to any groups in the Baraboo community. Interested parties can call the district office at 608-355-3950 or email Mueller at lmueller@barabooschools.net.
She said the district offered the same opportunity a few years ago when the high school was renovated, and now that the school year is winding down, "I just want to start getting it on people's radar."
"It belongs to the community," Mueller said of the school.
Follow Susan Endres on Twitter @EndresSusan or call her at 745-3506.