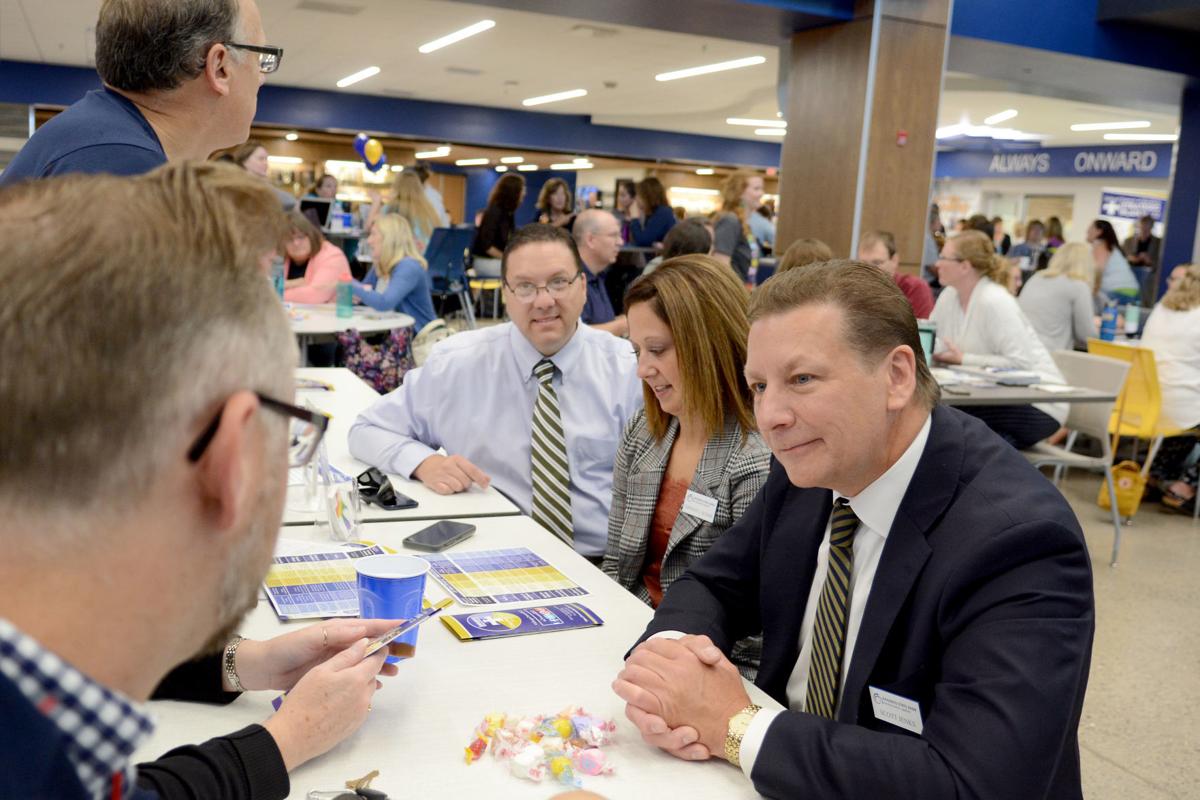 Rolling out a new strategic plan and social media campaign, the Baraboo School District welcomed back teachers and other staff Wednesday morning with a Back-to-School Bash in the high school commons.
"I'm calling on all of you to engage with the strategic plan, give your best to our students because they deserve it, and make this district a beloved place for our community," District Administrator Lori Mueller said.
She unveiled the district's 2019-22 strategic plan to the school board in May after district leaders spent the school year developing it, but Wednesday marked the kickoff for teachers.
The plan features a new mission statement — "The School District of Baraboo will prepare and inspire all students to grow to their full potential and engage in an ever-changing world" — and motto, as well as redefined core beliefs and "strategic directions," which Mueller said will guide the district's work over the next three years.
Equity, now one of the five strategic directions and six core beliefs, became a central topic within the community last year. A photo of Baraboo students appearing to make Nazi salutes went viral across social media in November, drawing criticism about how the school's culture affects minority students.
"We all have good intentions here about making sure that we give our students everything and that we're giving all of our students everything, but there are a lot of unjust things that occur and a lot of it's unintentional, and so we're going to work on identifying those things that occur in schools, occur in our classrooms, that are unjust for students and address them immediately," Mueller told staff Wednesday. "We're not going to make a plan. We're not going to give you professional development for two years about how to do this different. When we see something unjust, we're going to address it immediately. Our kids deserve that."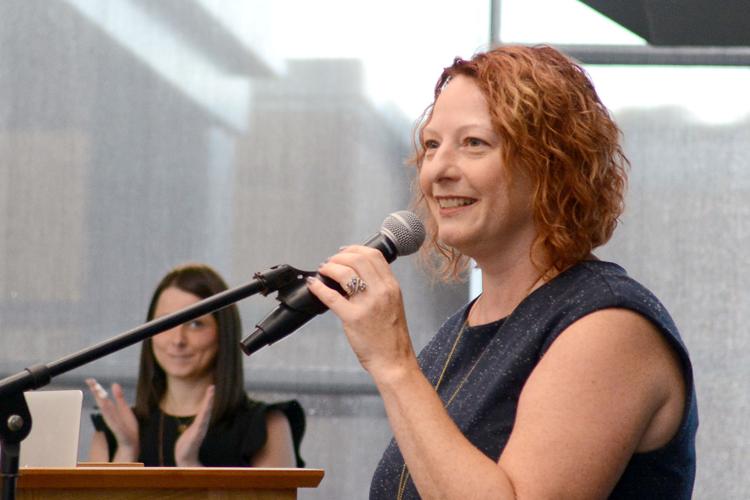 Mueller said the district will implement a framework meant to ensure all students have equitable access to opportunities within the school system and to develop teachers' and administrators' ability to do that work.
Throughout the day, teachers participated in workshops on social justice, racial identity and how to serve students of color, along with other education topics, in preparation for this school year. School starts Tuesday for Baraboo students.
Other strategic directions include "culture of excellence" — valuing education and taking pride in the work — "educator efficacy," which focuses on investing in educators, and "community partnerships," one of the most valuable pieces of the district's last strategic plan, Mueller said.
She invited prominent community and business leaders to attend the Back-to-School Bash so district staff members could "visibly see the support" they get from the community, Mueller said.
We at the Baraboo School District are so excited to welcome back students next week! A big thank you to our community partners for joining our staff at this morning's Back-to-School Bash! #AlwaysOnwardBSD pic.twitter.com/GxvqQ6wkjO

— School District of Baraboo (@OnwardBSD) August 28, 2019
You have free articles remaining.
Strategic indicators
Teachers, staff and community members alike were asked Wednesday to think about how they fit into a grid of "strategic indicators" and actions the district plans to take to meet its three-year goals.
Mueller said the indicators are based on benchmarks for which school districts are held accountable.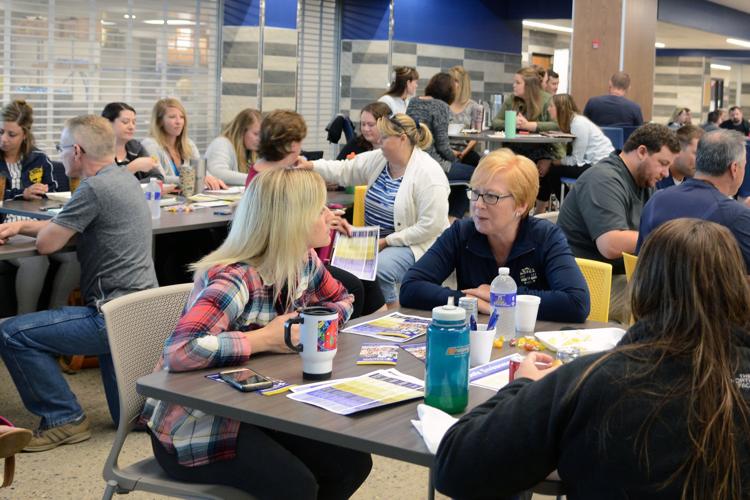 For example, Baraboo School District aims to drop its chronic absenteeism rate — the percentage of students who miss at least 10% of school — to 10% by 2022. School leaders realized last year the district has "some of the worst chronic absenteeism rates in the state," Mueller said.
Other indicators address literacy proficiency, math skills, graduation rates and student behavior. The district categorized its strategies to improve on these benchmarks into the new strategic directions.
A dashboard tracking its progress on the benchmarks will be available on the district website once staff upload the relevant data next week, Mueller said.
Social media revamp
The Baraboo School District will promote its activities this year using a new social media tagline, #AlwaysOnwardBSD, on new Facebook, Twitter and Instagram pages.
"We're moving away from #BarabooProud," Mueller said.
The #BarabooProud tagline, which the district formerly used for its promotion, accompanied the offensive social media post that originally catapulted Baraboo to the national stage.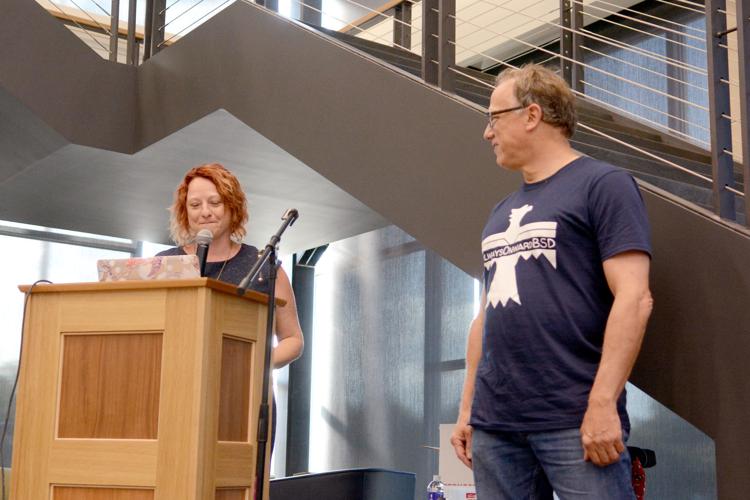 The district shut down its old Facebook page in November, citing threats and hateful messages.
Its new social media presence — @OnwardBSD — currently has about 200 followers, compared to its previous 3,500, said Holly Henderson, the district's communications specialist. She asked staff members to share posts from the district throughout the school year to help rebuild its following.
All staff members received a T-shirt sporting the #AlwaysOnwardBSD hashtag motto. Mueller said the district will sell the shirts to the public to make up the cost.
Follow Susan Endres on Twitter @EndresSusan or call her at 745-3506.
Be the first to know
Get local news delivered to your inbox!