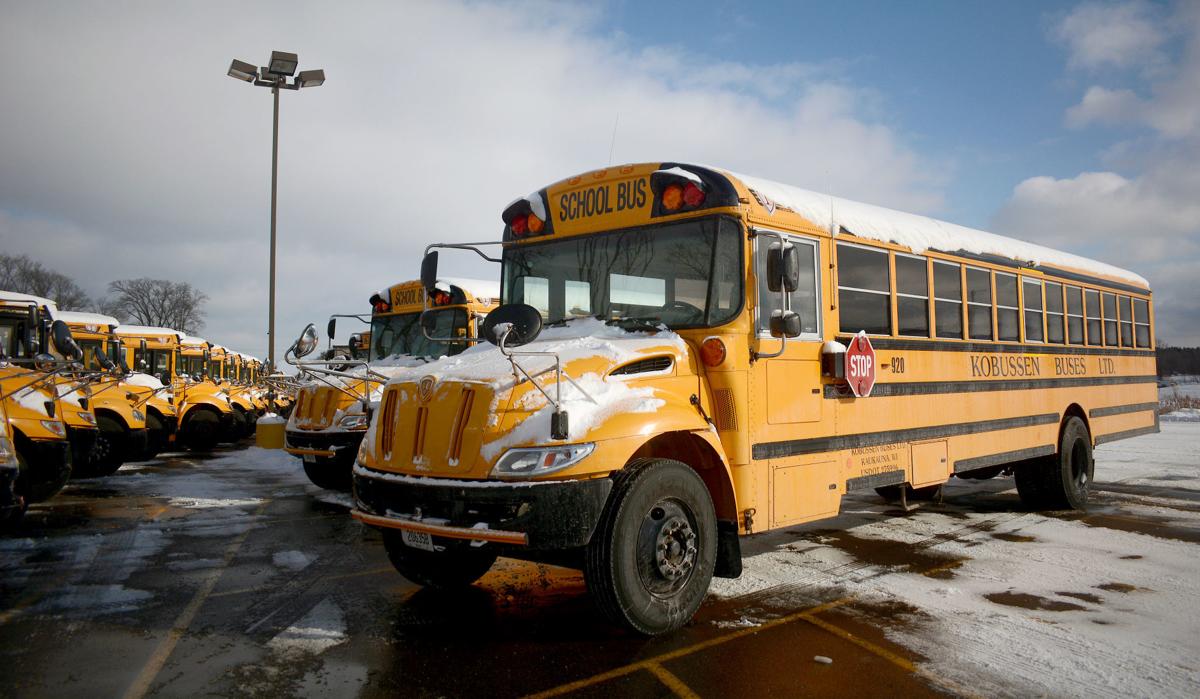 The Baraboo School District is seeking proposals for transportation services after experiencing "ongoing issues" with the currently contracted Kobussen Buses.
Mike Kohlman, chairman of the school board's Transportation Committee, said that the district isn't canceling the contract — it just isn't automatically renewing it. Kobussen's problems mainly relate to poor communication, both with the district and with parents, Kohlman said.
At a board meeting Jan. 14, he said the committee has tried to resolve its differences with the bus company.
"There were some actions they needed to take in order to accomplish that," he said. "And they haven't made any progress on those actions, and so here we are."
Actions include merging databases, improving communication with parents and keeping the district informed, especially about which students are on which bus.
"It's challenging, I understand, for Kobussen,but it's critically important for us, particularly if there's ever an incident," Kohlman said. "When it's snowy like it is now, if a bus slides into the ditch, we need to contact parents. We need to know what students are on that bus."
Some parents have expressed displeasure on social media about overcrowding on shuttle buses between schools, as well as problems with bus drivers and monitors being unable to control student behavior.
In September, Amber Hulett wrote to the Baraboo News Republic that her children sometimes have to sit in the aisle during their morning ride to school. A second bus was added to the route in December to solve the issue, she wrote Thursday.
You have free articles remaining.
But overcrowding had been a problem for roughly five years, said parent Sara Watts. She said her children have been hit and pushed by other students on the bus, which she reported to the district.
"When I was a kid and there was a problem, they would make them have an assigned seat up behind the bus driver and if they still didn't behave, they'd be off the bus," Watts said. "I'm waiting for something to happen, because I'm ready to file a lawsuit. … If my kid gets hurt or assaulted again, I don't have any problem pressing charges against a sixth- or seventh-grader that's causing problems."
Kohlman said he wasn't aware of an increase in behavioral incidents or overcrowding on buses. However, after one or two parents contacted the district last year, he said district staff started auditing random video footage from the school buses every week to monitor behavior.
Kobussen could still address the district's concerns and submit a successful proposal, Kohlman said.
"The easiest action would be to continue doing business with them, but they're not demonstrating a desire to do so," he said.
Board members voted unanimously to put out a request for transportation proposals. The deadline for submissions is March 1 so the board can take action in April, said Director of Business Services Yvette Updike.
Kobussen did not return a phone call Thursday.
In other action Jan. 14, the Baraboo School Board:
Approved the retirements of BHS chemistry teacher Paul Roth, who worked for the district for 32 years; speech and language pathologist Michele Feld, 27 years; and West Elementary School kindergarten teacher Paige Baird, 15 years.
Accepted resignations by high school special education teacher Angela Brozak and Jack Young Middle School social studies teacher Samuel Koenig.
Authorized job postings for a part-time special education assistant, middle school social studies teacher, high school science teacher, speech and language pathologist and summer academy positions.
Approved overnight field trips for the BHS Key Club March 15-17, BHS Student Council April 28-29 and JYMS Student Council May 5-6.
Went into closed session to receive an update on a district investigation and personnel response. No action was taken.
Follow Susan Endres on Twitter @EndresSusan or call her at 745-3506.