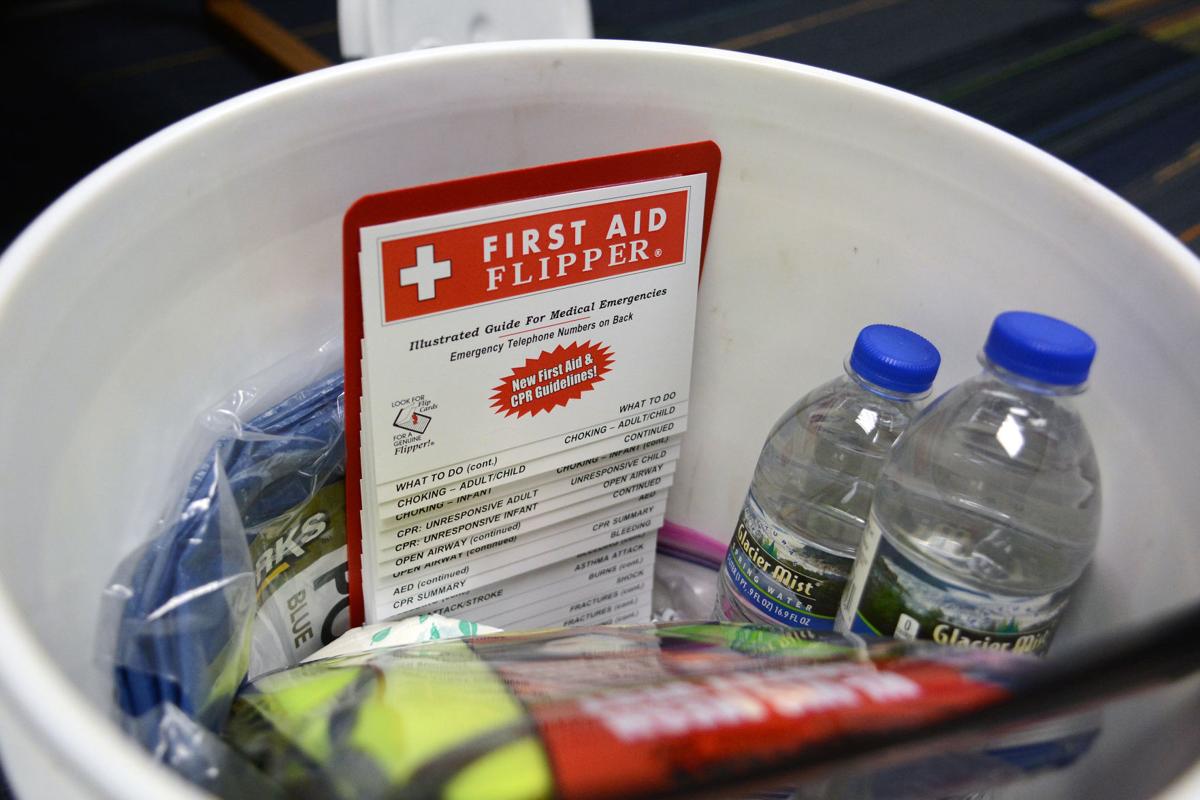 In the event of a prolonged lockdown, Baraboo High School students needing a bathroom could find themselves stuck using a bucket and kitty litter.
The Baraboo School District recently added to the supplies that fill 5-gallon emergency buckets in each BHS classroom using school safety grant funds from the Wisconsin Department of Justice, administrators said. But they noted that having buckets with emergency supplies in each classroom isn't new.
"It's common practice for us as a district to start the school year making sure that everybody's classroom emergency buckets are updated," District Administrator Lori Mueller said.
Each classroom in the district has had one for about 10 years. Over that time, however, the district's methods for how to handle a potentially dangerous situation have changed.
A decade ago, teachers and students were taught to lock their doors and hide in their classroom in the event of a threat. Now, the Baraboo School District uses a protocol referred to as ALICE — Alert, Lockdown, Inform, Counter and Evacuate — which gives teachers and students more options, said Clint Brickl, the district's safety coordinator and high school associate principal.
The high school buckets are filled with first-aid items and instructions, water bottles, emergency blankets, flashlights, toilet paper and kitty litter, among other supplies. Mueller said they were designed in collaboration with Sauk County Emergency Management and Baraboo safety officials.
"Is it possible that teachers and students could be locked down in their room for a little while? Yeah. To an extent where we would need all the items in that bucket? Probably not," Brickl said. "But we wanted to be prepared just in case."
Mueller estimated the district started using ALICE as part of its safety protocols at least seven years ago. She said the classroom buckets would be used for an "admin hold," which generally denotes a threat outside the school and locks down the building. It also can be invoked if staff need to keep a particular student isolated from the rest of the student body.
A lockdown would mean staff can launch into the ALICE protocol, but doesn't necessarily mean students and teachers hunker down in a locked room, she explained.
In Portage, the supplies are called "go buckets." Portage District Administrator Margaret Rudolph said her schools have had them for years, too.
"We did it more on the fact that if there was some injury that we'd be prepared, you know, if it took a while to get medical attention," Rudolph said. "But then, like I said, they're 'go buckets,' so if we have to evacuate, we grab the bucket and go, so wherever we are, we also have these supplies."
The Portage district's buckets include toilet paper, tissues, water bottles, hand sanitizer and rubber gloves. Rudolph said they've never been used.
Brickl noted the buckets in other Baraboo school buildings house similar items but need to be reviewed because they were put together years ago. He said they will be updated with help from the Baraboo District Ambulance Service and others.
Follow Susan Endres on Twitter @EndresSusan or call her at 745-3506.
Be the first to know
Get local news delivered to your inbox!