With work on schedule and a deadline 3½ months out, the end is in sight for construction at Baraboo High School.
Project leaders plan to finish the building's new fitness center before the end of the school year and complete all remaining work by Aug. 27 in time for the start of the next school year. CG Schmidt project manager Brian Horras said construction crews will concentrate their efforts this summer on technical education and English classrooms, along with the commons space and several other areas.
"When the summer hits, the hardest part of the project is going to be the tech ed area because that's the last area we can get into," he said. "It's really going to be the commons and most of the tech ed area where the focus is going to be put toward."
District leaders and community members were given a tour of completed and ongoing construction projects Monday night. Horras fielded questions as he provided attendees with views of construction sites and newly renovated areas.
"The budget is right on track," he said, adding that some contingency savings already have been returned to the district.
The improvements are part of the Baraboo School District's $22 million referendum to improve facilities at the high school. They include the expansion and renovation of classrooms for technical education, family and consumer education, art and physical education.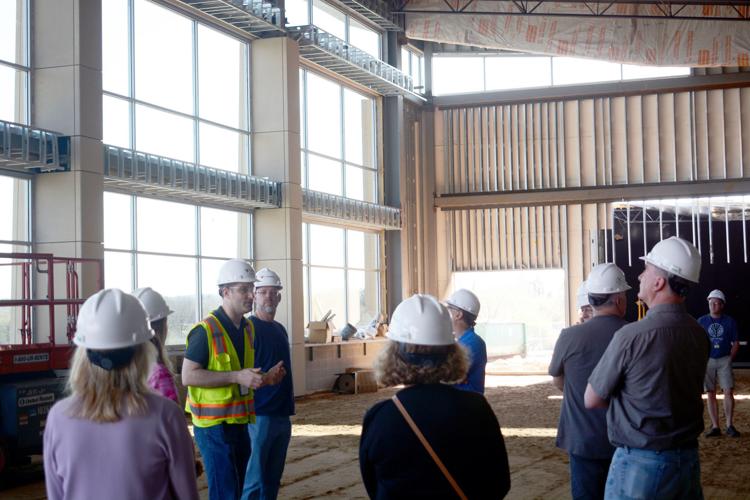 The improvements also include the renovation and expansion of the high school's cafeteria and commons, as well as improvements to the library and student services area. A modern temperature control system and fire sprinklers are included as well. The spending was approved by district voters in November 2016.
Eppstein Uhen Architects project manager Bob Vajgrt oversaw much of the design process for the new spaces. While he enjoys seeing his work come to life, Vajgrt said he's looking forward to seeing students, teachers and administrators react when the projects are complete in August.
"To me, the architecture is a byproduct of what I do," he said. "I look at the entire process of designing, trying to meet the client's needs, and then at the end of the day, did we hit the mark or not?"
Horras said coordinating school programming with construction has been one of the biggest challenges. He said weekly meetings with district staff have allowed project managers to plan several weeks in advance.
"The teachers have been great," he said. "That gives us plenty of time to communicate with the district about what's going to be happening."
Vajgrt said he believes the finished project will create positive changes at Baraboo High School.
"The main goal of the project is really to be transformational with the building and learning spaces," he said. "I think with what we're doing on the outside of the building, there is a transformation happening, and within the building I think there's a big transformation happening as well."