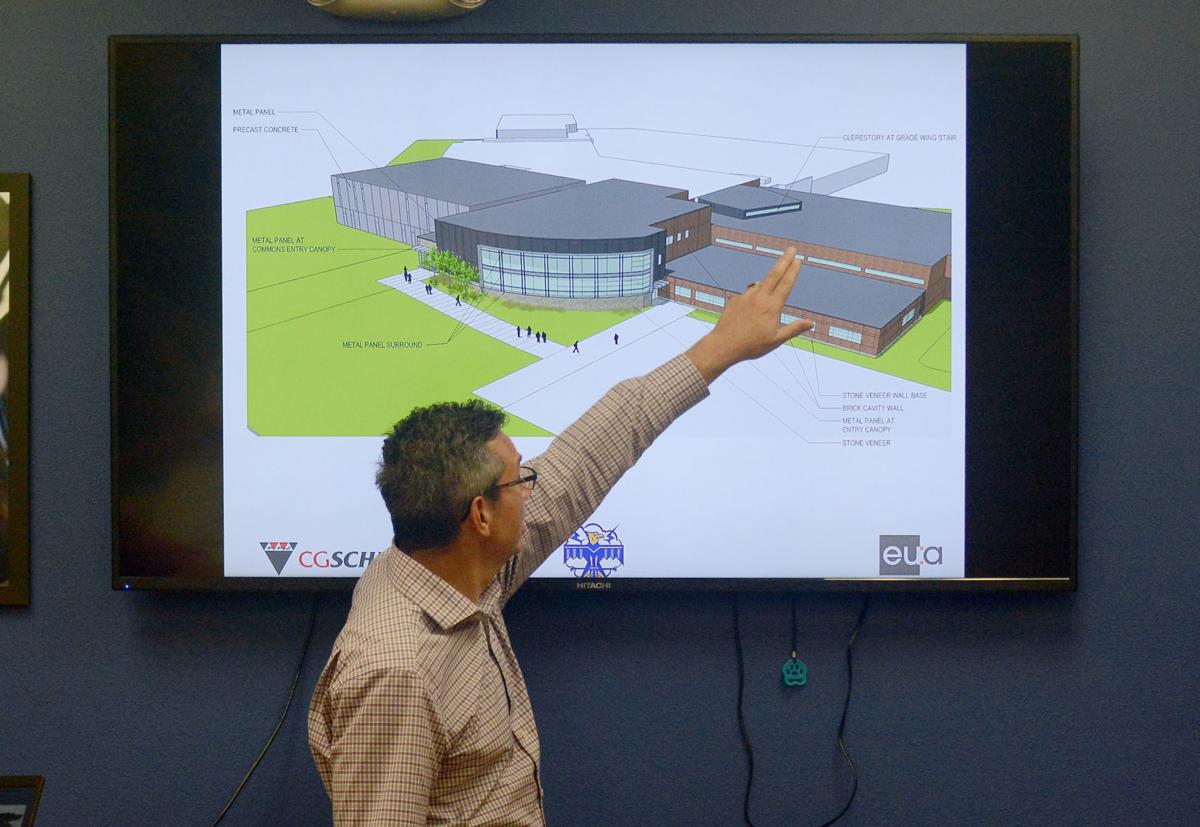 After its renovation, Baraboo's middle school will feature a wall of windows looking into its commons and a circular stairwell to replace the current ramp, according to schematic designs presented to the school board Monday.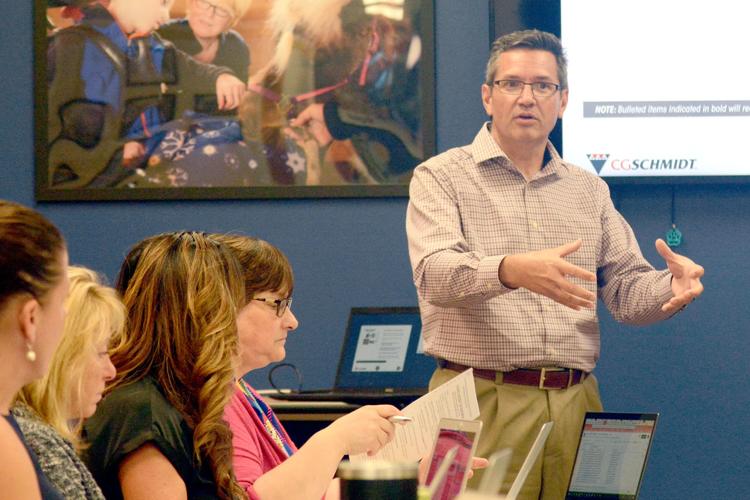 Bob Vajgrt, project manager with Milwaukee-based Eppstein Uhen Architects, emphasized that nothing in the design is finalized yet. He described it as a "napkin sketch," while the next phase of the project — design development — is writing it on "hard paper."
"In schematic design, we're looking at those big pieces and trying to figure out where do they go, how do they fit with all the other pieces, so that's what we've been working on" since April, Vajgrt said.
Voters approved the $41.7 million renovation and 45,000-square-foot addition for Jack Young Middle School in early April.
Since then, project leaders have worked to develop the design and floor plan, said Brian Hearn of EUA. The gym, new academic space and combined commons and library comprise the three main components of the new construction.
"The general idea is to create a transformative space and something that's truly unique and substantially different than the existing building," Hearn said.
The new commons will face the "best views to the south and west," Hearn said. While larger than the existing commons, they're located in roughly the same place. The same is true of the new gym, which will be adjacent to the two-story commons and library.
Like at the renovated Baraboo High School, the middle school library will overlook the commons from the floor above, according to the design.
Classroom spaces will be organized into neighborhoods based on grade level, with collaboration space in the center of each. Seventh and eighth grade students also are getting four new science labs.
"It will be a new, modern learning environment," Vajgrt told the school board, noting that corridors will provide collaboration spaces.
Designers aim to improve the building's circulation, so students can move more easily between classes and not have to all transition through the same bottlenecked point — currently the ramp. A central circular stairway, allowing access to all floors, will replace the ramp and provide double the space for students to move, Hearn said.
Vajgrt added that certain design features are meant to allow daylight to reach farther into the building than it currently does.
Planners are almost done with the schematic design phase, he said.
Next up is the design development phase, where project leaders meet with school staff and incorporate their comments into the floor plans. Vajgrt said planners will refine what they developed during the schematic design phase, such as what types of amenities will be needed and where. Electrical, plumbing and mechanical work also will begin, he noted.
Design development should finish in November, according to an updated project timeline.
Construction Manager Brian Horras of Madison-based CG Schmidt said a construction cost estimate will be developed over the next six weeks. At that point, planners will update the board again.
From December to February, construction documents will be gathered and companies will bid on the work that needs to be done.
Construction is expected to start in March in order to finish in September 2021.
EUA and CG Schmidt are working together on the school project. Both also worked on the $22 million Baraboo High School renovation, which finished last summer.
Editor's note: This story has been updated to correct the construction finish date. The middle school project is expected to conclude by September 2021.
Follow Susan Endres on Twitter @EndresSusan or call her at 745-3506.
Be the first to know
Get local news delivered to your inbox!