Two former Baraboo teachers are publicly defending the school district, challenging the "current narrative" about staff turnover.
Teresa Lien and Greg Manson were two of the 48 Baraboo School District certified staff members who left the district after the 2018-19 school year.
"I'm here on behalf of myself, and I'd like to share my story about the teachers leaving the Baraboo School District, because the narrative that's in the local paper and in social media does not tell my story," Lien said during the public comment period at the Nov. 11 school board meeting.
Compared with four other area districts, Baraboo has lost more than double the percentage of teachers since last year, according to records requests to Baraboo, Portage, Reedsburg, Sauk Prairie and Wisconsin Dells made by Baraboo resident and former teacher Michael Scherck.
Baraboo lost almost 20% while the other four districts each lost less than 10%.
Scherck brought the issue of teacher attrition to the school board's attention Sept. 23. In explaining his concerns, Scherck cited low morale as one of the reasons Baraboo is losing more staff than other districts.
Lien, however, described her experience of leaving two different districts before landing in Baraboo in 1987, emphasizing that teachers have always moved around. She said she was unhappy with her working conditions in Baraboo in the 1990s and even considered taking a job in a neighboring district — but she was ultimately grateful that she stayed.
She blamed the Baraboo Education Association for "negatively impacting" her salary in the early 1990s when the teachers union had negotiated a "truncated" salary schedule.
"Nobody talked about making it equitable back then, and we had to start over," she said.
There also were years when teachers' salaries were frozen, she added.
"This is not what I want to remember about my 36 years of teaching, but I bring it up because the current narrative makes it sound like these things have never happened and that they have never happened anywhere else," Lien said.
"I've worked in more school districts and in more states than anyone else in this room, and I can tell you that without a doubt, I'm always happy to come home," said Lien, who worked for the Baraboo School District for 32 years. "There's exceptional work being done here in Baraboo, and there should be no apologies for high expectations, because our students deserve the best."
She said "everyone," including the BEA, knew in the early 2000s that high turnover would be a problem in the Baraboo School District and in schools nationally over the coming decades. The district, she said, forecast that by 2020, "we were going to suffer extreme high attrition rates … so this isn't a surprise."
Since that time, she noted the school board and administration has added teacher positions and leadership roles.
"This is not only a clear antidote to mitigating attrition, it is strong evidence that teachers' expertise is valued and teacher agency is important in the Baraboo School District," she said.
A former instructional facilitator for the district, Lien retired in June. Instructional facilitators coach teachers and lead them through mentoring, professional development and other programs. Of the 48 certified staff members who left after last year, 10 were retirements, according to District Administrator Lori Mueller.
Greg Manson, a former Baraboo High School business education teacher, taught in the district for six years, starting in the 2013-14 school year. His resignation was approved by the school board July 29.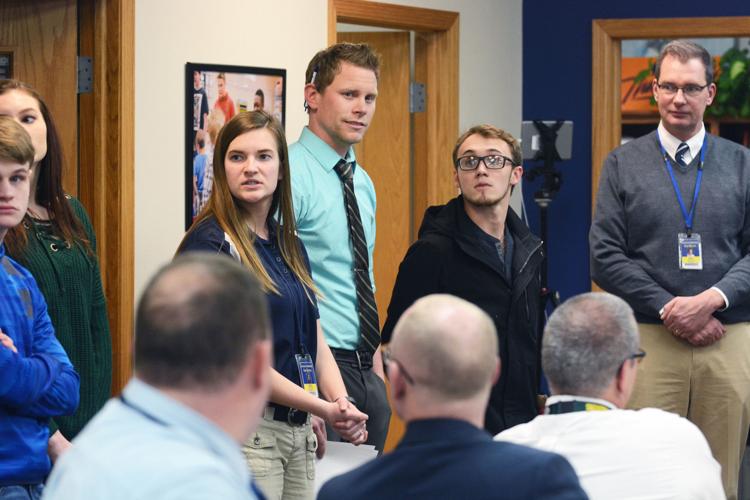 He told the school board last week that he would only speak positively of the Baraboo School District, noting that he wanted to be at the meeting to support Lien.
"I want to make sure it's really clear that when I say I love Baraboo, I really mean it — the best people I ever worked for. Glenn (Bildsten, BHS principal) especially — best boss I ever had in my life," Manson said. "I think I'm a really great teacher, and I think the reason why I am is because Baraboo made me a great teacher. It gave me a lot of opportunities that I wouldn't have gotten elsewhere."
Manson said the district is doing "amazing things" and Baraboo remains his home.
"My kids still go to school here because there's resources and opportunities available here that they're not going to get elsewhere in the state. This is one of the best school districts in the country, and I really, firmly believe that too," he said.
In his resignation letter, Manson wrote "with a sad heart" that he decided to leave the district to pursue teaching opportunities that would benefit his personal growth.
Mueller said in an email that she had been aware of Lien's intentions to speak.
"Prior to the meeting, Teresa Lien indicated that she intended to share her story during public comment," Mueller wrote.
"I've worked in more school districts and in more states than anyone else in this room, and I can tell you that without a doubt, I'm always happy to come home." Former Baraboo teacher Teresa Lien
Follow Susan Endres on Twitter @EndresSusan or call her at 745-3506.
"I've worked in more school districts and in more states than anyone else in this room, and I can tell you that without a doubt, I'm always happy to come home."

Former Baraboo teacher Teresa Lien 
Be the first to know
Get local news delivered to your inbox!