A downward trend has brought teen smoking rates to their lowest point since at least the early 1990s, according to the Wisconsin Department of Public Instruction, but the emergence of electronic cigarettes is a new concern — and one that can be easier for teens to conceal.
Sauk County Health Educator Sara Jesse said she's concerned about teens getting addicted to nicotine or other substances because of the devices, also known as vape pens.
"Our rates of smoking have gone way down, but now it's estimated that 28% of high school students are currently using vape products," Jesse said. "Those are very, very scary numbers because we know that a lot of them will move on to cigarettes and that they are creating these pathways in their brain to addiction by using nicotine now."
The 2019 National Youth Tobacco Survey found 27.5% of teenagers use e-cigarettes. Jesse said that number "seems to be accurate" for Sauk County, though the area's 2019 Youth Risk Behavior Survey results haven't been released.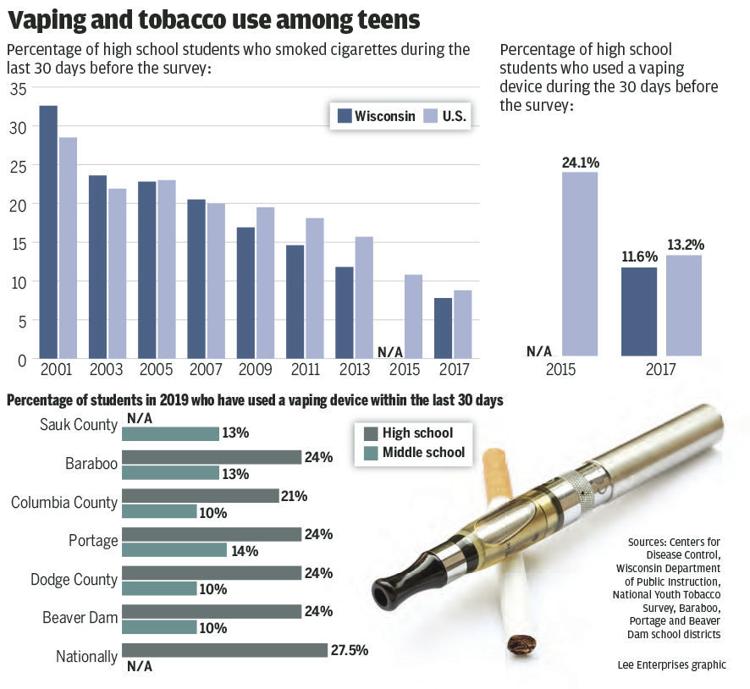 This is the first year the Wisconsin Department of Public Instruction has provided county-level data from the YRBS, which is administered by individual school districts.
Preliminary reports released Oct. 18 show 21% of high school students in Columbia County and 24% in Dodge County used a vaping device within 30 days of taking the survey. That's compared with 9% in Columbia and 13% in Dodge who used other types of tobacco products within the same period.
Sauk County didn't meet the requirements to get a preliminary report on its high schools, according to the DPI's Kate McCoy. To produce county data, the agency requires at least three public high schools to participate, along with other stipulations.
But in 2017, the Sauk County Health Department aggregated youth risk behavior survey data from its individual school districts and found 18% of the county's high school students were vaping, Jesse said. The National Youth Tobacco Survey reported a rate of 11.7% nationwide that same year.
Middle school vaping rates this year were 10% in Columbia and Dodge counties and 13% in Sauk County.
According to Tim Belleau, Portage School District's alcohol, tobacco and other drugs coordinator, vaping is so popular among students that it's on track to become the most-used illegal substance by high schoolers, above even alcohol, which usually is No. 1.
The rate of high school students in Portage who vaped within 30 days of the survey jumped from 14.4% in 2017 to 24% this year. Those who used other tobacco products were at 8% this year, close to the state average.
More than half of Portage High School students this year reported having tried e-cigarettes at some point in their life.
While the National Youth Tobacco Survey has reported a steep increase in teen vaping rates — from 11.7% two years ago to 27.5% this year — trend data from states, counties or local districts generally isn't available. The YRBS, conducted every other year, first started asking students about vaping in 2017, adding another question in 2019.
Teens targeted
Local educators point to marketing and misinformation as the main causes behind the surge in teen vaping.
It has become the "nicotine of choice" because producers advertise the vape liquid as a healthy alternative to smoking and offer a gamut of fruit and candy flavors, said Lodi School District Administrator Charles Pursell.
Most Wisconsin teens say they wouldn't try e-cigarettes if they weren't flavored, according to Jesse, the Sauk County health official.
She said they carry more risks than people realize. She and other educators visit schools to teach students, parents and school staff what is inhaled from the devices. Last year, the Sauk County Health Department held programs for Reedsburg, Sauk Prairie, Baraboo and River Valley school districts.
"I see the looks of disgust on their face," Jesse said of students' reactions. "I see that they had no idea what was in their vape. You know, it might smell like bubblegum, but it still has basically car exhaust chemicals that they're breathing into their lungs, in addition to tiny metal particles."
But Jesse said her presentations might not make a lasting impression when children are "bombarded" daily by targeted advertising that claims the devices produce only water vapor. She typically visits each school one day per year at the middle and high school levels.
The substance users inhale through an electronic smoking device is an aerosol, not a vapor, despite the common name. That means when the device heats the vaping liquid, the resulting smoke carries tiny particles of the liquid, which can include harmful ingredients. Most obvious is nicotine, which Jesse said not only increases the user's chances of becoming addicted to cigarettes but also of experiencing addiction to other substances later in life.
Another ingredient, diacetyl, was once used as a butter flavoring in popcorn factories but was banned after it was found to cause irreversible lung damage, known as "popcorn lung disease," in factory workers.
Acetone, benzene and formaldehyde are other common chemicals found in vape liquids, Jesse said.
"You're breathing in chemicals, and you're a guinea pig, because we don't have regulations on these products, so a product can say 'no nicotine' and still have nicotine in it. A product can say 5% strength, and nobody's checking to make sure that that's accurate," she said.
In addition to particles from the liquid, the aerosol can include metal particles from the device itself, such as lead, nickel and cadmium from the heating coil, according to Jesse. Some companies cater their products to help teens conceal them.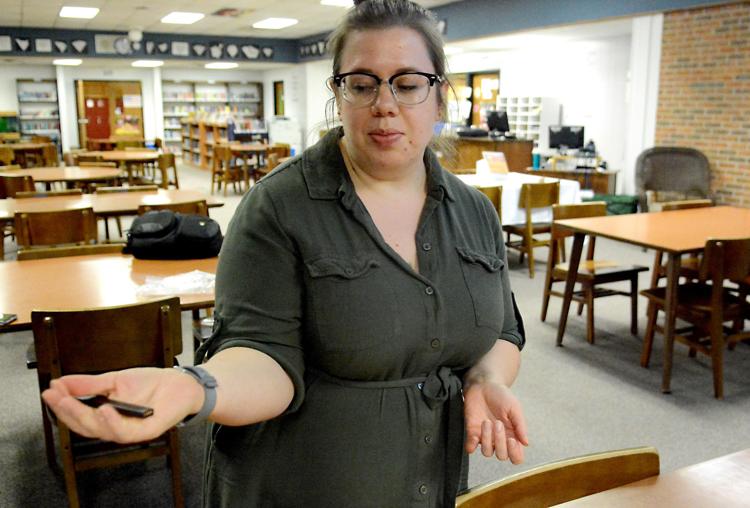 Tara Noye, South Central Wisconsin Tobacco Free Coalition coordinator, demonstrated Oct. 24 how the Suorin Drop fits into the palm of one's hand so people nearby can't see it.
You have free articles remaining.
"Then you're able to able to take a draw and exhale in your shirt while your teacher's writing on the white board, and turning back around, all it smells like is the fruit (e-liquid) that you put in there," Noye said. She was at River Valley Middle School's parent-teacher conferences in Spring Green to give a presentation for parents, but no one showed up. Last year, about 20 parents attended.
Educating parents
E-cigarettes don't smell like cigarette smoke, which can make them harder for parents to notice.
Portage Community School District Administrator Margaret Rudolph said the district has addressed the topic with parents. Teachers and parents need to be taught how to identify the devices, she said, adding that some Portage school staff have been trained on that already.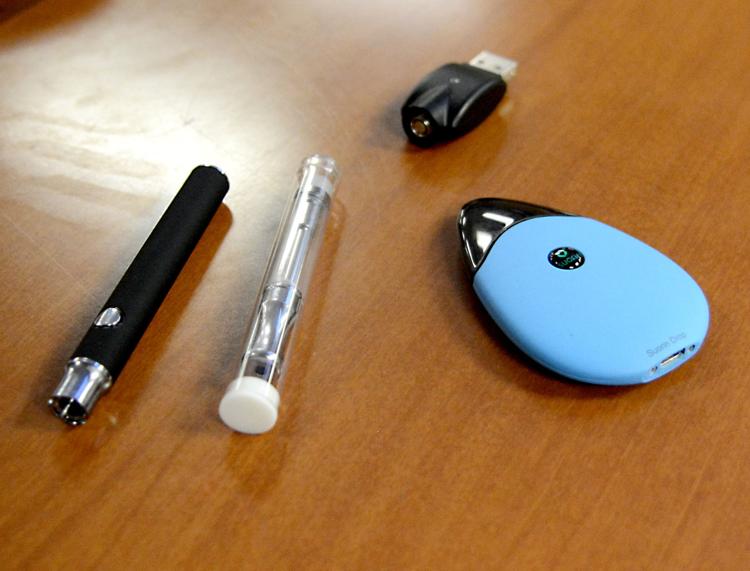 At the Endeavor Sharing Supper on Oct. 23, parents, teachers and community members were able to walk through a model of a typical teenager's bedroom to learn how to recognize vaping devices and drug paraphernalia. The University of Wisconsin-Extension provided the display, "Hidden in Plain Sight."
"Some of the devices that are being used so resemble technology devices," Rudolph said.
Waupun High School also is trying to increase awareness of vaping, especially for parents, said Principal Erin Siedschlag.
"Not all parents know their kids are vaping," Siedschlag said, noting that the devices also are easy for students to get.
Children can buy e-cigarettes and vape pods online by simply clicking a box to claim they are adults and having them delivered without their parents' knowledge, as long as they intercept the package in time, Lodi's Pursell said.
School districts adapt
In recent years, area school districts have been adding e-cigarettes to their lists of prohibited substances and topics discussed during health classes.
Siedschlag said the district added vaping to its drug prevention policy in 2017.
To educate students on the dangers of vaping, Waupun used the topic for two of its recent school-wide writing prompts, which teachers can then use for follow-up discussions. Siedschlag said there are plans to include a presentation on vaping at Junior High Summit in December for the second year.
When students are caught vaping at school or at school functions, administrators give them an option to participate in a "healthy choices group" that helps them develop coping skills, because most say they're vaping because of stress or anxiety, she said.
Some also apply for a counseling program offered in school by an outside health agency that provides a sliding scale fee.
"Our whole purpose is to prevent drug abuse and, when we do find it, it's to provide that educational support versus punitive support," Siedschlag said. "It doesn't mean there aren't occasionally punitive consequences. ... We're trying to educate our whole student body, but we're also then trying to make sure that kids who are using are getting the support that they need to end that usage."
Lodi School District rewrote its policies over a year ago to address vaping, after the issue emerged from a survey, Pursell said. Parent advisory committee meetings and health classes include information on the topic.
Students face the same consequences for vaping as for drinking alcohol or using tobacco. Pursell said the resulting "progressive discipline" can lead to expulsion but usually first seeks to offer counseling or support to help students address the issue.
Ryan Sheahan, program coordinator for the Tobacco-Free Columbia-Dane County Coalition, works with schools to update their policies to include electronic smoking devices. He said he stresses the importance of using non-punitive educational programs for students caught vaping rather than punishments like suspension. Siedschlag noted that when vaping first became popular, there was no research to show its health impacts. Now that an outbreak of lung injuries has been connected to use of vape pens, she wants students to be aware of the dangers even if they don't pay attention to the news.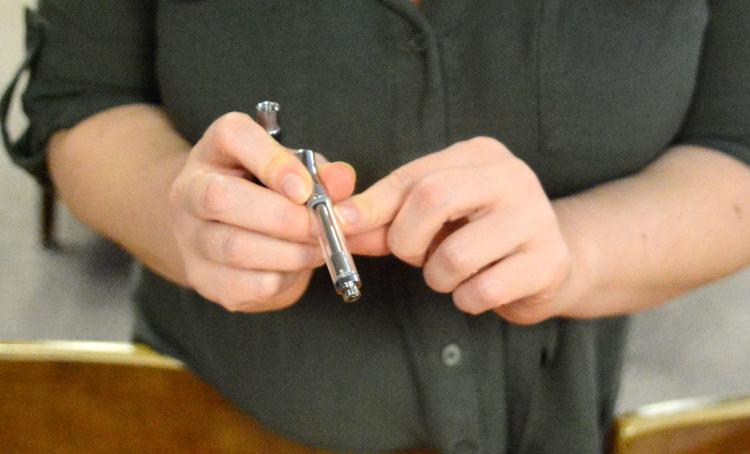 "Obviously, they still make the choice of what they're going to do, but for some kids learning the dangers is enough to curb the habit or to decide 'I'm not going to engage in that,'" she said.
Wide reach
According to the federal Centers for Disease Control and Prevention, roughly 1,600 people have been reported as part of the outbreak across the U.S. as of Oct. 22, including 34 deaths. Fifteen percent of patients are under 18 years old. The Wisconsin Health Department reported 32 cases linked to e-cigarettes in counties including Dodge and Sauk, as of Aug. 29.
Though most cases involve products with THC (the psychcoactive ingredient in marijuana) the CDC cautions that "no one compound or ingredient has emerged as the cause of these illnesses."
Jesse, the Sauk County health educator, emphasized that the vaping industry is unregulated, meaning there are no safety standards and no product control even for products bought in a store. Ingredients listed on e-liquids may not accurately reflect what's actually in them.
"There really is no safe vaping," she said.
The Columbia-Dane County Coalition has "definitely seen an uptick" in vaping, Sheahan said, referencing a statewide rate of 20% among high school students. He said some schools in Columbia County had rates near that or higher in 2017.
The coalition has held educational presentations in Cambria-Friesland, Lodi and Poynette so far this year and conducts "tobacco compliance checks" to ensure retailers aren't selling tobacco products, including e-cigarettes, to minors, according to Sheahan.
"The issue certainly matters because in just a couple years' time, an entire new generation of youth are becoming addicted to nicotine," Sheahan wrote in an email, adding that "the risk is high that all the work over the past 20-30 years reducing youth smoking rates to all-time lows is in jeopardy."
Follow Susan Endres on Twitter @EndresSusan or call her at 745-3506.