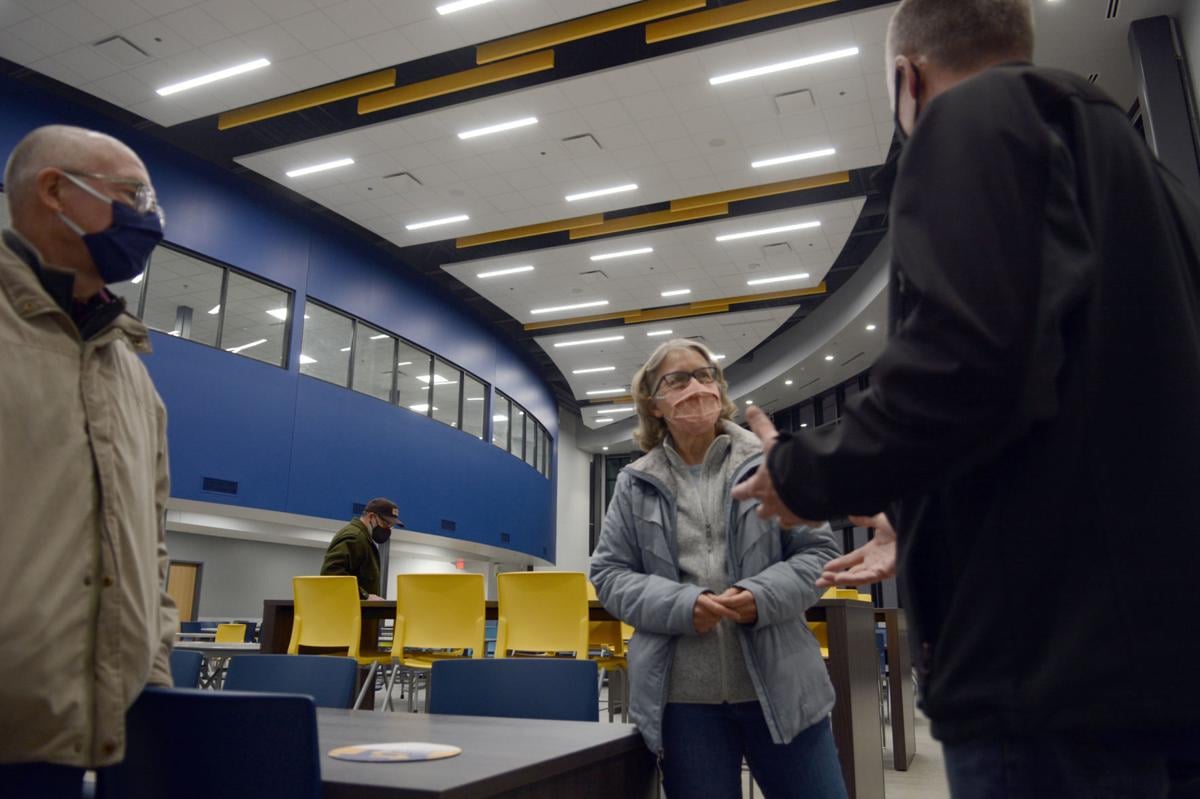 Building relationships and a positive school culture are so important to Jack Young Middle School's next principal that she intends to jump in before her contract officially starts.
Amy Tranel said she doesn't want to step on retiring Principal Dave Schwarz's toes, but she wants to learn from him, meet the school's staff and be visible in the Baraboo School District so people can get to know her ahead of her July 1 start date.
"I put myself in the staff's position, coming off the heels of a really challenging year and really wanting to be cognizant of the fact that they're getting a new district leader — a new superintendent — they're getting a new building, which is exciting but still lots of unknowns, and a new principal," Tranel said.
Member Tim Heilman asked how she is the best person to lead the school, given recent attention on student discipline and behavior issues, as well as staff morale. District Administrator Lori Mueller, who also is leaving the district at the end of this school year, pointed to Tranel's experience in managing student behavior and providing educators with strategies and training in that area.
"Both (candidates interviewed) had great dispositions that I think would be valuable to the culture and staff morale for that building, and we had a lot of members of the interview team that felt that way as well," Mueller said.
According to the district's hiring recommendation, the 18-member interview team consisted of six administrators, seven JYMS teachers, a behavior coach, a school counselor and school board member Paul Kujak. Ten of the 34 candidates who applied for the position were screened by phone and two were interviewed.
Tranel's 2021-22 school year salary will be $107,000, according to district business director Yvette Updike. Wisconsin Department of Public Instruction records show current principal Schwarz earned $105,000 in 2019-20.
Mueller cautioned the board about "having personal information shared outside of closed session" when board member Nancy Thome asked about Tranel's teaching experience, but President Kevin Vodak disagreed with Mueller's assessment, saying, "If she's hired, I guess I don't see that it's confidential anymore."
Qualifications
Tranel has 10 years of experience that count as classroom teaching and four years as an administrator, Mueller said.
According to DPI and Verona Area School District records, Tranel served as the student services supervisor in Verona from 2018-20. Before that, she said she was the student services director and an assistant principal in the Dodgeville School District. She spent eight years as a school counselor in Dodgeville and Eau Claire and has experience as a Positive Behavioral Interventions and Supports coach.
She holds lifetime licenses in Wisconsin for school counselor, principal, director of instruction, director of pupil services and superintendent, according to Tranel. In addition to a bachelor's degree and Master of Education, Tranel said she's working on earning a doctorate through Edgewood College.
She also has had "extensive training" in coaching, managing behavior, conflict resolution and other areas that build school culture, which is her "No. 1 goal," she said.
Getting here
In Verona, she supervised the district's counselors and other student services staff and worked with the schools to implement social-emotional learning practices and services relating to behavior and mental health. Tranel said she took on additional responsibilities, including directing summer school and supervising early childhood programs, which when combined with the coronavirus pandemic, left her "very exhausted" and not able to spend enough time with her family.
"Even though I really love that work and I think it's a great strength of mine, being with COVID made me realize the importance of connections, the importance of really working with a group of people, having students that you're checking in with, that you are working with families that you care deeply about, staff that you are lifting up and supporting," Tranel said, noting that it magnified how much she missed working in a school building.
She resigned in October, jumping onto the team creating the Wisconsin Center for Resilient Schools, a collaboration between Cooperative Educational Service Agency 4 and the DPI.
Then the Baraboo principal position opened up. Describing it as "a dream opportunity," she felt like she had to apply. She said she's "absolutely thrilled" to have gotten the job.
"I just am so excited, I cannot even tell you," she said. "I am really just looking forward to working with everyone."
While she said she's not sure middle school is a natural fit for her, she loves the Baraboo School District's size — it's not too big or too small — the community's "considerable amount of support" for the district and the pride Jack Young staff have in their school.
"I felt like a lot of the core values that they had at the district and building levels fit me personally in a way that I felt like I could come in and be a strong leader for them," Tranel said.
Looking ahead
To develop a plan for her first 100 days on the job, she needs to hear from stakeholders, Tranel said. She wants to meet one-on-one with all JYMS staff in the coming months and to connect with families, because their thoughts will inform how she decides to move forward.
She plans to look at how the school is implementing behavior and social-emotional learning systems and practices.
"That has to be modeled from me to the staff, so it's really important to me that they see that compassion and that empathy in my leadership toward them as well as toward students and families and how we have to work together," Tranel said. "You can still be very firm, but still lead with compassion and empathy, and I think that that balance is really important."
Tranel, who is married and has four children and two dogs, lives in Waunakee and doesn't have plans at this time to move to Baraboo, although she said it was a possibility in the future.
"Right now, I'm really focused on the fact that my most important job is this job and that this job is a commitment, not only to the students and the staff but to the community at large," she said, "and that commitment is something I take very seriously."
Follow Susan Endres on Twitter @EndresSusan or call her at 745-3506.