Voters in the Baraboo School District will have a chance to hear from school board candidates ahead of the April election at a public forum Wednesday.
Sponsored by the Baraboo Education Association, the forum will feature all six candidates running for three open seats on the Baraboo School Board. It's the only public forum for the school board race, and will start at 6:30 p.m. at Baraboo High School, 201 Draper St.
Barry Flesch, high school social studies teacher and co-president of the BEA, said it's important for the community to hear candidates' stances and make an informed decision when they vote April 7.
"I just think it's great for the community and a chance for them to get to know their potential school board members," Flesch said. "It's very important, so we're hoping for a big turnout. There seems to be strong interest this time around."
Running for seats currently held by Gary Cummings, Tim Heilman and Doug Mering are Chasity Gabrielson, Paul Kujak, Jim O'Neill, Gwynne Peterson, Heilman and Mering. Cummings is not seeking re-election.
Mering, 62, has held a seat on the board for 12 years. He said he wants the public to come away from the forum confident that he will remain an advocate for students, schools and the overall community.
"I'm a very strong advocate, not only within our schools, within our community, but also working beyond our doors, whether it's Madison or Washington (D.C.), to be able to communicate and work with our government entities to say, 'These are the issues we're seeing, and this is where we need help,'" Mering said.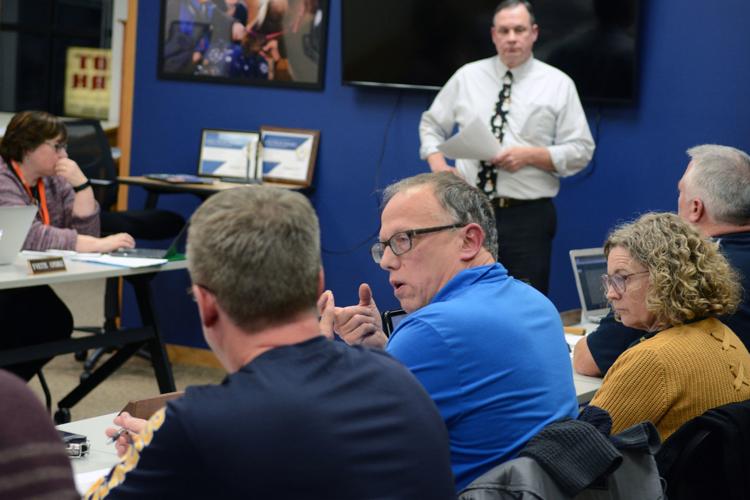 Heilman, 63, a retired Baraboo math teacher, is running for his second three-year term on the school board. He said the most important thing for the district is to get everyone, from administrators and school board members to school staff, working together toward a common goal.
"My main purpose (at the forum) is to say, 'hey, it doesn't matter what year it is, there's always going to be some issues out there to deal with and the best way to tackle them is we have to work together as a team and look at viable solutions to any problem,'" Heilman said.
Both Heilman and Kujak pointed to their experience in education — 31 years teaching in the Baraboo School District for Heilman and 33 years for Kujak — as what sets them apart from their competitors.
"I'll be the first to admit that if I were elected, I would have a lot to learn about the function of a school district and a board member," Kujak said. "However … I know what it's like to be in the classroom and I know how challenging it can be, and perhaps that experience would be a benefit to serving on the board."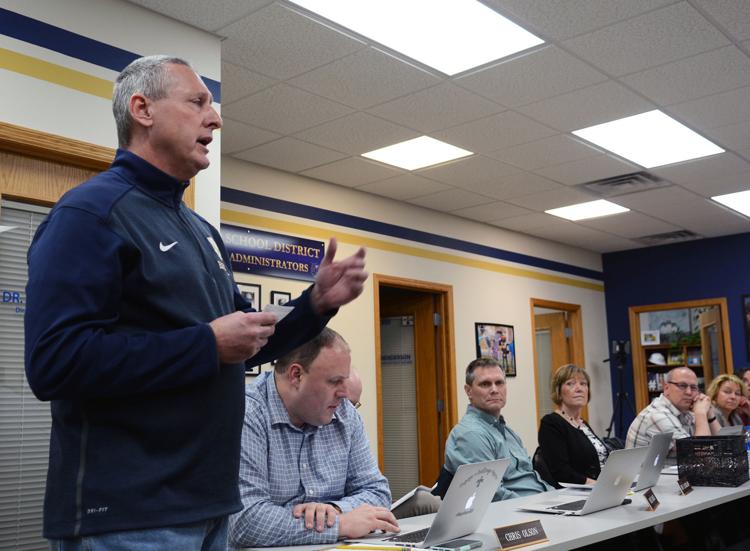 Peterson, 70, also worked for the district for 30 years at various levels — from teacher to director of special education — until her retirement in 2006. She said voters should consider her for the school board because of her "years of successfully working in this district" and maintaining positive relationships with students, parents, school board members, superintendents and teachers.
She hopes to show the public that she's loyal to the Baraboo School District and wants to improve the educational climate. "And I think they'll take away that I'm honest, I mean what I say and I'm pretty passionate about education in general," Peterson said.
O'Neill, 47, a website administrator for the Sauk County government who co-owns a yoga studio in downtown Baraboo with his wife, said he wants to bring change to the school district, starting with a grassroots approach to get more parents involved.
"I have this understanding of the macro issues, and my approach to it is based on that," O'Neill said. "Poverty, inequality — these are the most powerful things we can work towards, and it's not just within the district. We have to deal with it outside of the district as well, and that's really important."
Gabrielson could not be reached by phone or email for this report.
After each candidate gives an opening statement Wednesday, moderator Liz Nevers will ask them questions, some of which have been prepared ahead by organizers and some of which will be provided by the audience at the beginning of the event. The forum will be structured to limit candidates' speaking time, Flesch said.
Nevers is not associated with the teachers union or the district, he added.
The BEA has sponsored a candidate forum every year there's a school board election with more candidates than seats, Flesch said.
Follow Susan Endres on Twitter @EndresSusan or call her at 745-3506.
Be the first to know
Get local news delivered to your inbox!