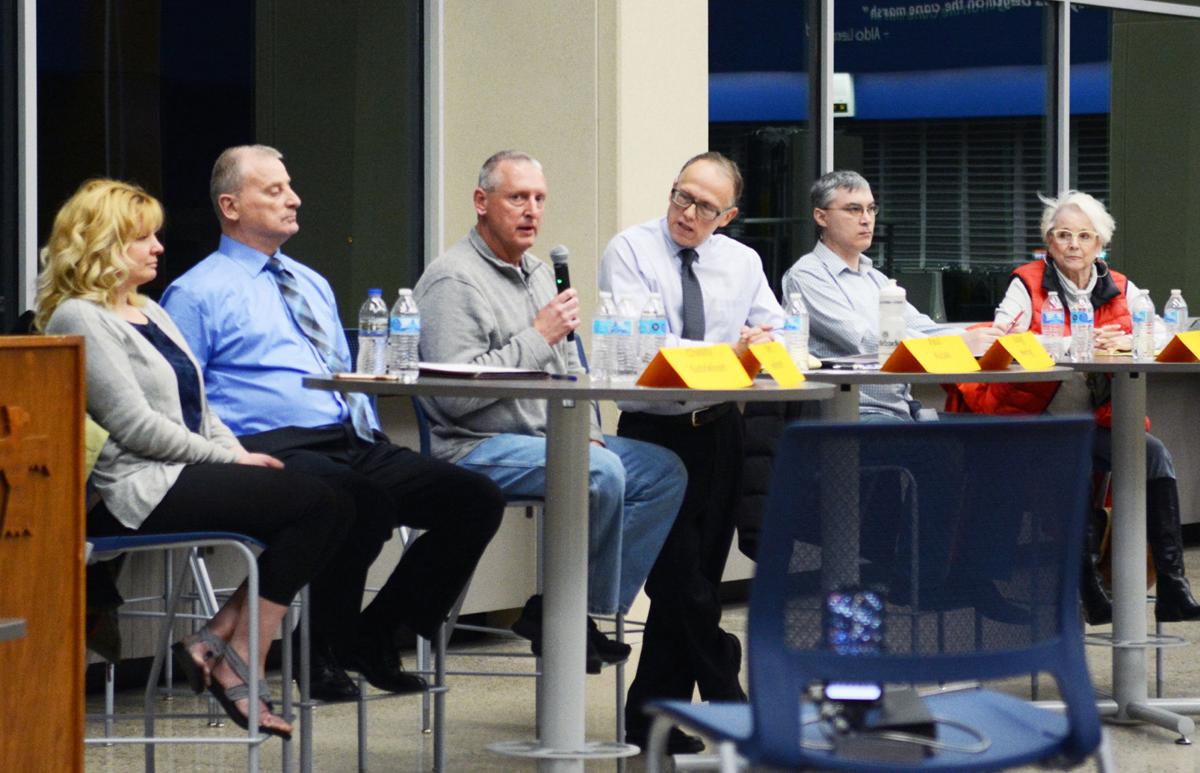 Issues of school culture, finances and staff retention surfaced repeatedly at the Baraboo School Board Candidate Forum at Baraboo High School on Wednesday, and while the six candidates often disagreed, audience members said their passion for education and the school district was apparent.
Incumbents Tim Heilman and Doug Mering and newcomers Chasity Gabrielson, Paul Kujak, Jim O'Neill and Gwynne Peterson are competing for three seats on the board.
Hosted by the Baraboo Education Association, the two-hour forum allowed candidates 1 minute each to answer each question and 2 minutes for opening and closing statements. The event was livestreamed on the BEA's Facebook page, where it can be viewed in full.
Staff retention
In light of 48 teachers leaving the district last year, candidates were asked how they would keep turnover lower in the future.
"Before we can make suggestions of what to do to keep them here, first of all it has to be acknowledged that it's a problem," Kujak said. While not all 48 left due to behavioral issues, "no matter how you spin it, the bottom line is we lost way too many good people because of the behavioral issues and so forth."
He said the key would be re-empowering teachers to deal with behavioral issues. Heilman called last year's turnover "unacceptable" and that the district needs to empower teachers.
Mering said the district is already starting to address behavioral issues. He also noted the district faced other issues last year, such as dealing with international media attention, and encouraged everyone to look at what's currently happening in the district.
"There's been many, many great things and many great efforts that have occurred this year," Mering said. "I do believe that the ball is already being moved."
O'Neill faulted a "50-year assault on our educational systems," including the "horrific abomination" of Act 10, which effectively ended collective bargaining rights for teachers.
"I also found while researching this that our district seems to take pride in being one of the districts that spends the least on education in the state, and I find that problematic," O'Neill said. "We need to spend more money. We need to get more taxes, period. You're not going to magically fund the schools."
Peterson said the district needs to involve teachers more in decision making.
Gabrielson who now owns a pet store in downtown Baraboo, taught at the elementary level in the Baraboo School District for 13 years. She said she decided to leave "because I was tired of fighting for the needs of my students and not being heard, so my hope by joining the board is that I can continue this fight but this time hopefully get some results." She said teachers have a lack of autonomy in the classroom, which dampens creativity, and that the board needs to work on being collaborative with staff.
Salaries and finances
Peterson, a retired teacher and administrator, said she believes in the district's old salary schedule, which was based on experience and level of education, because it was consistent and empowered teachers.
Gabrielson said the district needs to make sure its pay is comparable to other nearby districts, an idea that O'Neill echoed.
"We would have to look at how we can get all of our teachers, across the board, to be the same as our surrounding community," Gabrielson said. "Where do we find that money? Maybe we have to find it at the top."
Heilman said teachers should be paid based on experience, time in the classroom and degrees or professional development. Teachers in high demand areas should not be paid more, he said. Kujak added that paying new teachers at a higher rate than veteran teachers destroys morale.
Mering agreed the board needs to collaborate with teachers to work on salaries, but noted it won't be an easy solution. With Act 10, "we are now in the wild, wild West with salaries," he said.
Key relationships
The relationships between the school board, administration, staff and community were brought up. One question asked how candidates would "foster an environment where concerns are heard," considering how the board has seemed "adversarial" to members of the public voicing concerns about teacher retention.
Heilman said teachers, current and retired, who have been in the district for a long time care about the district.
"These members of the community are good people — good, well-meaning people — and I think we need to understand that," Heilman said. "On the other side, I think they need to understand that these people on the board are listening. They understand, and those people on the board are very good people and they want a solution to this problem. And the solution is not going to come if it's us versus them."
Kujak agreed with Heilman, but added that the turnover issue shouldn't have needed to be brought to the board by a retired teacher. Instead, he said administrators should have brought it up. He emphasized that he wants to see more transparency from administration.
Mering said community members can disagree with board members, but should remember that board members are "good people who want good things for our students." Noting that the board is elected, Gabrielson said members need to listen to their constituents.
Peterson said the retired teachers group, REBS, of which she is a member, has been misunderstood from the beginning.
"We are not out to get anybody," she said. "It's about policy."
O'Neill suggested making REBS a more official council as a resource and advocate for teachers and effectively unionizing parents, so their voices can be heard.
When asked about how the relationship between the board and district administrator should look, most candidates said it should be collaborative but with the board members knowing they represent the public and are the administrator's boss.
Gabrielson said she thinks school staff aren't being allowed to communicate their concerns with administration or the board.
"I think the school board is under the thumb of the superintendent," she said.
School climate
The district needs to establish trust with teachers again to make sure they feel they can bring concerns to administrators without fear, said Peterson and Gabrielson.
Mering brought up the district's structure for bringing concerns forward.
"And I think it's one that's been very successful, so to say that there isn't something there for teacher voice to come forward, I think, is not really true," Mering said. "We need to be able to bring forward the fact that we have these great teams that are already working on it."
O'Neill said school culture starts at the top with administration, and it's up to the board to investigate if administrators aren't handling it well. The teachers union also needs to be empowered, he said.
Board operations
One question asked whether the candidates believed school board meetings should be moved from their current location at the district administrative office to a place where more people can comfortably attend. Meetings are often standing room only when large groups are being recognized or attending for public comment.
All of the candidates not currently serving on the board said it would be a good idea to move meetings to another location, such as the high school. Heilman said he'd be open to looking elsewhere but noted the BHS commons might be too busy with after-school athletics and club meetings. Mering said he thinks the administrative building "works well."
"I don't really believe it's been restrictive," he said.
O'Neill, who has been regularly attending meetings for several months, said meetings need to be moved and should have child care available because not having child care is a "barrier to entry" for people like him.
"The space and its limitations is kind of almost passive aggressive," he said.
Behavior
When asked what policies candidates would put in place to address behavior issues in the district, Gabrielson said PBIS — Positive Behavior Interventions and Supports — needs to be revamped. Kujak, who criticized PBIS as a system that constantly praises students for doing what's expected of them, said they need to face real consequences.
Attendance
Organizer Barry Flesch estimated about 100 people attended the forum.
"We believe it's probably the most well attended candidate forum that we know of," Flesch said. "I've been going for about 20 years, and this was easily the most well attended."
Baraboo resident Joe Viney said the forum "brought out some fairly significant differences between the various candidates, and I got some information I didn't know about some of the newcomers."
He found the idea of changing the teacher pay scale interesting but noted he doesn't know if it would be possible in the current market.
"I was a little disappointed in some of the personal attacks," Viney said. He declined to elaborate.
Retired Baraboo teacher Maureen Bula, a member of REBS, said she was excited to see all of the candidates and their ideas. Addressing staff morale and retaining "good teachers" stood out the most, she said.
"I'm hearing some unique thoughts, and I just like the idea of tackling problems," Bula said.
Follow Susan Endres on Twitter @EndresSusan or call her at 745-3506.