At age 37, Rainey Briggs asked his mother why he had spent almost all day, every day in middle school in a single classroom.
"My mom told me something that still to this day, it rocks me to my core," Briggs said Monday, six years later, in front of the Baraboo School Board, district staff and the public, to give them a more intimate peek at his life before he takes over as the district's next leader. "My stomach actually turns every time I say it, because in education today we no longer use this word when we are talking about people, or in any way at all."
Those words: "mildly retarded."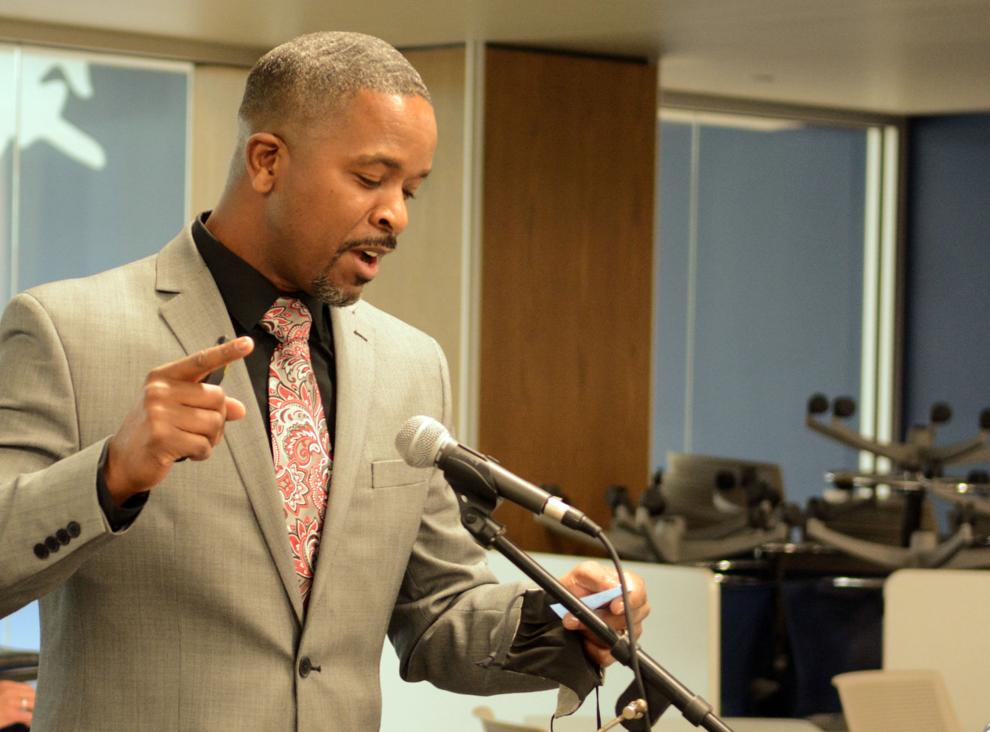 He learned that's what his teachers in the Madison Metropolitan School District in the 1980s and 1990s thought he was — and why he only left his classroom for physical education and band, he said, preventing him from enjoying school or developing a sense of belonging there.
"That experience, I think, really harmed me," Briggs said, adding that it caused his aversion to working with children or in education.
Becoming an educator
Until his wife, Julie, "tricked" him into the field by asking him repeatedly to volunteer in her classroom at the Milwaukee Academy of Science, a public charter school whose students are majority African American and from low-income households, he said. By his third time in the classroom, Briggs said he realized he wanted to work with children.
Using his existing bachelor's degree, he took two courses through an alternative licensing program to earn a teaching certification in phy ed and health, he said. His wife got a job teaching in Sun Prairie, and he was hired there shortly after.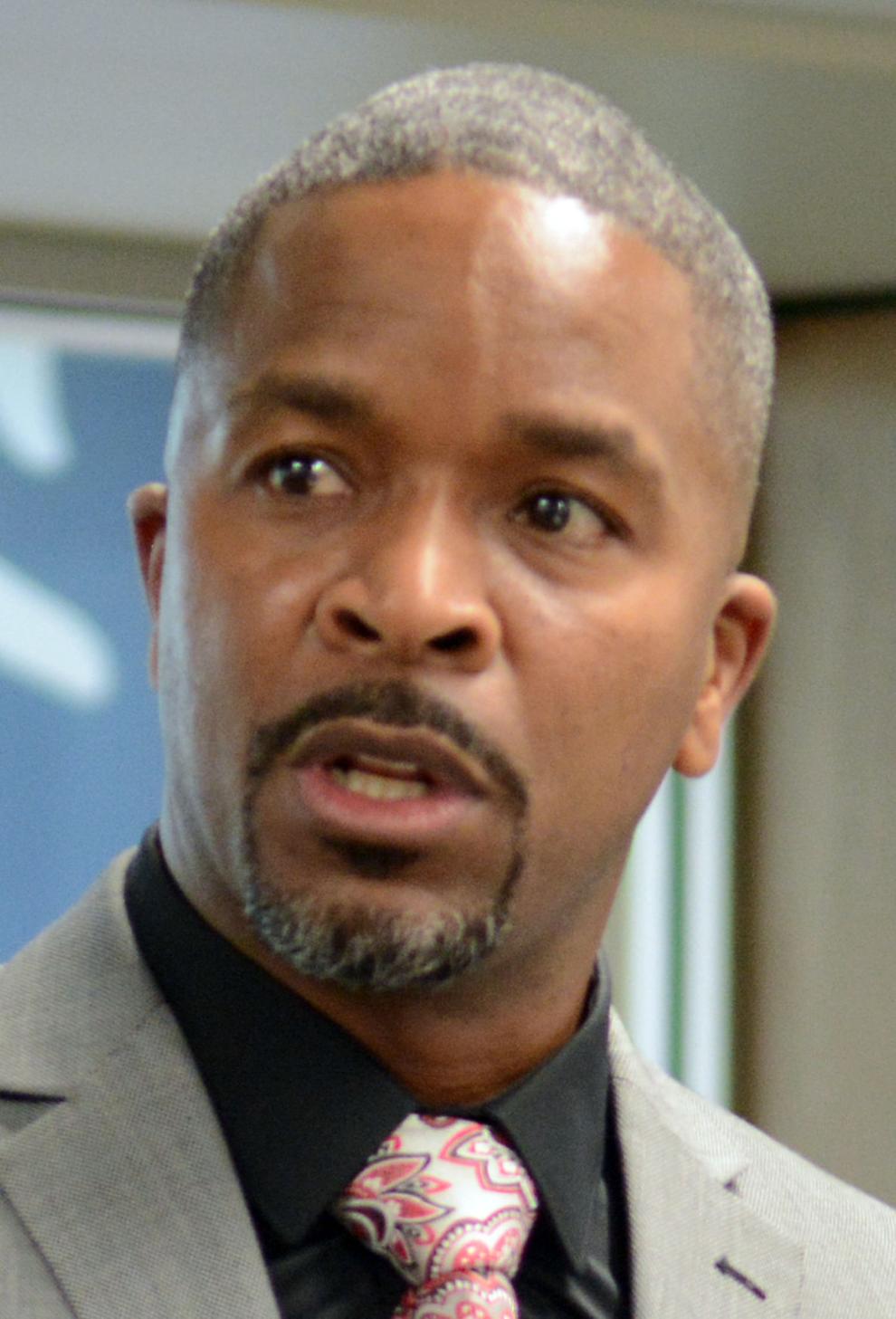 "I ended up following her to Sun Prairie, and that was the start of who I really felt like I needed to become," Briggs said.
Referring to a timeline of his education and life milestones projected onto a screen in the room at Baraboo High School, he said, "I want you to look at every picture on this screen and think about that journey. For someone to be labeled what I was labeled and to see how it turned out with me getting an undergrad bachelor's degree, getting a master's and then also receiving my doctorate — I'm not quite sure they had that story right."
Briggs received a bachelor's degree at Minnesota State University, Mankato, after attending Edgewood High School in Madison, according to the timeline. He got his master's degree from Viterbo University in La Crosse in the 2000s and his doctorate in educational leadership from Edgewood College in 2018.
Baraboo plans
Last month, the Baraboo School Board offered Briggs, currently the elementary education director for the Middleton-Cross Plains Area School District, the district administrator position. His official start date is July 1.
Outgoing District Administrator Lori Mueller announced her resignation in November to take a position with a private consulting firm.
Briggs said Monday he plans to lead the district in developing "equity non-negotiables," which he defined as expectations core to the district's mission that aren't open to interpretation or modification. It's important, he said, for district leaders and staff to have "equitable criteria for decision-making."
"There shouldn't be a decision that we make or that I make or that I'm a part of that does not have some criteria to ensure that we're making it for the right reason, to have the right impacts for kids, have the right impacts for staff and also to support the systems in which we have in the district," he said, adding that everything should also be tied to the district's strategic plan.
Whatever happens during his time at the helm, he said he's willing to work through it and help the district overcome challenges.
"I don't think there's any road that we can't take together," he said.
Impact on others
Briggs also presented a video Monday in which people, who he said have impacted his life, commented on how he's impacted theirs. Participants included colleagues, his second-grade teacher and his three daughters: Rayna, 18, Rylee, 16, and Reagan, 14.
Rylee said her father tries to provide "rich learning experiences about our culture and other cultures," such as when he once brought his family to Little Rock Central High School to learn about the "Little Rock Nine," the school's first African American students, who were blocked from entering the school by local residents and the Arkansas National Guard in 1957.
Danyelle Wright, a principal in the Monona Grove School District, said Briggs "is legit."
"There are a lot of leaders out here that are claiming they lead for equity, that they want diversity, that they are trying their best to include people of color in the workspace, but I will say I have seen firsthand how Dr. Briggs is not only doing those things, but he's actually mentoring other leaders to do that as well," Wright said.
Percy Brown Jr., founder of education consulting firm Critical Consciousness and director of equity and student achievement at Middleton-Cross Plains Area School District, said Briggs "prioritizes people over power."
"Dr. Rainey Briggs is someone who prioritizes team and community growth and well-being, while having the fortitude and will to let go of his own personal needs and ambition," Brown said.
Middleton-Cross Plains fourth-grade teacher Jenny Magee said Briggs has ensured educators in the district have professional development opportunities and room to grow, which she appreciates.
His second-grade teacher, Michelle Belnavis, called Briggs "a success story."
"He is my reason for believing in myself," Belnavis said. "Rainey taught me, as my student, how to teach to the capabilities and abilities of all students, especially to his unique learning style. Rainey has proven his commitment to being the best that he can be by making the impossible possible and turning obstacles into countless opportunities over and over again."
Board comments
Board Vice President Mike Kohlman, who led the search committee, told Briggs he was impressed by the video.
"That really makes me feel great about us being able to start working with you. Why didn't you play that at the interview, man?" he said, eliciting laughter from the board and administration and a comment from committee member Paul Kujak about how Kohlman wouldn't let members deviate from the process.
"Every time we tried to dig in a little deeper, some of us got reprimanded," Kujak said.
On Monday, the Baraboo School Board also:
Presented a plaque honoring Sean McNevin, who didn't run for election this year and wasn't present at the meeting, for his 12 years of service on the school board. "I just want to thank him for his steadfastness and his time commitment and helping us pass three referendums," Vodak said.
Approved the 2021 summer school contracts for 23 employees at a total salary and benefits cost of $50,576.
Recognized 12 middle school students who won in various categories of the Yahara Writing Contest, the most the district has ever had in one year, according to language arts teacher Teresa McCulloch.
Heard from high school students who participated in this year's virtual Youth Social Justice Forum.
Authorized two overnight trips for FFA members. Seven Baraboo FFA officers will be attending a summer leadership retreat in Sparta, and one FFA member will be offered the opportunity to participate in the state honor band in Madison, according to advisor Kristina Puntney.
Tabled the 2021-22 Kid Stop proposals until a May board meeting.
Selected The O'Brion Agency of Portage to continue as the district's copier paper vendor in the 2021-22 school year, as it submitted the lowest bid at $26.95 per case.
Accepted the resignation of Sarah Moldenhauer, elementary special education teacher, and approved posting the vacant position.
Approved the 2021-22 notice of renewal to 257 educators.
Follow Susan Endres on Twitter @EndresSusan or call her at 745-3506.