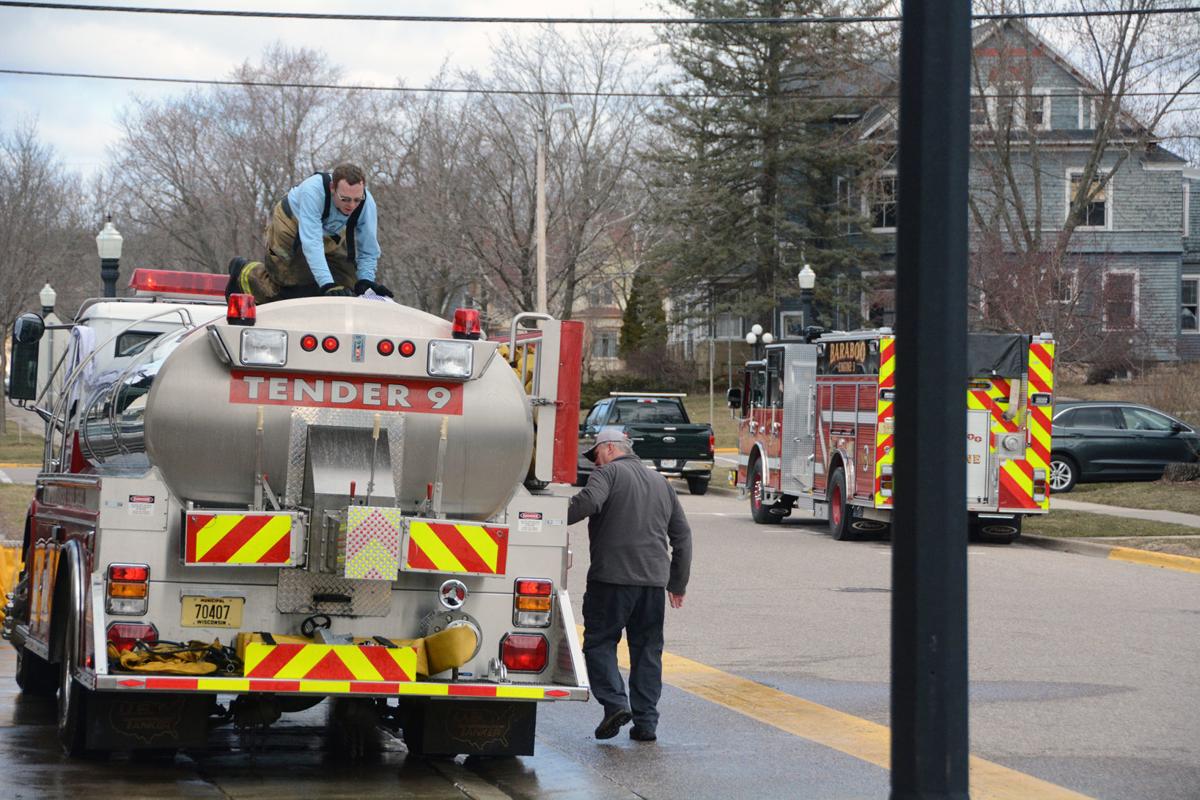 While emergency response is needed even in the face of a global pandemic, area personnel are working to ensure they're protected from possible exposure to the deadly virus that is spreading throughout the country.
Baraboo Police Chief Mark Schauf said Monday protocol dictates limited exposure to people unless his officers are responding to an emergency, which takes precedence over social distancing and screening for fevers.
"We're still providing the service, we're just not doing it in person like we normally would," Schauf said.
An emergency declaration Thursday from Mayor Mike Palm ordered the entrance to the Baraboo Police Department closed to the public. Schauf said the department is not currently receiving or releasing property unless "it's of significant value" and they are trying to keep most of their person-to-person contact outside of buildings.
The department website also has a self-report theft tool for users who can fill in the information, which will then be emailed directly to an officer to pursue. Police can still do their jobs, but without jeopardizing their health by being exposed to a number of people throughout the day, increasing their chance of contracting the virus, Schauf added.
Adjustments began last week before positive tests identified cases of the novel coronavirus known as COVID-19, which humans have no immunity against, in both Sauk and Columbia counties.
During a special Baraboo Common Council meeting March 17, Baraboo Fire Chief Kevin Stieve outlined how city and county officials were working together to maintain emergency management.
The department has been operating with protocol that calls for firefighters to respond to fires and other emergencies as they usually do. They will limit how many firefighters respond to less urgent calls, like a carbon monoxide or fire alarm. Everyone they speak to will be asked questions about whether they have any symptoms of the respiratory illness or if they have been exposed to someone who tested positively for COVID-19 or tested positively themselves.
"We're going to be asking these specific questions that have been throughout the media and throughout the information over the last several days just to make sure that the environment we're sending limited responders into is as safe as it can be so we can investigate the issue," Stieve said.
New mandates by Gov. Tony Evers could always shift their plans, Stieve added, noting that there are rapidly changing rules as officials attempt to keep people from falling ill.
Portage Police Chief Keith Klafke deferred to City Administrator Shawn Murphy for all updated information regarding the city's response to COVID-19. Klafke had released a statement March 17 that outlined the department's goal to provide "exceptional law enforcement services" while also keeping officers healthy, essentially echoing Baraboo officials' plans of responding as usual to emergencies while limiting exposure to and screening people they speak to during less urgent calls.
They will call before non-emergency interactions and will meet with residents outside, Klafke wrote.
Protocol effective Friday provided by Murphy outlines similar operational plans. The lobby to the Portage Police Department will be open, but residents are encouraged to call rather than stop by and to phone ahead if they need to visit the department. Anyone experiencing symptoms of COVID-19, like a fever, should avoid going into the building.
Murphy said Monday the police department plans to operate as usual, but limit public access to ensure officers remain healthy as the safety risks posed by COVID-19 remain throughout the general public. According to the Wisconsin Department of Health Services, there are five cases of COVID-19 confirmed in Columbia County. Sauk County has three as of Monday.
Other Portage city departments have adjusted their services. The Parks and Recreation Department has closed to the public and all activities have been canceled through April 10. Murphy said the city is adhering to state mandates and suspending all disconnections for non-payment of utilities, though he added that there are currently no delinquent accounts. Residents should avoid visiting the department and instead pay bills online. Municipal Court dates through April have been canceled and rescheduled. The Portage Enterprise Center has also been closed to the public.
Murphy said the timeline for when departments will reopen is currently indefinite. All committee, board and commission meetings have been canceled through mid-April. The taxi service is still running, though it is no longer a shared-ride service, which may result in longer wait times, Murphy said. Residents are discouraged from visiting City Hall, though they can still register to vote for the April 7 primary election.
Though visitors have been discouraged, Murphy said city staff are still working to help residents.
"We're here, we're open," he said. "We do want to continue to provide services to the best of our availability."
Follow Bridget on Twitter @cookebridget or contact her at 608-745-3513.
Concerned about COVID-19?
Sign up now to get the most recent coronavirus headlines and other important local and national news sent to your email inbox daily.