Just a few miles from the International Crane Foundation's Baraboo headquarters, three young whooping cranes marked a first this summer.
They spent spring, summer and fall foraging in the fields along Highway U in the town of Fairfield north of Baraboo. Anne Lacy, ICF crane research coordinator, said the 2-year-old cranes -- members of an endangered species -- are the first ones to make Sauk County their summer home.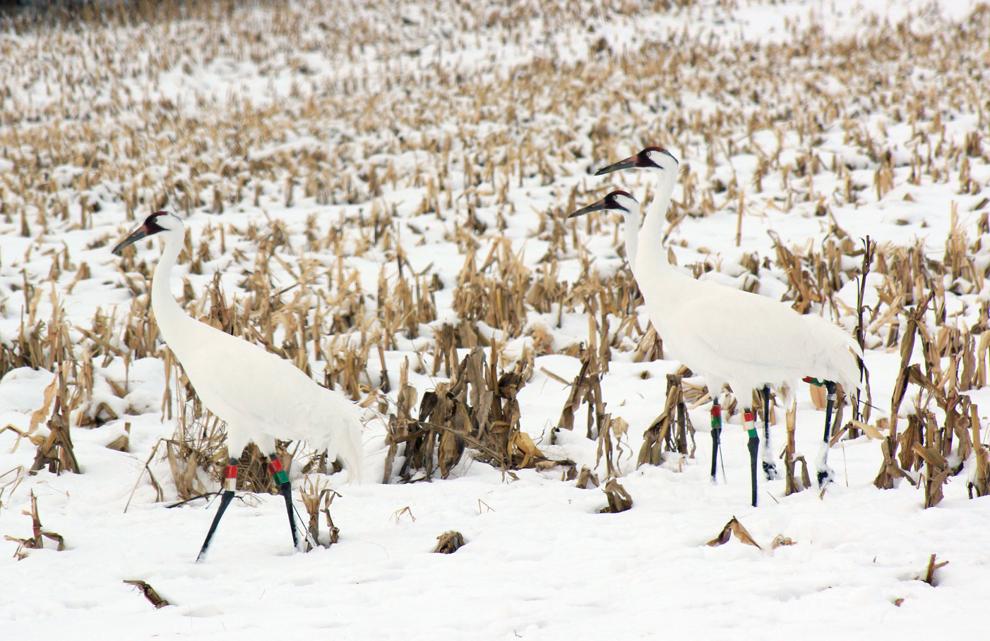 "It's very exciting," especially given their proximity to the organization dedicated to their long-term survival, Lacy said. She asked that drivers be cautious in the area since the rare birds sometimes cross the road.
The trio includes a bonded pair that was reared in captivity and released in Wisconsin. The "third wheel" was reared in captivity and released elsewhere by one of ICF's partner organizations, she said. It happened to migrate to Sauk County and attach itself to the other two all year.
Though they aren't yet old enough to breed, Lacy said the three practiced making nests over the summer.
"A young pair is often moving around in different places, so when they stayed here for the summer and they were observed practice-nest-building, that was key. … The fact that they chose that wetland and were practice-nesting is a very good sign," she said.
She expects they will likely migrate together this winter and she hopes they'll return to the same area near ICF to nest next spring.
"But three's a crowd, so that will be very, very interesting to see how they negotiate that," Lacy said, noting that individual cranes don't typically attach themselves to a bonded pair.
She attributed the unusual behavior to the birds' young age and to the species' overall low population.
"There's not very many birds around, so when you find a potential mate, you're going to give it your all," she said.
They're not the only trio of whooping cranes to be sighted in Wisconsin this year. A juvenile known as Velaryon -- named for ICF's "Game of Thrones" theme this year -- was released from captivity this fall in White River Marsh near Berlin, where it teamed up with an older mated pair.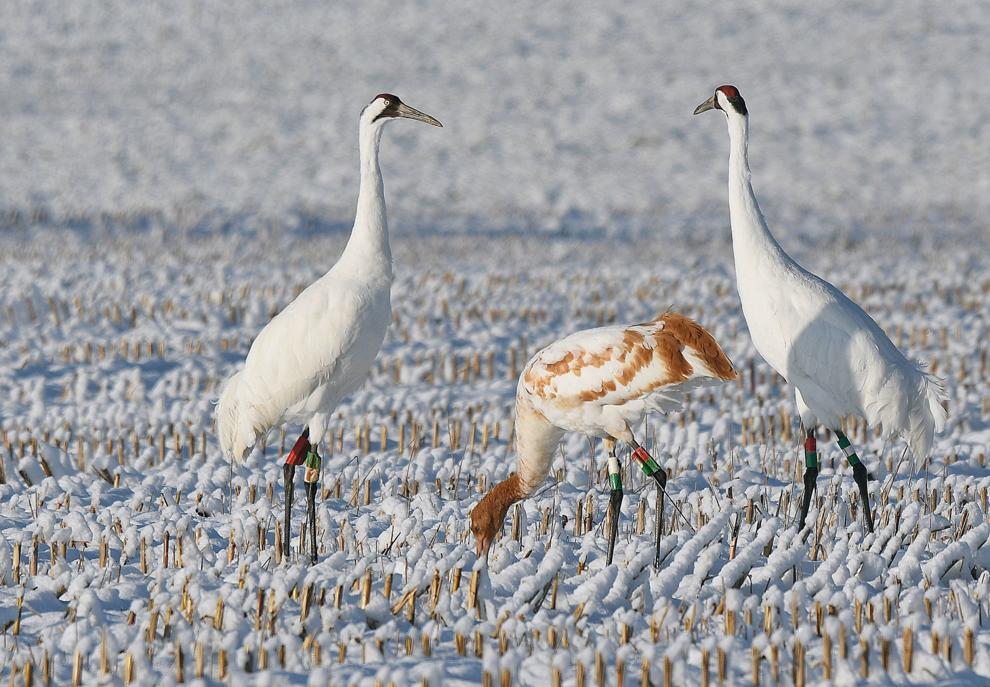 Lacy said the foundation has been releasing cranes raised at its facility in autumn in the company of an older bird that can show the young one the migration route.
Captive breeding
The species dipped to a total population low of just 21 birds in the 1940s, according to the ICF. Its population has trended upward thanks to conservation efforts, bringing the number up to almost 850 as of last year.
Kim Boardman, ICF's curator of birds, said the organization breeds whooping cranes as part of a program through the Association of Zoos and Aquariums. By considering the captive birds' genetics and population dynamics, the breeding program maintains a healthy captive population with good genetics for future breeding and produces birds that will do well once they're reintroduced to the wild.
"It's still listed federally as an endangered species, but through our reintroduction efforts, we've made great strides in its recovery process," Boardman said.
The birds are paired based on their behavior, but when those mated pairs aren't a good genetic combination, ICF can artificially inseminate the female to increase genetic diversity, she said.
Partner institutions that also raise whooping cranes can help increase genetic diversity by sharing samples or moving birds or eggs between facilities, she noted.
"There's a lot of partners involved that are all playing really important roles," Boardman said.
Researchers see the Eastern Flyway population, which includes those in Wisconsin, as "critically important" because it is key to bringing the whooping crane species out of its endangered status, Lacy said. They are protected under federal law.
Reintroduction
Lacy said the methods used to raise captive cranes and prepare them for life in the wild have evolved over the years as researchers learned more about their survival skills.
The overall process to breed and raise one migratory whooping crane costs more than $100,000, she said.
One of the primary objectives now is to make sure the birds know that they're whooping cranes -- that means raising them either by a human wearing a crane costume or by real whooping cranes to ensure that they imprint on the right species.
Providing a water feature to the birds while they're in captivity teaches them to later roost in water, Lacy said. They also need to be taught how to naturally forage for food.
The ICF released two juvenile whooping cranes this year: Velaryon in Wisconsin and Arya released Nov. 5 in Indiana. It started releasing costume-reared birds in 2006 and captive parent-reared birds in 2014, Lacy said.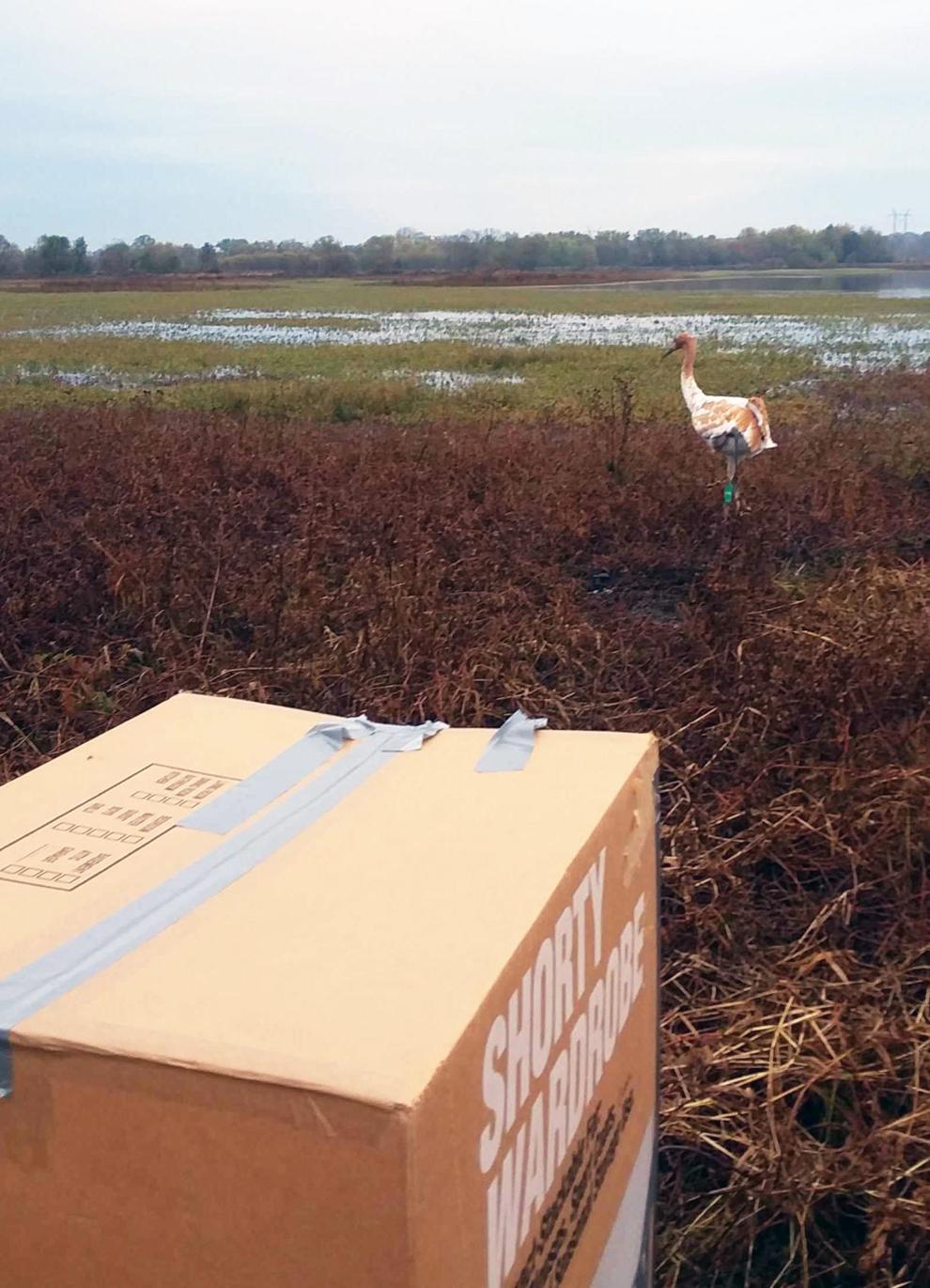 Once the birds are in the wild, the organization tracks their migration with transmitters and makes sure they are exhibiting appropriate behaviors like foraging, flying, roosting in water and interacting well with adults, Lacy said.
"We just release them, and at that point, it's all up to them. We hope for the best," Lacy said.
She credited a network of volunteers for helping the foundation keep an eye on cranes in the wild.
Velaryon and Arya are following the pattern that researchers hoped they would. Lacy said most reintroduced cranes are successful, though the rarity of whooping cranes can make it difficult for a released bird to find others in its species with which to mate.
"That really is the hardest part, is how to ensure that they can find a good mate in a pretty big geographic area," Lacy said. "That's just a matter of time and putting more birds out on the landscape. The more birds we put out, the greater the chances that they eventually find each other."
Natural breeding
Lacy said ICF is "cautiously optimistic" about natural reproduction trending up. After many years of seeing no whooping cranes hatched and raised by their own species in the wild in Wisconsin, ICF recorded two wild-hatched fledglings in 2017, five in 2018 and three in 2019.
Those produced naturally in the wild have even outnumbered the parent-reared birds raised in captivity in the last two years, after a partner wildlife research center stopped raising whooping cranes in 2017. Eleven captive birds raised at ICF headquarters were released into the wild in 2017, while there were four in 2018 and two this year.
"We used to have cohorts of 10, 15, even 20 birds when we were building the population. We just can't do that anymore, so we really, really need the natural reproduction," Lacy said.
To get a self-sustaining population that overcomes any natural deaths, she said there would need to be at least 10 wild-hatched whooping cranes each year.
"That is the ultimate goal," Lacy said. When ICF no longer has to supplement their population, "we will have arrived, and then we can start looking seriously at downlisting the species -- and that would be an amazing reason to celebrate."
Follow Susan Endres on Twitter @EndresSusan or call her at 745-3506.