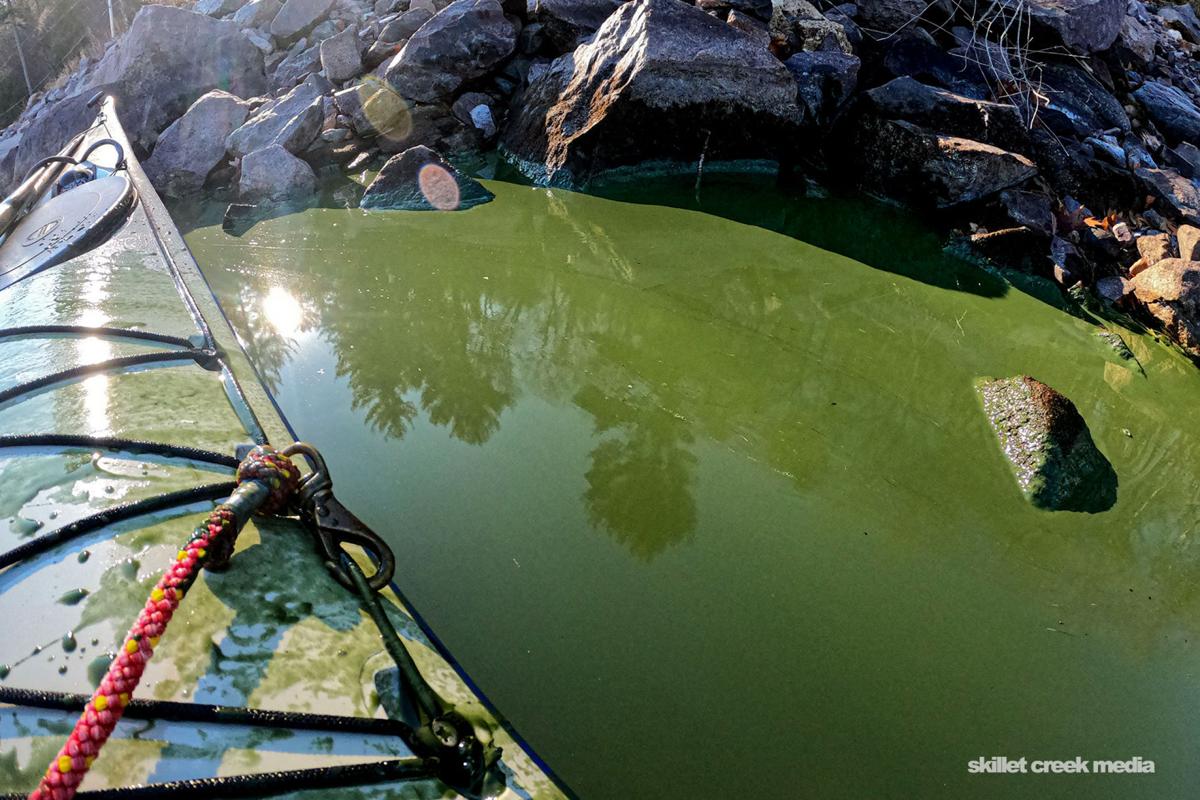 A blue-green algae bloom in Devil's Lake persisted for more than a month this fall — an uncommon sight in recent years — but despite some anecdotal reports of skin irritation, a water sample showed toxin levels remained safe.
Known for its usually pristine waters, Devil's Lake State Park draws more than 2 million visitors per year, many of whom swim, kayak and fish in the lake. Linda Higgins, Baraboo, said she noticed the algae in early December. It looked like "fluorescent green paint in the water," gave the whole lake a green tint and smelled "really bad," like sewage, she said.
A resident since 1985, Higgins said she's never seen the lake like that. But Richard Lathrop, a retired lake scientist who has been monitoring the water for decades, said blue-green algae blooms happen occasionally at the park.
"We've seen these kinds of algae blooms in the past in the fall. It's not that unusual," Lathrop said, adding that this one got more attention and was seen by more people than usual because it persisted for so long.
Legacy phosphorus
Lathrop works part time with the Wisconsin Department of Natural Resources to regularly sample Devil's Lake water and operate a pipe, installed in 2002, which acts as a siphon to remove phosphorus from the lake and keep it from flooding. The 374-acre body of water reaches depths of up to 47 feet, but it doesn't have a natural outlet, so the higher levels of precipitation in recent decades caused it to frequently flood the north shore parking lot prior to the pipe's installation, he said. Lathrop has modified the pipe a couple of times over the years to increase its flow rate and efficiency.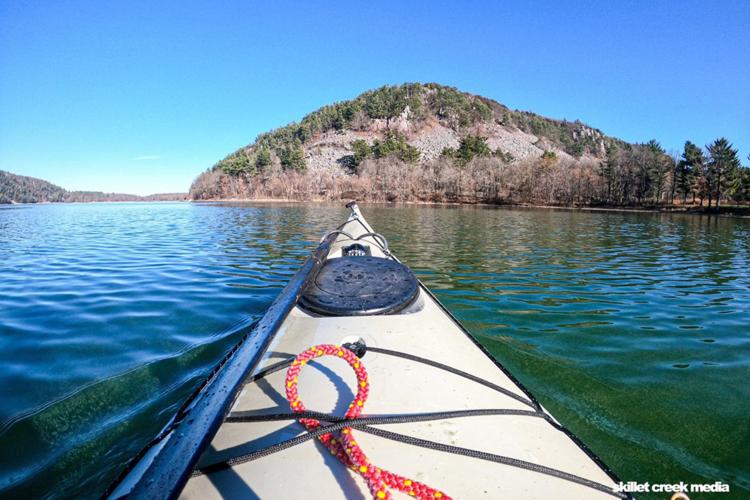 Blue-green algae, or — more accurately — cyanobacteria, feed off of nutrients like phosphorus, of which Devil's Lake has "tremendous amounts," left over from more than a century of pollution from resorts and cottages that used to surround the lake, Lathrop said. A broken sewer drain also leaked sewage into the lake for nearly a decade in the 1970s and contributed to many blooms at the time, he added.
Since running the pipe, the water quality has improved, but Lathrop said Devil's Lake still has about three to four times as much phosphorus in its deep-water bottom sediments as Lake Mendota in Madison. He expects it will take "decades and decades" for the pipe to remove all of the legacy phosphorus.
Lathrop said he's running the pipe more often now and at a higher flow rate to prevent flooding due to higher precipitation, one of the many effects of climate change. That means the pipe is siphoning more surface water, rather than deep water, which means it's removing less phosphorus than before. However, he doesn't think the change has been significant enough to contribute to this year's bloom.
Testing for toxins
Lathrop said he could see algae forming throughout the water column — meaning from surface to bottom — when he sampled it Nov. 3. He could tell a bloom might be coming, but it wasn't dense enough yet.
Something's going on with the water quality at Devil's Lake State Park. I've got some emails out there to see what I can find out.. I haven't seen this kinda green in Devil's Lake in.. well, since the pipe was put in… pic.twitter.com/qAkqiM2SDq

— Skillet Creek Media (@skilletcreek) November 30, 2020
He sampled it again on Dec. 1. Taken where algae had by then concentrated along the south shore, the sample was tested for four common toxins, three of which were not found. The fourth, microcystin, was detected at a "very low level," known as the level of quantification, which is the lowest point it can be accurately measured in the lab, Lathrop said. He noted the level of toxin was more than 15 times lower than the Environmental Protection Agency's health limit, meaning it would be considered safe for swimming, even for children.
"One would easily conclude that the water was not a health concern at the time of sampling for any people swimming, which they weren't because the water was cold, or for any dogs that might come up and drink the water," he said.
Gina LaLiberte, statewide algal blooms coordinator for the DNR, said for such a concentrated sample of blue-green algae, the very low toxin levels are "good news." The tests found two species of cyanobacteria.
Causes
LaLiberte said she thinks the blooms were the result of natural processes from an unusually warm fall and the high level of nutrients in Devil's Lake.
Like other deep lakes, it stratifies during the summer, meaning distinct layers of water sit at different temperatures and don't mix throughout the water column. As it cools in the fall, that layering breaks down (known as "overturn"), helped along by wind that mixes the water column.
The stratified bottom layer can — and does, at Devil's Lake — have a higher level of nutrients than the rest of the column. When they mix together, algae feeds off of it and grows, LaLiberte said. She noted that cyanobacteria are present in every water body in the state, at least in low levels.
According to state climatology records, the region has had temperatures 4-5 degrees Fahrenheit above normal over the last month, basically extending the growing period, she said. LaLiberte said warm weather during fall overturn helped the bloom form, and a persistent wind blew it around, causing it to accumulate in noticeable areas near the shore.
LaLiberte said the DNR is keeping an eye on the bloom's conditions. It isn't doing anything to treat it, she said, because that can be expensive and the chemical treatment can cause blue-green algae to release any present toxins to the water in "one big dose." She expects this one to dissipate on its own as the water continues to cool, if it hasn't already.
Bathroom issue
Derrick Mayoleth, who owns Skillet Creek Media and frequently blogs about the park, tweeted about the water quality issue Nov. 30 and wrote a blog post Dec. 1. Some people told him a swimmer reported skin irritation as early as August.
"I haven't seen this kinda green in Devil's Lake in.. well, since the pipe was put in…" Mayoleth wrote on Twitter.
Over the summer, Higgins swam in the lake daily until it got too cold in mid-September. She heard similar reports from other swimmers who kept going into October.
Mayoleth and Higgins speculated that the bloom may have been caused in part by people using the lake as a toilet while the bathrooms were closed over the summer due to COVID-19.
While LaLiberte said it's never good to add nutrients to the lake by urinating in it (or defecating, which can introduce pathogens), she declined to speculate on how much it would take to cause a blue-green algae bloom.
Lathrop was more certain: "I can tell you there's so much nutrients in the bottom of this lake that the peeing in the water would not constitute what caused this bloom," he said.
Safety
Blue-green algae exposure can cause stomach cramps, diarrhea, vomiting, headache, fever, muscle weakness or difficulty breathing in humans, according to the DNR. Pets can show similar symptoms.
LaLiberte said exposure usually occurs from ingesting water while swimming, inhaling algae in water droplets when water skiing or tubing and having skin contact with algae. Anyone who experiences symptoms they suspect were caused by blue-green algae can report their illnesses to the Department of Health Services via an online form. She said she didn't think there had been any reports this fall about Devil's Lake.
Everyone should assess the water conditions before getting into any body of water, no matter where they are, LaLiberte said. If it has visible scum, noticeable discoloration or green particles, don't swim there.
"It's important for people to always check out water conditions before they're going into water for swimming or other recreation," she said. "And especially if you have small children or pets going into the water to swim, be really observant of the water and if you have any concerns about it, just stay out and keep kids and pets out as well."
Scientists still don't know all of the triggers that cause cyanobacteria to produce toxins, she said. Conditions can change rapidly, making it difficult to monitor water safety.
Blooms can be reported to DNRHABS@wisconsin.gov, including size, duration, water body name, town name, county name and photos.
Editor's note: This story has been updated to correct the definition of "level of quantification" and to clarify how phosphorus levels in Devil's Lake compare to Lake Mendota.
Fave 5: Reporter Susan Endres shares her top stories of 2020
We reporters at Capital Newspapers have been asked to share our five favorite, most memorable or otherwise noteworthy stories from 2020, a year I think many of us would prefer to forget. As tempting as it was to choose only stories from the before (COVID) times, I compiled a list spanning the year that ranges from education in Baraboo and Portage to the local impacts of the coronavirus pandemic. This year has been nothing if not historic.
And yes, of course I chose more than five. I wouldn't be Susan Endres if I was decisive. 
We've seen dramatic changes to our daily lives, but through it all, we continue to report on the important happenings in our community and hold the powerful to account.
Here's hoping for a better 2021.
Follow Susan Endres on Twitter @EndresSusan or call her at 745-3506.