Sandhill cranes aren't a common house pet. But when the International Crane Foundation sent a couple of the birds to stay with a friend's family in 1981, Hazel Keays Northey found one in particular quirky enough to write into a book for her grandchildren.
Now that book, once just a family memento, will raise money for the Baraboo-based crane foundation. Northey's daughter, Alice Lundstrom of Waukesha, found the manuscript after her mother's death in 2011 and remembered Northey's desire to have it published. That offered an opportunity to support Northey's other passions: wildlife and conservation.
"As a family, we don't want to make profits from this," Lundstrom said.
"Shadow the Sandhill Crane" is based on the true story of its namesake, a bird rescued by ICF and then sent to the Jones family farm near Waukesha to reintegrate with a wild flock.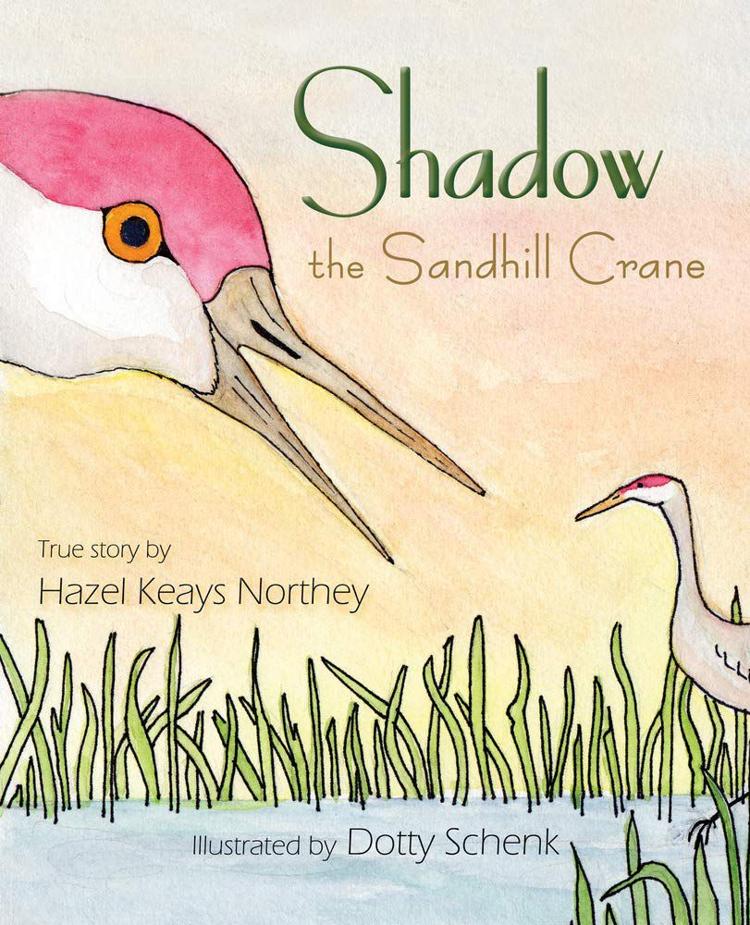 Instead of taking to his peers, Shadow started exhibiting behaviors more associated with dogs or cats, such as watching television and following around the family's youngest granddaughter, Lundstrom said. After the family fed Shadow green grapes, he acquired a taste for the fruit.
"Well, then they had to buy it green grapes, because that's what it wanted to eat," Lundstrom said.
Shadow eventually joined his flock. It's an optimistic story, not unlike the history of the sandhill crane species, which was feared to be nearing extinction in the 1940s but has since rebounded, according to ICF Crane Research Coordinator Anne Lacy.
Success story
"I don't think people realize the comeback that the sandhill crane has made as a population," Lacy said, noting the sandhill is now the most populous type of crane in the world. "We call it a true conservation success story."
She works with both sandhills and whooping cranes, which she said are the rarest breed in the world. Lacy said conservationists are trying to apply the lessons learned with the sandhill's success to help reintroduce more whooping cranes.
And while one bird won't save a species, she said "that mindset of every individual makes a difference and every animal is worth saving — that kind of attitude does matter."
"(Conservation) is something that everyone should be concerned about. It's not just a niche for people who are into science or into hiking and the outdoors," Lacy said.
The ICF no longer rehabilitates birds like Shadow, because the foundation breeds populations of endangered crane species at its Baraboo headquarters to preserve genetic diversity. Lacy noted that bringing in wild birds could introduce diseases that may threaten the breeding populations. ICF instead recommends partner organizations for rehabilitation.
Shadow's story still offers a window into an important topic, Lacy said.
"If families share (the book) together and even one person gets turned on to conservation because of it, so much the better. That would be excellent," she said.
'People of the earth'
Lundstrom said "Shadow the Sandhill Crane" is recommended for children in third through fifth grade. When her mother wrote it in 1981, Lundstrom read it to her two sons, then about 3 and 5.
After rediscovering the hand-typed and bound manuscript, she said she enlisted the help of her friend Therese Arkenberg, an editor, and submitted the manuscript to a few publishers. Bedazzled Ink Publishing, an independent publisher that focuses on works written by or about women, accepted it.
"What surprised me when we were actually doing the editing process was that Therese was looking over the document and maybe changed three words," Lundstrom said. "I thought 'Mom must have been a really good writer.'"
The book is available through the Independent Publishers Group and also can be purchased on Amazon or from other online retailers, but Lundstrom said she would prefer people buy it from independent bookstores to ensure the profits go to ICF. She also plans to encourage people to donate directly to the foundation.
As a nonprofit organization, ICF relies on donations, Lacy said. ICF Marketing and Communications Director Pamela Seelman said the money from the book will go directly toward the group's crane conservation work.
"It's a heartwarming story, and the illustrations are wonderful," Seelman added.
Lundstrom noted her parents' commitment to conservation. Despite the distance from Waukesha County, where Lundstrom grew up, she remembers her mother taking the family to visit the crane foundation in Baraboo.
"(Northey) was an animal lover," always trying to help animals in need, Lundstrom said. At one of her parents' funerals, she recalls the pastor commenting that the two were "people of the earth."
"I thought that was really a nice comment," Lundstrom said. "Because they were connected to the environment and everything in it."