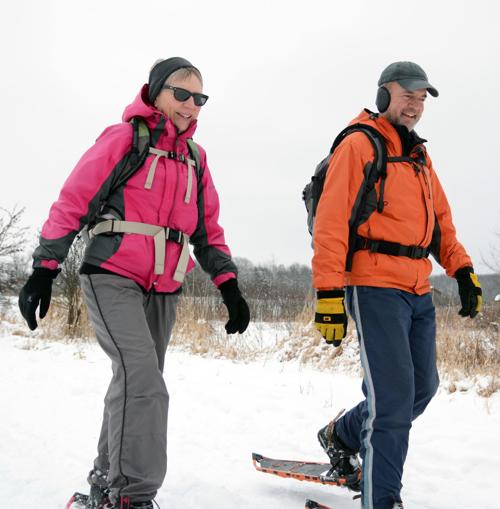 More people visited Devil's Lake and Mirror Lake state parks last year than the year before, increasing their revenues by almost 8% and 17%, respectively.
Near Lake Delton, Mirror Lake State Park attracted slightly more than 315,000 visitors in 2019, a 3% increase from the 305,000 visitors in 2018, said park Superintendent Ryder Will. He attributed the increase to weather.
"Weather is such a big factor. … 2019 didn't give us all great weather, but I think probably what ended up happening is we had probably better weekends," Will said.
He also noted the park added electric service to 14 of its campsites last year, which then "saw a lot more use" and cost more to reserve.
The total number of nights each Mirror Lake campsite was used increased by about 700 in 2019, or more than 5%, according to Chris Pedretti, Wisconsin Department of Natural Resources program manager.
Park revenues, which come from admission passes, camping and other sources, totaled $772,780 in 2019, according to Pedretti. That's about $112,000, or 17%, higher than the year before.
If there's enough snow, Mirror Lake staff groom about 19 miles of trails for cross country skiing. Will said the park almost doubled its trail pass revenues from 2018 to 2019, going from about $7,000 to almost $12,000 just for annual passes.
"This year, we're off to a decent start," Will said of snow conditions. "We obviously didn't have snow for a while, but now we've gotten some decent snowfalls and finally got a chance to get out and do some grooming, so we're seeing some people out skiing."
Devil's Lake
Visitation to Wisconsin's most popular state park rose by about 30,000 from 2018 to 2019. Steve Schmelzer, Devil's Lake State Park superintendent, estimated about 2.6 million visitors came through the park last year.
Its total revenues went from $3.87 million in 2018 to $4.17 million last year, an almost $300,000 bump, according to Pedretti. Schmelzer said revenues at the park rose by almost as much from 2017 to 2018.
He pointed to same-day reservations — part of a pilot program started last year — as a reason for the increase.
"I think that the ability for people to do same-day reservations helps out a lot," Schmelzer said. "Any sort of convenience like that, I think, goes a long way."
Prior to last year, when someone called in to check campsite availability for that day, DNR staff couldn't reserve a space for them. By the time they arrived, any sites that were open when they called could have been taken. Now they can make same-day reservations through a new online system or by phone.
Looking ahead
To make coming to the park even more convenient, Schmelzer said the DNR has been developing options for people to purchase park stickers before they arrive.
While Devil's Lake State Park currently has an automated kiosk at both the south and north shore entrances where visitors can purchase daily or annual passes, visitors have to stop in at a registration station to pick up their annual park stickers. Schmelzer said the agency is working on a new kiosk that will dispense stickers.
"The hope is to have that up and running for this spring/summer season, so I think that would help out when the office is busy or when it's not open," he said.
Schmelzer said the snow currently is drawing cross country skiers and snowshoers to the park. The Nature Center offers snowshoes that are free for visitors to borrow, a popular recreational offering, he said. A candlelit hike, sponsored by the Friends of Devil's Lake State Park, will start at 6 p.m. Feb. 8 on the north shore.
"With the snow and everything, we expect to have a good crowd of people for that, so that's a nice event for families and other people to come out and enjoy the park in the evening with the candlelit trail," Schmelzer said. "It's a neat opportunity."
A candlelight hike is scheduled at Mirror Lake from 6 to 8 p.m. Saturday.
Mirror Lake's volunteer Friends group is working on a project to add a trail with interpretive signs about the location's nature, geology and history by June, Will said. At almost a mile long, Pulpit Rock Trail in the Fern Dell area has been used unofficially but now will be a marked trail.
"I don't know that that'll drive a ton of new use, but it'll certainly be a nice new feature for people to use here in the park," Will said.
Follow Susan Endres on Twitter @EndresSusan or call her at 745-3506.
Be the first to know
Get local news delivered to your inbox!