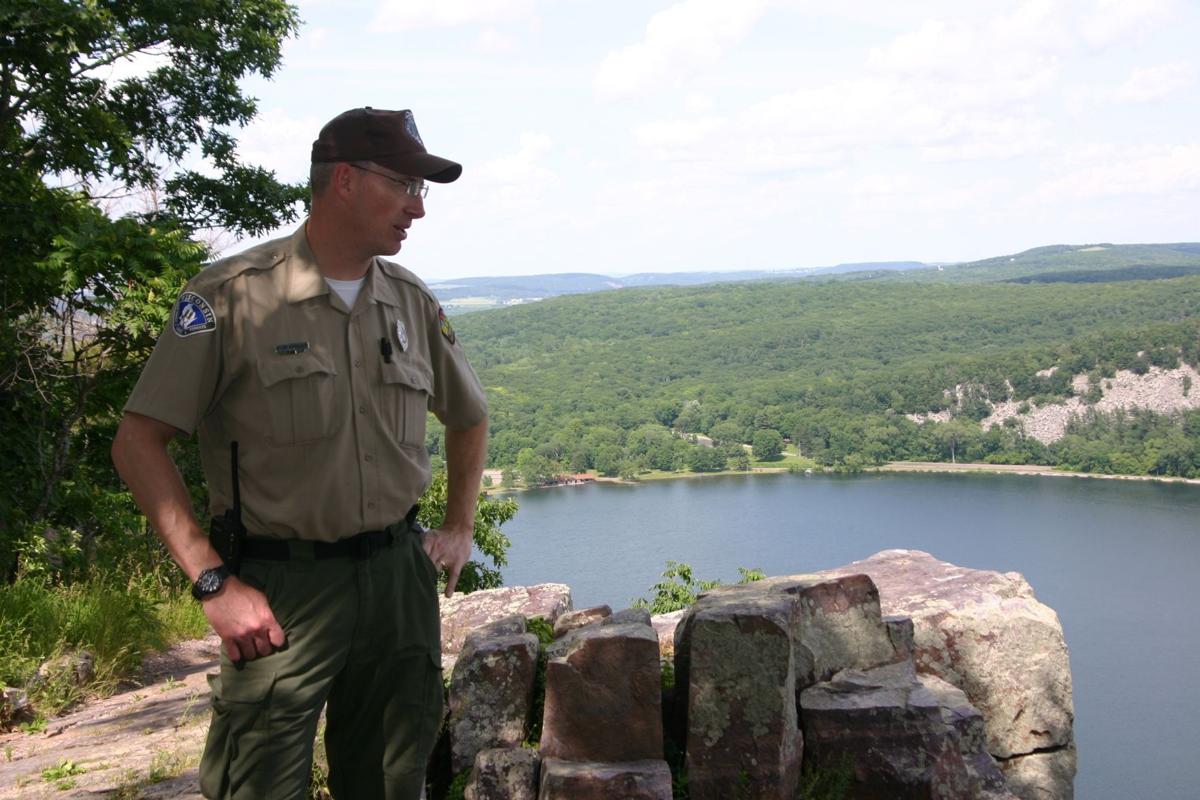 A Baraboo resident is the state's new parks director, his second promotion in under two years after almost three decades of working at Devil's Lake State Park.
Steven Schmelzer, who served as Devil's Lake superintendent for 12 years until early 2020, took on his new role with the Wisconsin Department of Natural Resources on July 19, the DNR announced Tuesday.
"It's a good feeling," he said Thursday, adding that he can attribute much of his success to his colleagues within the DNR and partners outside of it. To the ones who trained, mentored and helped him along the way, he said, "I owe a debt of gratitude."
He first started working in state parks as a Devil's Lake park ranger in 1992, according to a DNR news release. He became the park's assistant superintendent in 1999 before being promoted to superintendent in 2008. Last year, he rose another rung to district park supervisor, overseeing eight counties in southwest Wisconsin.
Now as bureau director, Schmelzer oversees all 49 state parks, 15 state forests, 44 state biking trails, hundreds of boat launches and thousands of acres of recreation property within the Wisconsin park system.
State parks have been 36% busier this year compared to 2019 and 18% busier than last year with the DNR logging more than 9.6 million visits so far in 2021, the release said. Wisconsin's largest and most-visited state park, Devil's Lake draws more than 2.5 million visitors each year, according to the DNR.
Diane Brusoe, Fish, Wildlife & Parks deputy division administrator, said in the release that DNR staff have remained resilient and adaptable despite the "challenging year."
"We are excited to have Steve continue the momentum," Brusoe said. "He's the right person to lead our state parks into the future."
Schmelzer said his operational and field experience across the state make him the right person for the job.
His proudest accomplishments from his time at Devil's Lake include his team's response to historic flooding in 1992 and 2008, their work to rebuild and collaborate with other groups in the restoration of Clark Creek, Schmelzer said. He helped convert about 120 acres into native prairie to mitigate future flooding and worked on phosphorus removal to improve the lake's water quality and clarity, he said.
For another project, he came up with a novel way to get gravel and asphalt to the top of the West Bluff Trail for repairs, work that requires hauling it up by hand: Park staff put about 1.5 tons of patching material in buckets at the bottom of the trail with signs inviting visitors, for a potential reward, to carry a bucket as they hiked. In less than a week, all of the buckets had been hauled up, he said.
"We continue to do that," Schmelzer said. "We had a great response from the public just coming by, carrying buckets up as they go. … I think it was just a great program that involved a lot of different partners coming together."
Throughout his 29 years with the DNR, he's collaborated with DNR staff members, partner groups and other stakeholders, including the Ho-Chunk Nation, the U.S. Army and the U.S. Department of Agriculture on the transformation of the former Badger Army Ammunition Plant to the Sauk Prairie State Recreation Area, he said.
The new parks director has a Bachelor of Science degree in natural resources and recreation resource management from the University of Wisconsin-Madison, and is a graduate of the DNR Leadership Academy and the Sauk County Institute of Leadership, according to the news release. He also served 14 years in the U.S. Air Force and the Wisconsin Air National Guard.
While Schmelzer no longer works daily at Devil's Lake, he said he still visits a few times a week for work and recreates there regularly. He and his wife, Julie, live in Baraboo, where they raised their three now-grown children.
He said he intends to continue going out to DNR properties across the state to interact with staff and DNR partners, gathering their input and concerns to help inform "statewide guidance and oversight."
On his management style, Schmelzer said: "I'm willing to listen to anybody and take input from anybody, because I don't have all the answers."
Follow Susan Endres on Twitter @EndresSusan or call her at 745-3506.