The town of Merrimac is "fed up" with the U.S. Army's inaction toward toxic environmental contamination at the nearby former ammunition factory and is attempting to lobby Congress for direct funding to create a public water system instead, according to Town Administrator Tim McCumber.
"You guys could solve this so easily, but here we are, dragging it on, dragging it on," McCumber said to Army representatives April 29 in a virtual meeting of the former Badger Army Ammunition Plant's Restoration Advisory Board.
Local residents and RAB members expressed concern last week about groundwater contamination and other ways the land's former use could pose a danger to their and their neighbors' health, as well as the wellbeing of local wildlife. Regular groundwater monitoring has found hazardous levels of contaminants at the site, located roughly halfway between Baraboo and Prairie du Sac.
Private wells in and around Merrimac have been found "on multiple occasions" to have levels higher than is safe to drink, according to a resolution recently adopted by the town board.
More than 10 years ago, the Army proposed creating a $20 million municipal water system, a solution that would provide homes near the site with a source of clean water so they wouldn't have to rely on potentially contaminated private wells. But in 2017, it backed out of the agreement because providing such a system "would be inconsistent with our authority," according to reporting by Capital Newspapers.
Bryan Lynch of the U.S. Army Environmental Command echoed that language during the latest RAB meeting.
"We understand the situation," Lynch said in response to McCumber, "and we have to move forward where we have the legal and the funding authority that directs us, so we have to take that into consideration with our decisions, as well, but we are committed to … cleaning up the environment in the area."
Story map
One of the latest efforts was to develop a "geo-narrative," also known as a story map, which allows the user to see the changes over time to the contamination plumes being monitored at the property. Staff with the U.S. Geological Survey modeled the groundwater to simulate its movement from 1984-2020.
They demonstrated how the story map will work once it's live online, which is expected to be by the end of this month.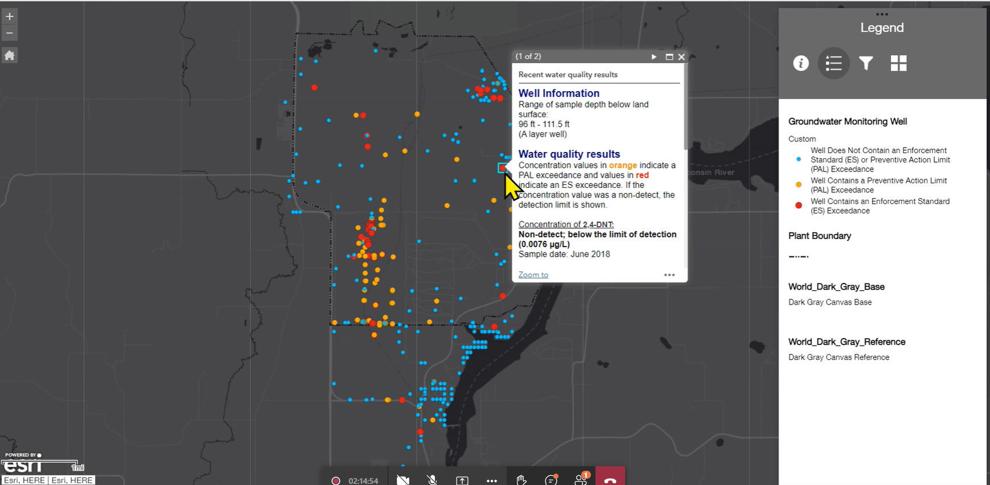 "It's a new way for you guys to see the data and what we're doing out at Badger, and we're pretty excited," Lynch said. "We think it should be an easy way for you to get the information and an easy way to present it to have it make sense."
Michele Hopp, the board's community chairwoman, said she's excited, too.
"We've had a handful of RAB members preview it and help give some input into it, and I think that it's going to be a really important tool for us to see the water quality data and also the plume movements. I think it'll be really, really useful," Hopp said.
USGS' Howard Reeves said the model includes water measurements from more than 400 wells and state pumping records for municipal and high-capacity irrigation wells, as well as those for remediation systems. It will track how the water is moving, "compared to where the plumes come out," he said, noting that new hourly data will be added to the map every three months.
Developers emphasized that knowing what exactly is present in the soil and groundwater and how it's moving will help determine what cleanup measures need to be taken.
Joel Janssen of SpecPro Professional Services, which monitors groundwater for the Army, said landfills located on the far eastern side of the property need upgrades and repairs due to decay. That work is expected to be done over the summer. The Army discarded materials including demolished buildings, contaminated soil and asbestos into the landfills for more than three decades until 2013, he said.
Not soon enough
But board and community members said they wanted the Army to be more proactive in addressing the problem sooner rather than later. More than 40 people watched the virtual meeting.
Laura Olah, a RAB member and director of Citizens for Safe Water Around Badger, said when some of the environmental problems were discovered more than 30 years ago, the Army took an interim step to keep them from getting worse while working on other solutions. With dinitrotoluene, an explosive known as DNT, found at high levels in groundwater near one of the plumes, Olah said she's worried about the contaminant moving toward residential areas while the Army continues to focus on more studies. She asked leaders to consider an interim step to stop it from becoming a health risk to the community.
"Because the longer we wait, the further it goes, the more expensive it becomes, and then what happened the first time around is everything that moved off site — they said, 'Well, too far gone. We can't do anything,'" Olah said, "and we don't need a repeat of that."
A groundwater sample already detected unsafe concentrations of DNT in a residential well nearby, according to a letter the Wisconsin Department of Natural Resources sent to Lynch in 2019 that was published by the Citizens group. DNT is considered toxic to most organisms.
Lynch said officials haven't discussed an interim step but are looking at big-picture solutions that could take roughly five years to enact.
"All the monitoring that's being done isn't going to reduce the contaminant levels, so we need to be aggressive about this much sooner to have any hope of stopping this now second coming of DNTs," Olah said.
Another concerned citizen, Mike Gleason, said the Department of Defense failed to inform the state DNR about hazardous soil contamination prior to a controlled burn the DNR held last summer at the former plant.
"Last summer, I was unknowingly breathing smoke from that burn, and to this day don't know what was in that smoke that I was breathing or what effect it might have had on my body," Gleason said. "And no one can tell me."
Lynch said officials are conducting more research to figure out the full nature of what was on the land because of how it reacted when burned. They should have answers in six months, he said.
Town resolution
McCumber said in 15 years nothing has been done to address the "human side" of the issue and urged the Army to re-examine the guidance it currently says prevents it from paying to establish a municipal water system, "because we're getting nowhere and we're getting nowhere fast."
Merrimac's resolution calls on Congress and President Joe Biden to "take immediate and proactive steps" to guarantee safe drinking water to local residents and provide the town with $60 million to start its own public water system, which is what McCumber estimated it would cost now — 10 years after the initial $20-30 million estimate.
The resolution refers to the American Rescue Plan, the $1.9 trillion federal coronavirus relief package passed in March that provided an estimated $103,000 to the town, which "falls dramatically short of allowing the Town of Merrimac to deliver on the Army's failed promises," according to the resolution.
"I'm tired of taking those excuses from you guys and so is the town, and the only thing that's saving the U.S. Army right now and the Department of Defense is the fact that we're a small town of a thousand people and we don't have the money to do it," McCumber said.
Follow Susan Endres on Twitter @EndresSusan or call her at 745-3506.