No matter the location of the visit, boat tours almost always have been a feature of Baraboo business owner Katy Carter's family vacations.
"They all have different experiences and different things that they can feature, and (I) kind of felt Devil's Lake was lacking this," Carter said, adding that she's glad to bring boat tours to the area. "It's another way for people to experience the park, especially those that are either unable to or don't want to paddle" a kayak or other watercraft.
While going through college, she said she worked as a seasonal park ranger at Devil's Lake for the summers of 2001 and 2002 and has been there ever since.
Carter launched her new business, Devil's Lake Boat Tours, in May by guiding her first tour using the 22-foot luxury pontoon known as Maiden Grace.
As the first of its kind at the park, her venture has not been without controversy — at least online. Posts by the company on the Fans of Devil's Lake State Park in Wisconsin Facebook page garnered dozens of comments expressing distaste for it. Most wrote they didn't want a motorized boat disrupting the park, while others objected to a private business monetizing the park's resources.
"If you read Facebook, there's always the negative naysayers and things like that, but personally no," she said of whether she's received complaints from park users. "When we've been docking and things like that, people think it's a great idea and some have expressed interest in it."
Steve Schmelzer, park superintendent, said no one has complained directly to him about Carter's venture but he has heard some people are concerned. He's not aware of any other businesses like this having operated at Devil's Lake — which draws between 2.5 million and 3 million visitors each year — at least during the 27 years he's worked there.
The pontoon has an electric trolling motor, which is allowed on the lake. Gas motors are banned, and boats are required to travel at slow-no wake speeds, Schmelzer said. Carter noted her boat is "real quiet" and doesn't cause a wake.
You have free articles remaining.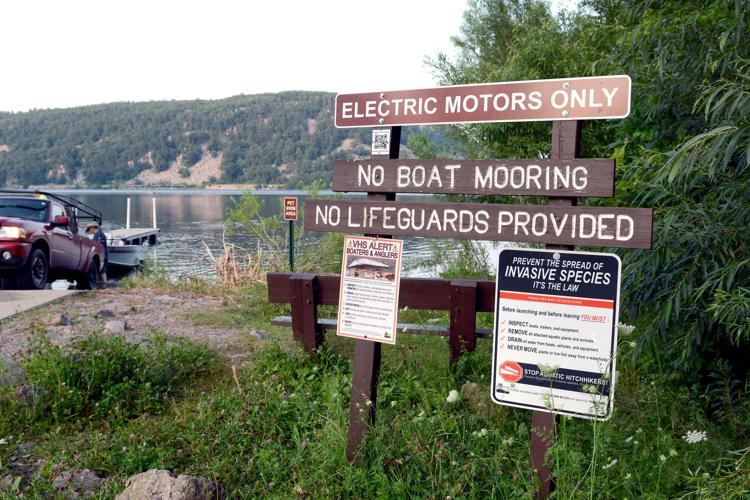 "Kayaks could probably go faster if they really wanted to," she said.
Offered by reservation only at 6:30 p.m. each day and more on weekends, the public tours last about 75 minutes and can accommodate a maximum of eight guests, according to the Devil's Lake Boat Tours website. Private charters also can be reserved by appointment.
Starting from the boat launch at the south shore pet swim area, Carter steers the pontoon south and then continues along the east bluff, pointing out iconic rock formations. The tour makes its way along to the north shore and then swings south along the west bluff. All throughout, Carter said she provides information about the geology and history of the park and lake.
While none of her patrons has yet asked for music to be played during a tour, Carter said they could do that as long as it wasn't "obnoxiously loud" out of respect for other park users.
Schmelzer said businesses don't need any kind of permit to use the lake due to Wisconsin's navigable waterways laws. However, if they use park land — not the water — for something such as a photo shoot, they need a commercial use permit.
The Devil's Lake Concession Corp., a nonprofit group, operates the park concession stands and gift shop. Boats and canoes, as well as a kayak adapted for people with disabilities, can be rented at the concession area.
Carter also owns a massage therapy business, Balanced Rock Bodywork, southeast of Baraboo.
Follow Susan Endres on Twitter @EndresSusan or call her at 745-3506.