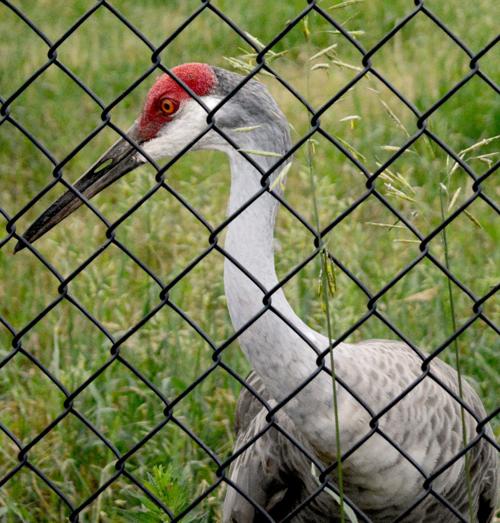 Efforts to organize a public education session in Portage on cranes after police shot and killed one have been shelved.
Portage police officers killed a sandhill crane in a local neighborhood Sept. 1, saying they had no remaining non-lethal options to address the animal that was reportedly causing damage to property.
Portage police apologized to the public Wednesday afternoon for shooting a wild sandhill crane at a city park during Labor Day weekend.
After the incident, Pamela Seelman, spokeswoman for the Baraboo-based International Crane Foundation, contacted the Columbia County University of Wisconsin-Extension about hosting an event on interactions between cranes and humans.
ICF decided not to move forward with the meeting and instead use its newsletters and social media to inform the public how to live among cranes, according to Seelman.
Anne Lacy, ICF crane research coordinator, said their efforts stalled out after they realized the Portage Public Library wouldn't work as a venue due to a big construction project. ICF's Baraboo headquarters also is undergoing construction.
She said she's still hoping Portage-area residents or members of the police department will pursue another venue.
Police officers shot and killed a wild sandhill crane in a Portage neighborhood Sunday after authorities said they had no remaining non-lethal…
"We're happy to do that in any community that has cranes, which is a lot in Wisconsin," Lacy said.
Emphasizing that the Portage incident was a specific and uncommon situation, she said residents should consider the particular behavior they want to deter in cranes. Knowledge of the bird's ecology can offer solutions, like using a bad-tasting repellent on seed corn, Lacy said.
That same repellent wouldn't be effective in keeping cranes away from the location they consider home. But when a crane starts pecking a car, the owner could cover it.
"By taking away the reflection, the problem ceases to exist for that crane," Lacy said. "And people and cranes can co-exist."
Follow Susan Endres on Twitter @EndresSusan or call her at 745-3506.