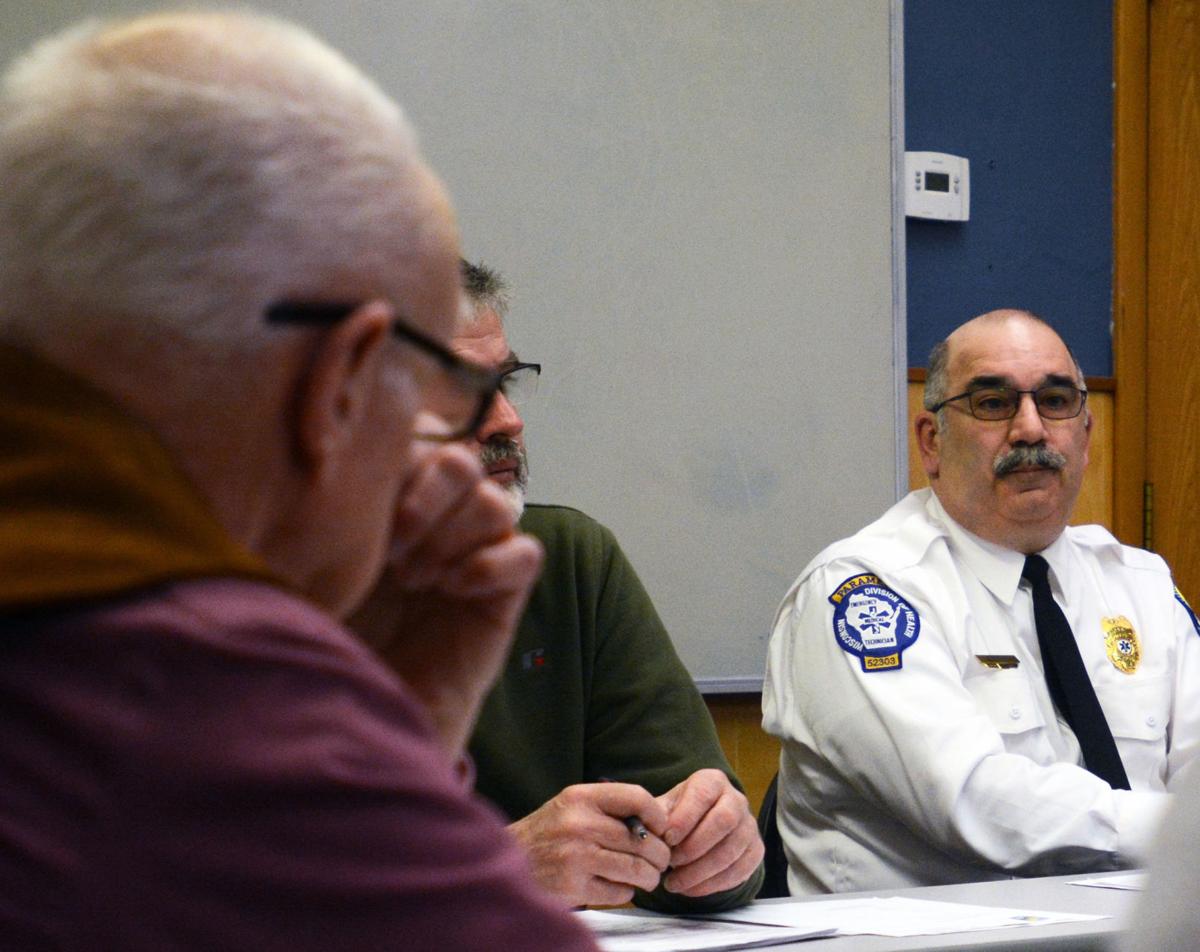 The Baraboo District Ambulance Service has shifted its focus to transition.
That topic consumed much of the Ambulance Commission meeting Wednesday as members met with interim EMS Chief John Rago.
Replacing former chief Dana Sechler as the third check signer through the agency's Wells Fargo bank account, transferring credit card limits to Rago and Financial Coordinator Troy Snow, discussing how to outsource for billing services and possibly canceling its contracts with Pardeeville District Ambulance and Camp Douglas Rescue were among the issues outlined on the agenda.
Rago, who has served with the agency for 25 years, addressed the changes.
"I've been through this type of transition before," Rago said. "I didn't enjoy it then, it's not going to be a whole lot of fun now. I believe in accountability. I believe accountability runs up and down our chain of command."
The biggest possibility for change came in the form of a letter from the city of Baraboo, BDAS' largest use contributor, notifying the service that Baraboo Common Council members intend to "consider seeking an alternative model/provider for EMS ambulance and transport services," according to the letter signed by Baraboo Mayor Mike Palm and dated Jan. 15.
In the letter, the reason for the informal notice is an audit by Baker Tilly of Chicago. The document outlined concerns regarding bookkeeping at the service, namely pointing to a lack of cross-training, clear communication and measures to prevent negligence and wrongdoing by those put in charge of financial documents for BDAS.
If the city were to find another option as it searches "over the next few weeks and months," a change could be made in 2021, according to the letter. Until then, BDAS will continue to work as the city's ambulance service. Per BDAS bylaws, a formal notice of termination would be required to be sent to the commission before the city ceased its contract with the agency.
The problems with finances were brought to public light in July, when members of the commission learned that the follow-up on bills filed with insurance or through Medicare and Medicaid was never done. It was not attended to after the military deployment of Jess Seefeld, who was gone from May 2018 to July while she served overseas.
Seefeld returned to find that the accounts receivable, bills owed to the agency, had ballooned to about $1.2 million. Baker Tilly experts conducted a forensic audit by speaking to employees and examining billing practices. Auditors found that there was significant opportunity for bills never to be entered into the system after a call, noting that BDAS staff indicated sometimes documents were found discarded in drawers. If the manager on duty did not enter the information, there was no mechanism to ensure it would be entered at all.
You have free articles remaining.
Seefeld, who serves as an emergency worker with the agency, spends part of her time attending to paperwork for submitted claims but for reasons like improperly checked boxes or incomplete information, had been refused. Agencies still have an opportunity to recover money owed with the claim, they just need to fix the error, which is what Seefeld did.
According to the audit, Seefeld was the only person who knew how to perform this work. Once she was gone, staff who had decided to split responsibilities were unable to attend to the unpaid bills. Amos Vande Hei, supervisor of billing and collections, told auditors in an interview that he had not filed bills for months at a time during Seefeld's absence.
At the meeting Wednesday, Commission Treasurer Robin Meier said once the 2019 write-offs are completely entered, "we will be in the red by the end of the process."
"I'm very comfortable with our expenses we have in here, I just think it's going to be the accounts receivable adjustments that will make a difference for us," Meier said.
Commission members also took action to address the transition by dictating the creation of an ad hoc committee comprised of four commission members, BDAS Human Resources Director Betsy Larsen and three BDAS staff members.
Of particular note is the choice of whether to outsource billing services to a private company. Another issue to be considered by request of commission member Joel Petty would be the employee structure within the organization.
"I would like to look at some of those transitions, as far as where do you folks need personnel, where are the gaps that aren't filled and what sometimes is some of the overlap that's going on," Petty said.
Fellow member Tim Stieve pointed to the ad hoc committee as addressing employee duties in an organizational chart, which would then help officials understand the cost of billing in-house versus through an outside company. Meier noted that costs can change depending on how much follow-up is required of workers within the private company.
Rago said an outside billing company would be "a major hit to our income" and would be less effective than BDAS staff.
"I think with Troy and Jess working together, I think a lot of our billing problems are behind us," Rago said.
Petty said he would prefer to see staff seek out offers from private companies, with representatives from each entity meeting with commission members to hash out details of contracts. If the expense of working outside the agency is too great, perhaps billing can continue to be handled in-house.
"If it's cheaper to outsource, but if we find out it's not cheaper to outsource, it's not that cost effective, I don't want to rush into something without any information," Petty said. "I think it's a reasonable option to look at outsourcing, but I guess I need to know that's going to be more cost effective."
Follow Bridget on Twitter @cookebridget or contact her at 608-745-3513.