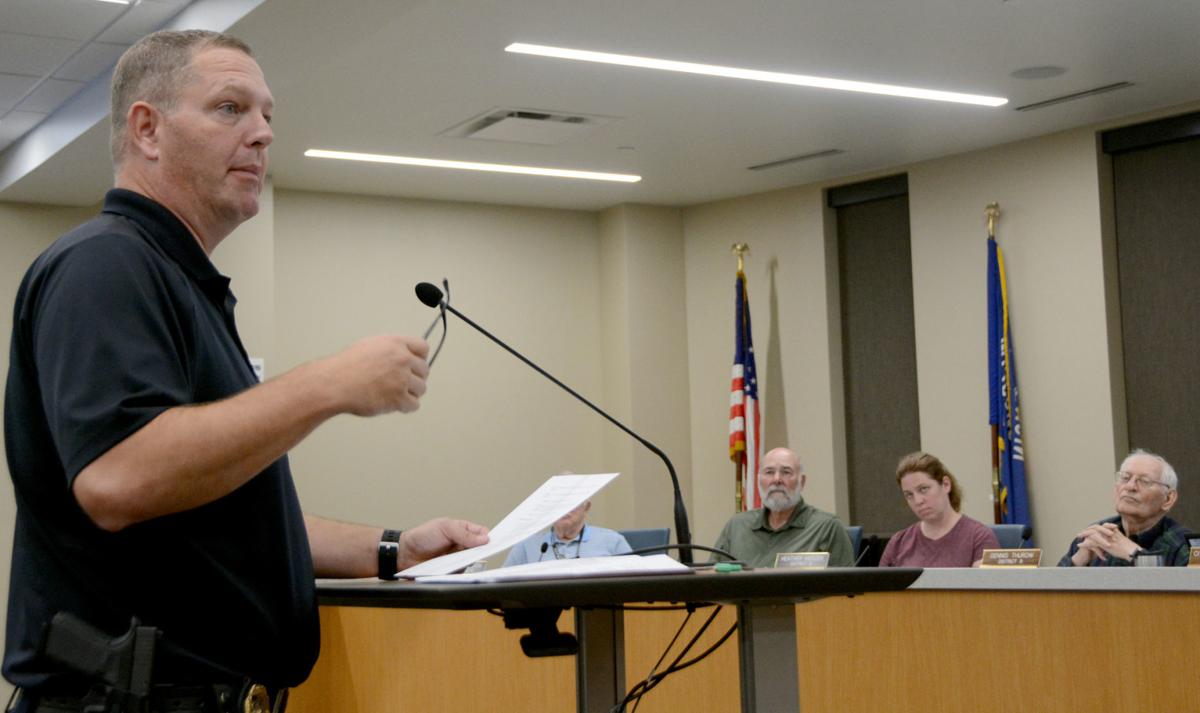 A nonprofit gun rights group still plans to sue the city of Baraboo for an ordinance requiring surveillance cameras at gun stores, but first it needs to find a retailer that has a problem with the law.
Wisconsin Carry Inc. President Nik Clark said the group believes the ordinance violates a state statute that does not allow any type of regulation on gun sales put in place by local governments.
"The problem is you have to have standing," Clark said Tuesday. "You can't just sue because you want to sue."
That standing would be provided through support by a gun seller in the city. However, neither of the two facilities that currently sell firearms have been willing to join the lawsuit as plaintiffs, something Clark said the group's lawyers would want to pursue legal action.
"I don't think they've thought of the greater implications," Clark said. "I think gun store owners are being short-sighted in allowing this ordinance."
Jim's Gun Supply along Eighth Street, owned by Jim Astle, has operated for about two decades. Astle has said in recent weeks that if Wisconsin Carry had asked whether he wanted to take part in a lawsuit, "the answer would have been a firm no."
DEZ Tactical Arms is currently building a new 9,000-square-foot facility along South Boulevard set to open in coming weeks. Plans for the indoor range and store presented to the city included security systems.
Baraboo Police Chief Mark Schauf said the city had received an open records request for a copy of the ordinance, but that no other correspondence had followed Wisconsin Carry's initial letter to City Attorney Emily Truman denouncing the proposed ordinance and threatening a lawsuit if it were implemented.
Baraboo Common Council members passed the ordinance unanimously Oct. 8.
You have free articles remaining.
Clark referred to the law as "pretty draconian" for business owners. Ordinance requirements include storage of footage for a minimum of 90 days, operation of cameras whenever the facility is operating and use of motion-activated technology when the shops are not open and placement of cameras in any area where firearms are present.
While Clark expressed concern the store could be shut down if the camera system fails, Schauf said the method of dealing with non-compliance would be multifaceted. First, the city would issue a citation. If the store owner were to neglect repairs to the system, they could face a court order. The goal would be to avoid that by speaking directly to the owner, Schauf said, noting the aim of authorities would be to explain the reasoning behind the need for surveillance.
The ordinance was drafted after concerns aired by Schauf. A theft at Jim's Gun Supply when the seller's back was turned prompted discussion of cameras at stores.
While the alleged thieves were apprehended by law enforcement in a timely manner, officials could not ascertain which person actually took the firearms. Schauf said surveillance footage would have made it easier to know which person committed the act.
"We just had a real-life example of a crime that could have been solved better with cameras," Schauf said.
The city has received no complaints regarding the ordinance from local residents, Schauf said, adding that the sole criticism has been lodged by Wisconsin Carry Inc.
Other concerns Clark raised include the use of surveillance footage against store owners. He also criticized Schauf's assertion that footage would resolve crimes, pointing out that under the Fourth Amendment, the store owner is not required to provide the footage to officers just because they ask.
"I think it's disingenuous of the police chief to say that," Clark said. "He knows he can go to a judge and request a warrant and get that footage."
Schauf said a warrant would require probable cause as it always does for a judge to approve the request.
The group's lawyers have told Clark that a potential customer in the area could be listed as a plaintiff in a lawsuit. Clark said Wisconsin Carry has someone willing to take part in the suit. But without participation from gun store owners, the group may have to simply wait, he added.
"We knew before we threatened suit that the stores didn't seem on board with it," Clark said. "We're currently discussing the opportunity with anyone interested in a future store in Baraboo. It affects anyone who may even be thinking about opening one there."