When a special committee began examining whether to shrink the Sauk County Board in 2017, a county attorney advising the panel described the board as one of Wisconsin's "big daddies" in terms of size.
Citing a lack of competition in many districts and other factors, the committee voted to recommend a reduction in board size from 31 to 27 members prior to the 2020 U.S. Census.
It's been 17 months since the board received that recommendation, and the matter has yet to come up for a vote. The Sauk County Board remains one of largest in the state.
The neighboring counties of Columbia and Dodge also have large boards, with 28 and 33 members, respectively. And that's despite modest size reductions both boards approved following the 2010 census.
A state law limits board size based on population. There are four categories: Counties with less than 25,000 people can have up to 21 supervisors; counties with between 25,000 and 49,999 people can have up to 31 supervisors; counties with between 50,000 and 99,999 people can have up to 39 supervisors; and counties with between 100,000 and 750,000 people can have up to 47 supervisors.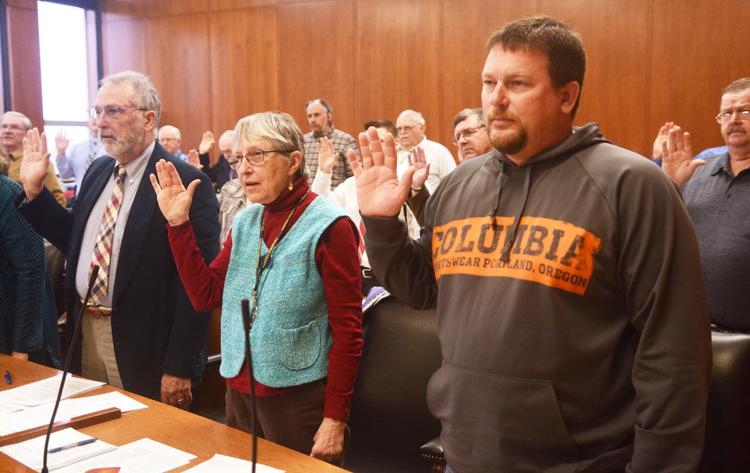 Dodge, Sauk and Columbia counties rank first, second and fifth, respectively, in terms of size among the 13 counties with populations between 50,000 and 99,999, according to data compiled by the University of Wisconsin-Extension Local Government Center in December 2018.
The largest county board in the state is Marathon County with 38 members. The smallest is Menominee with seven.
Pros, cons
David Canon, a political science professor at the University of Wisconsin-Madison, said county boards in general might be reluctant to shrink themselves, especially by significant numbers.
"It's a basic self-interest problem," he said. "The board is not going to be too likely to cut its own size if it means taking a third of them out of business."
Supporters of smaller board sizes often tout the idea that fewer seats will lead to greater government efficiency and more competition. In Sauk County, only nine districts featured competitive races in the last election.
Opponents point out that fewer districts also means greater district sizes and constituencies. They worry about increasing the workload on supervisors, and making them less accessible and familiar to voters.
The Dodge County Board previously had 37 members, but voted to shrink itself to 33 following the 2010 census. Dodge County Board Chairman Russel Koetke said that seems to be a comfortable size, and he has heard no indication supervisors are interested in any further reduction.
Ideal size
So what can research tell us about pros and cons of smaller board sizes? Canon says the results are mixed.
Most studies involving legislative body size have looked at state legislatures, he said, and some have examined the U.S. Congress.
Cannon said research suggests smaller legislative bodies tend to spend fewer tax dollars.
"Legislators want to bring back benefits for their constituents," he said. "So the more legislators you have trying to fight for their piece of constituent benefits, the idea is that the more government programs and government spending you should have."
Canon said there is some evidence pointing the opposite direction. However, he said there is another reason smaller may be better: Professionalism.
Canon said research suggests that smaller legislative bodies typically offer better pay, as well as better access to staff and resources for representatives. This may lead to more qualified candidates, and greater efficiency in government.
Koetke said he has heard that concept batted around before.
"But most of our members feel you shouldn't be running for the money," Koetke said. "You should be running to serve the people."
In Sauk, Columbia and Dodge counties, supervisors receive a stipend for each authorized meeting they attend and are reimbursed for expenses, such as mileage. The chairpersons, and in some cases the vice chairpersons, also receive an annual salary.
In 2017, Columbia County taxpayers spent $82,437 on their county board, including wages, per diems, mileage and other expenses. That same year, Sauk County taxpayers spent $152,026 on their county board, and Dodge County taxpayers spent $142,680 on theirs.
Limited opportunity
A state law allows county boards to shrink in size only once between each 10-year redistricting process. If the board won't do it, citizens can force a referendum on the matter by way of petition.
The law says a voter must register their intent to circulate a petition with the county clerk. The petitioner then has 60 days to collect signatures equaling 25 percent of the county's total vote for supervisors in the most recent spring election.
If enough people sign the petition, a referendum question will appear on local ballots asking voters if the county board should shrink by a specific number.
The restriction on the number of times a board may shrink between rounds of redistricting makes for an interesting situation in Sauk County, which has not yet reduced in size during the current 10-year cycle.
If the board ultimately does approve the special committee's recommendation to shrink by four members, but doesn't do so until shortly after the next redistricting process, citizens would be locked out of petitioning for any further size reduction for another decade.
Sauk County Board Chairman Peter Vedro of Baraboo was a member of the special committee and voted in support of the recommendation to shrink prior to the 2020 census. He said the board is likely to discuss the recommendation during an upcoming strategic planning session.
"It is my understanding that when we come to April and we have our midterm assessment, that will be on the docket," Vedro said.
The Columbia County Board used to be the same size as Sauk County's, but voted to shrink itself to 28 members following the 2010 census in order to combat the problem of vacant seats and candidate scarcity.
Longtime county Supervisor JoAnn Wingers of Randolph said she hasn't seen any major changes in the way the board functions since it shrunk in numbers.
"I don't think it made any difference one way or the other, other than you have less people to pay for county board," she said. "That's all."