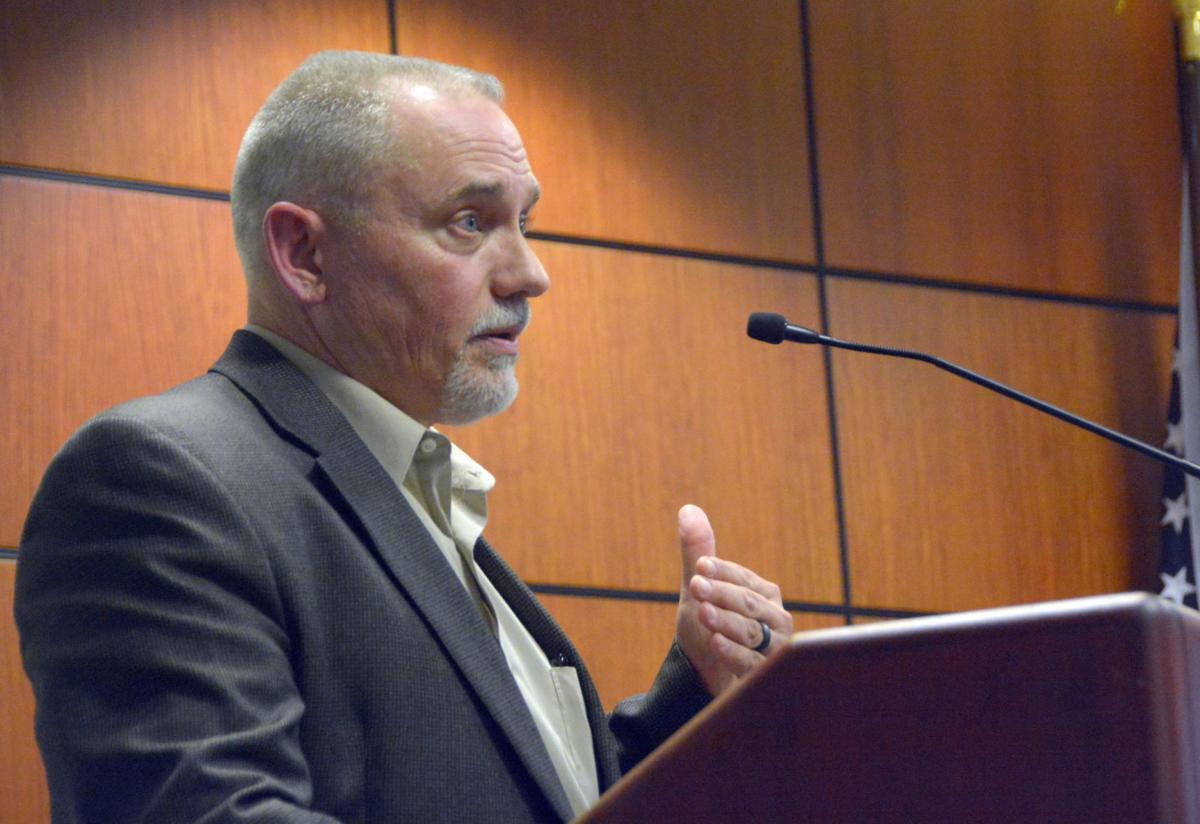 Shawano County Administrative Coordinator Brent Miller officially became Sauk County's first county administrator Tuesday.
Sauk County Board Chairman Tim McCumber, who oversees the Executive and Legislative Committee tasked with recommending a final candidate, thanked everyone involved in the hiring process, including those on the committee with him, department supervisors and those who advised the county during the process.
"We did listen very hard to all of that input," McCumber said. "Overwhelmingly, we've put before you the candidate that everybody was interested in."
All comments from Sauk County supervisors were optimistic as they discussed the hiring process and applauded Interim Administrative Coordinator Dave Bretl for his work in the position and for aiding county officials in their search for the best person to serve in the newly created position.
Discussion of the formal hiring of Miller was initially listed on the agenda as a closed session item, but supervisors did not choose to enter into closed session discussion. Instead, Corporation Counsel Rebecca Roeker outlined the terms of the contract.
The position is outlined by Wisconsin State Statute 59.78. The contract calls for an annual salary of $138,000 with benefits and a $1,000 stipend for moving expenses within the first six months of his employment. Roeker said there are three methods for contract termination: Miller resigning, being fired without cause by the county which requires 90 days notice or being fired with cause, which would require the county board to draft a letter with their reasoning at least 10 days before holding a vote. To pass, the majority of supervisors present at the meeting would have to approve of the termination.
Miller was one of four final candidates who visited the county and took part in two days of interviews Sept. 8 and 9. They answered questions from department supervisors and took part in a public forum where they each answered questions about how they would operate as county administrator.
During the forum, Miller said he and his wife wanted to live in Sauk County because it is close to his daughters and their families. He cited the recreation opportunities and complemented the landscape as well as the county's economic development. Miller has been in county administration work for 22 years.
Miller said in Shawano County he oversees the operations of 21 departments and a $56 million budget. He served in the National Guard for 11 years before retiring and 10 years in active duty where he earned a bronze star in Afghanistan for combat operations.
"I think he's excited for the challenge and has been very interested in Sauk County from the inception of the recruitment process," Bretl said of Miller. "I think you have a well qualified candidate to serve as your first county administrator."
The Executive and Legislative Committee did not announce its preference after its meeting Thursday, instead waiting to negotiate the final pieces of its contract offer to Miller. McCumber announced in an email late Friday that Miller was their choice and would be considered for formal approval through acceptance of the contract at Tuesday's board meeting. The board approved the contract 31-0.
Supervisors discussed their concerns over whether the contract addresses any issues over termination. Supervisor Marty Krueger referred specifically to former administrative coordinator Renae Fry, who left the county with a $135,000 separation agreement while he served as chairman of the board. She told a Minnesota newspaper after leaving that position that she and Krueger fundamentally disagreed about the separation of responsibility between their positions.
Krueger said their problems stemmed from a lack of direction in firing the person in that position. "That person lawyered up," and equated themselves to a department supervisor, he said during the meeting.
Krueger said he was glad to see the switch to county administrator from administrative coordinator because state law is "still nebulous" regarding the coordinator's defined position and its responsibilities.
"It's very clear in statute how they are hired and also how they are terminated," Krueger said of county administrators. "...59.19 is the administrative coordinator. You look at that and it's two sentences and there's nothing there."
Sauk County Supervisor Brian Peper said he felt the committee members tasked with finding good candidates found better than expected "and I think they've just done that." Peper also said Bretl did "an outstanding job" while serving as an interim administrative coordinator.
Follow Bridget on Twitter @cookebridget or contact her at 608-745-3513.
Get Government & Politics updates in your inbox!
Stay up-to-date on the latest in local and national government and political topics with our newsletter.