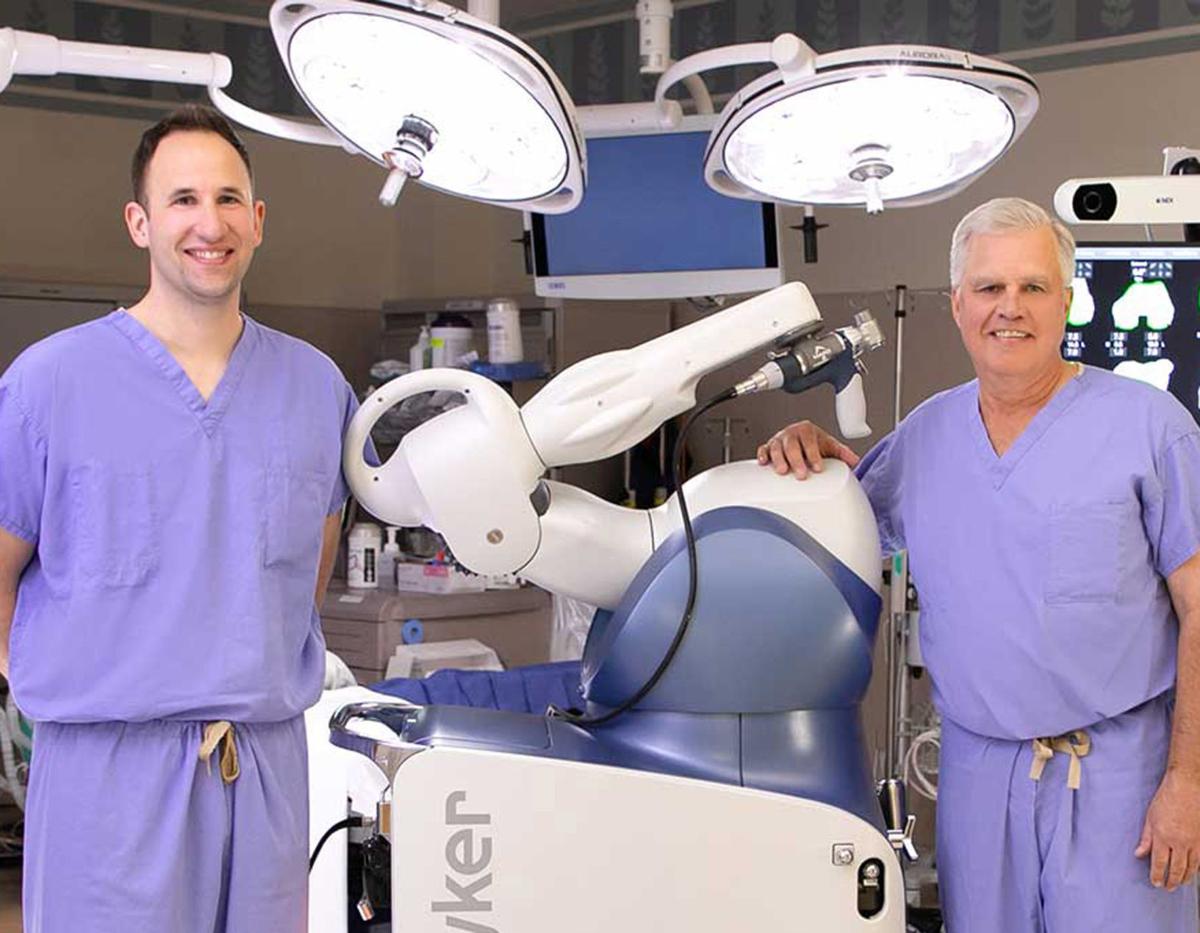 Highly advanced robotic technology is not science fiction in Sauk County.
SSM Health St. Clare Hospital in Baraboo is expanding orthopedic services with a new Mako Robotic-Arm Assisted Surgery System — equipment that orthopedic surgeons say will transform the way knee and hip replacements are performed.
Its appearance would probably disappoint fans of Star Trek.
"The robot actually blends in with the rest of the operating room," Orthopedic surgeon Dr. Aaron Carpiaux said of technology standing about 3½ feet tall. "It looks like the surgical suction equipment."
More important than looks is its ability to provide "patient-specific care," Carpiaux said. The robot is linked to a computer monitoring and sensor system that provides real-time feedback to surgeons in the operating room. CT-based imaging of a patient's bone anatomy "allows us to create a plan before we ever get in there," after which surgeons guide the robotic arm to make cuts at "sub-millimeter precision."
"We think (its value) boils down to less soft-tissue damage and blood loss during surgery, and ultimately, a better recovery," Carpiaux said of a system that automatically shuts down before errors in cutting could ever be made. "We're excited about it."
SSM Health St. Clare Hospital in Baraboo employs two orthopedic surgeons and is adding a third in September, said Laura Walczak, the hospital's president. The hospital also boasts physician assistants who are specifically trained in orthopedic care, physical and occupational therapists who aid patients in their recoveries, a full-time orthopedic care coordinator who walks them through every step of the surgical and recovery processes and more.
"Within these walls of St. Clare, we offer the full continuum of orthopedic services," she said. "From my perspective, I think this new technology will be of real benefit to our community. It equates to better healing time and gets them back to their life much quicker."
Walczak said costs of surgical procedures will not rise in relation to the purchasing of new equipment. Ultimately, the hospital's advances in technology should save patients money.
"Due to its precision accuracy," she said, "our patients in the long run should require less pain medication and spend less time in the hospital. They'll have better functionality sooner, and those are the cost savings we're really thinking about."
Carpiaux started work at SSM Health in Baraboo about two years ago — an orthopedic surgeon with eight years of experience including his residency. Before Baraboo, he spent a year treating athletes on the Indianapolis Colts football team in the National Football League.
Carpiaux is impressed by the new technology but not surprised.
"It's one of the best parts of this field," he said of technological advancements in orthopedics. "The surgery I'm doing now will probably be different in 10 or 20 years. The constant learning makes the job difficult but also very rewarding."
Follow Noah Vernau on Twitter @NoahVernau or contact him at 608-695-4956.
Be the first to know
Get local news delivered to your inbox!