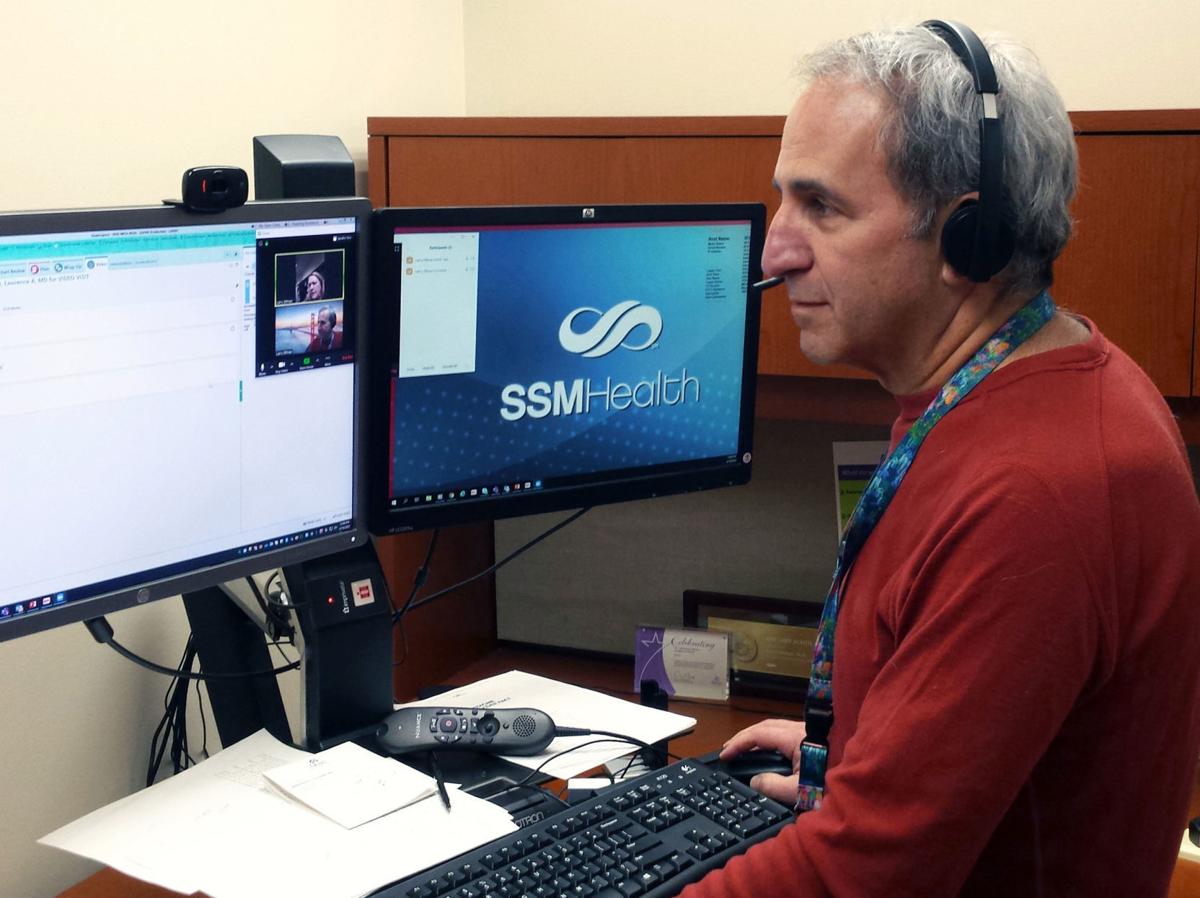 Telehealth in Wisconsin is on the rise and here to stay even after the public health emergency, SSM Health leaders say.
SSM Health Dean Medical Group, the clinic adjacent to St. Clare Hospital in Baraboo, completed only 24 telehealth visits from January through March 13 but has since completed about 1,700 telehealth visits.
"I think the genie has come out of the bottle and I don't think we want to put it back in," SSM Wisconsin Chief Medical Informatics Officer Dr. Larry Elfman said.
Elfman, from his office in Madison, has overseen a telehealth surge amounting to about 20,000 total visits this year throughout Wisconsin SSM Health clinics. The initial push was done to care for patients who might have COVID-19 to keep them safe at home, Elfman said, but SSM is now handling acute care and routine follow-up visits via telehealth where physical examinations aren't necessary.
"I've seen estimates saying we could come out of this pandemic with 20 to 30 percent of clinical visits handled through telehealth, and I would love to see that happen," Elfman said. "I don't know if it will happen (to that extent), but we will certainly continue to offer it with a much larger presence" after the COVID-19 pandemic.
Dr. Ethan Carlson, a family physician in Baraboo, is among a group of SSM Health medical informatics directors helping to integrate the technology in Wisconsin clinics. He estimated more than 50 percent of standard visits in Wisconsin SSM Health clinics have been moved to telemedicine.
"It's actually been around for a long time," Carlson said of telehealth, "utilized in rural areas where there are extreme shortages of doctors, and we even used it in Baraboo for infectious diseases when those (specialized) doctors aren't here on a regular basis.
"But then the need for it became much more acute."
Non-emergency care on site is postponed indefinitely and a growing number of patients have chosen not to visit the clinic anyway, for fear of catching the novel coronavirus, and doctors like Carlson and Elfman have appreciated their caution. During the pandemic, telehealth is a means for care that allows patients to stay at home without potentially exposing themselves to coronavirus or exposing doctors and other hospital staff to the disease, they said.
Telehealth also eliminates the need for certain patients to travel long distances to their clinic or wait in lobbies prior to their visits and allows for family members of patients to attend the visits, Carlson said.
"One of my patients recently said she would really like her daughter to attend the visit and so we emailed her a link during that conversation. … The family member jumped on the call and said, 'I would have never been able to do this because I live in another state,'" he said.
Since family members sometimes provide helpful information on behalf of the patients they're intimately familiar with, it helps everyone, Carlson said.
Current SSM patients have signed up for and followed through with their video visits through the MyChart online portal, in what is "usually a very seamless delivery" of service, Carlson said. Most visits are handled via a licensed and secure version of Zoom, which isn't cheap.
"It took an extreme number of hours for us to build the workflows and interfaces in our technology (for telehealth) and has been a massive undertaking," Carlson said.
The licensed Zoom is the primary medium for telehealth but SSM is adapting its offerings according to a patient's at-home technology capabilities, sometimes using only the telephone or other video applications such as FaceTime.
"There is a significant number of patients who really have difficulties in mastering this type of technology," Carlson said. "So our nursing and rooming staff in the clinics are working hard behind the scenes to explain what they can do to get hooked up with all of this. It's not always easy for an 80- and 90-year-old patient, but once they do it they're tickled and delighted and they have enjoyed it."
SSM Health spokeswoman Kathryn A. Scott stressed that if somebody needs to be treated in person, the hospitals and clinics have procedures in place to treat patients on site safely. The number of people reporting heart attack symptoms is down nationwide, she added, "which makes you wonder."
"Are they too afraid to come in when they have chest pain? Because that's concerning," Scott said. "We want everyone to get the care they need."
Follow Noah Vernau on Twitter @NoahVernau or contact him at 608-695-4956.