Wisconsin opened COVID-19 vaccine eligibility April 5 to all residents age 16 and older, a month earlier than previously expected.
People covered under previous phases of the state's vaccination rollout plan can still get the vaccine and may be prioritized above newer groups, according to local vaccinators. Previous groups include frontline health care workers, residents of nursing homes and assisted living facilities, police officers, firefighters, corrections workers, anyone 65 and older, teachers, child care workers, some public-facing essential workers such as food servers, staff and residents of congregate living facilities and individuals with certain medical conditions that increase their risk of severe illness from COVID-19.
Some groups, including health care workers and educators, should contact their employers or facilities for details on when and where they can get shots. As eligibility has expanded, options for where to get vaccinated have also expanded: People can now choose to go through their regular medical provider, local pharmacies or community clinics, each of which have different procedures on how to sign up. A new law will allow dentists to join the ranks of potential vaccinators once they meet certain requirements.
Around a dozen locations in Sauk County are currently registered to provide vaccinations, including the county health department, three hospitals, several pharmacies and EMS stations, each with their own waiting list, sign-up process and requirements.
Many health care providers, such as SSM Health St. Clare Hospital in Baraboo and Reedsburg Area Medical Center, started out by contacting eligible patients in phases based on the state's prioritization recommendations and other considerations. Both hospitals and Sauk Prairie Healthcare now also administer the vaccine to people who aren't current patients.
SSM Health recently introduced a way for adults seeking their first dose to schedule an appointment online at SSMHealth.com. It is open to all Wisconsin residents, according to a news release. Appointments for second doses, if required, will be scheduled at the first.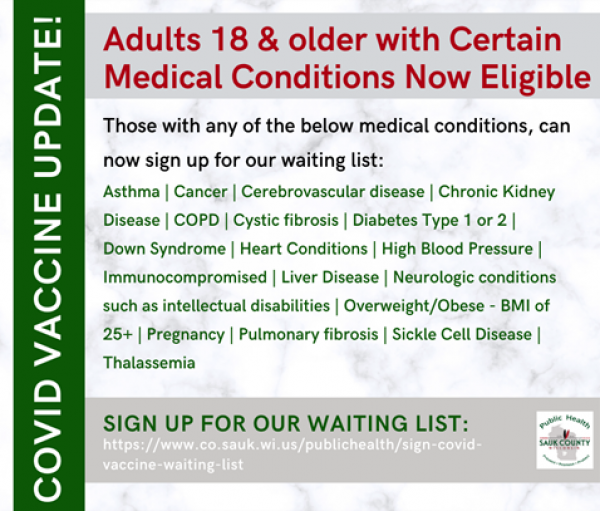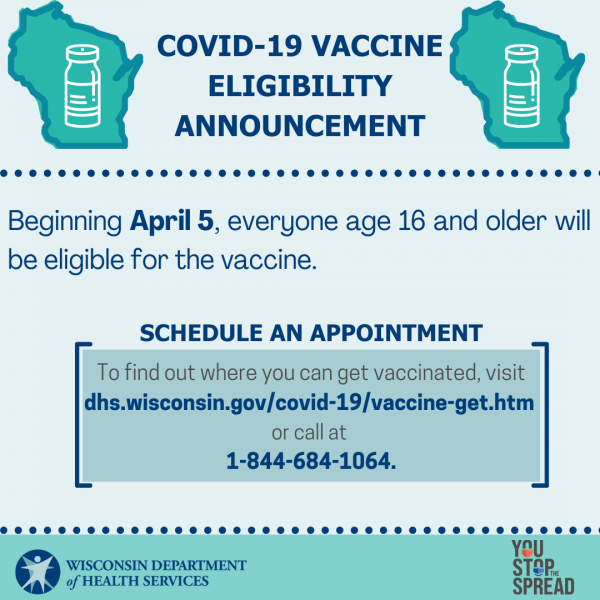 The House of Wellness near Baraboo hosted a community vaccination event March 31, which was opened to anyone 18 or older when half of the individuals who pre-registered failed to show up. The Ho-Chunk Nation has been working to immunize its members at the House of Wellness for more than two months, but also is assisting public health partners in vaccinating the wider community, according to a March 9 news release. Now that state vaccination efforts are ramping up, the Nation plans to shift its focus back to tribal members, their families and employees only, said Kiana Beaudin, executive director of health. However, anyone who received their first shot at the House of Wellness will be able to get their second there, too.
Emphasizing the variability in their weekly vaccine allotment, health officials are asking residents to be patient. Treemanisha Stewart, public health director for Sauk County, said vaccinators submit bi-weekly requests to the state for the amount of vaccines they would like, and each week the state informs them of the amount they'll actually get.
"Oftentimes, it is a far cry from what we actually requested," Stewart said in a virtual public forum in March. "Sometimes our vaccinators don't get any vaccines."
She also urged everyone to sign up for only one waitlist, or, if they signed up for more than one, remove themselves from the other lists as soon as they get their first shot. But in neighboring Columbia County, the health director recently suggested residents contact as many providers as possible to get on their waitlists, according to the Daily Citizen.
For questions about the COVID-19 vaccines, how to get vaccinated or related medical issues, call the state's toll-free helpline at 844-684-1064.
Where and when to get tested for COVID-19 in Sauk County:
Editor's note: This story was updated April 12 and corrected March 28 to reflect that individuals with certain medical conditions have been eligible for COVID-19 vaccination since March 22.
Follow Susan Endres on Twitter @EndresSusan or call her at 745-3506.