Retired teacher Victoria Wiegand noticed big changes in workload and communication between administration and teachers during her last few years with the Baraboo School District.
"I just think there were more initiatives," Wiegand said. "It seemed like every year I taught, there were changes, new things that had happened."
Wiegand had taught for 18 of her 43 years as an educator in Baraboo.
The way ideas were exchanged also was a concern for the retired teacher.
"The structure changed and, with the structure changing, the focus changed," she said. "Instead of an exchange of ideas, it was more of a directive."
Mark Patton, a teacher who retired from the Baraboo School District in 2010 after 31 years, but who still teaches as a substitute in the district, said he is concerned teachers don't have a "voice" in decision-making.
"Communication is key in any business, but the regular avenues have been shut down," he said. "There used to be department share meetings, but the administration did away with those."
Patton said he has heard complaints from other teachers, but few will voice their concerns. "People are worried about speaking up because they no longer have job security," he said.
"If people are afraid to talk, something's wrong," Wiegand said. "Probably, communication is what is lacking, that would be my guess. My opinion is that maybe they are lost in the initiatives and the data and the programs, forgetting that it's a people business and it's an organization with hundreds of employees and thousands of students. You can't delete the people factor."
A survey of teachers conducted by the Baraboo Education Association at the end of last school year shows many district educators share their concerns.
Baraboo High School teacher and BEA President Kari Nelson said the number of new initiatives teachers have been expected to implement in the past few years – many coming from the state or federal level – has been a big source of stress.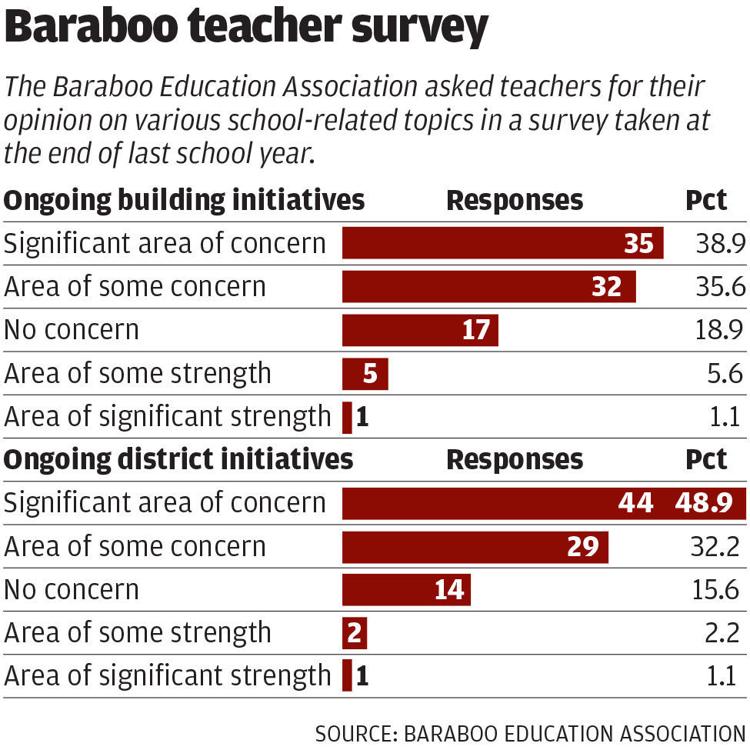 Responses to the survey, which was offered to all staff regardless of union affiliation, showed concerns about the number and effectiveness of the new initiatives. Responses also indicated a disconnect between administration and staff.
"There's initiative fatigue," Nelson said. "That is the sense we are getting from our members. It is initiative overload."
Low response rate
In a cover letter accompanying the survey results shared with the Baraboo School Board and District Administrator Lori Mueller, the BEA states, "In carefully analyzing these survey results, it is clear that the district and its educators need to pursue serious and ongoing dialogue about numerous pressing concerns."
About 100 of the district's nearly 250 teachers and staff members responded to the survey, including some nonunion members.
When asked about the survey's results, Mueller stated in an email, "The district values ongoing and collaborative feedback from the staff to continuously improve. We engage in numerous opportunities throughout the school year to gather such feedback. More specifically, we engage in a number of teacher workgroups to collaboratively decide next steps and areas of growth that benefit our students and families."
The survey asked if teachers' administrative teams were receptive to open dialogue. Only four of the respondents "strongly agreed," and 13 "agreed," while 25 "disagreed" and 14 "strongly disagreed."
Mueller said the survey was "conducted in isolation and did not include collaboration with the board or administration."
She also expressed concern the results did not reflect "the culture and perceptions of our staff due to low response rate, anonymous responses and age of the results."
Problem spots
The programs most cited by the teachers in the survey as problematic include Educator Effectiveness and the Charlotte Danielson Framework for teaching, the Positive Behavior Interventions and Supports program and the Bring Your Own Device initiative. Educator Effectiveness is an evaluation system for teachers, PBIS is an intervention program designed to decrease problem behavior and the device program allows students to use their cellphones during the school day as part of the learning process.
The Chromebooks given to students in the middle school this year also have increased the workload for teachers as they learn to connect with students through Google Classroom.
Nelson said these and a host of other ongoing initiatives are taking teachers' attention away from students.
"These initiatives demand a lot of time on the teacher's part," Nelson said. "A lot of the staff worry it is taking time away from the student-driven things teachers want to be doing. They want to give students more timely feedback and create highly engaging lessons and that takes time."
Patton said the Bring Your Own Device program undermines one of the primary goals of classroom education: Keeping the attention of students on their studies.
"As far as changes go, they talk about so much being data driven and yet, there are things such as cell phone use in the schools that defy any data," he said. "We spend a huge amount of time trying to get kids to put their cell phones away."
Broader initiatives
Several initiatives being implemented are driven, in part, by state and federal mandates.
"The teaching profession has experienced tremendous change over the past four years in the State of Wisconsin and nationally that has created frustrations and concerns for not only teachers, but administrators, board members and community members," Mueller said. "That is why our Board of Education works tirelessly to collaboratively engage with our staff to provide voice and empowerment to locally improve our educational services for students and families."
Wisconsin Education Association Council Region 5 Executive Director Bill Froelich said said Act 10, which limited public employees' abilities to collectively bargain on anything other than base wage, has negatively impacted communication between teachers and administrators.
He said BEA, which is included in Region 5 of the state teacher's union, is only allowed to negotiate on base wage, but other subjects can be discussed. He said he would like to see more dialogue between the Baraboo School District administrators, board and staff.
"We can discuss anything we used to," he said. "Some districts take it to the extreme measure. We're just saying we want to have more of a voice."
Froelich said it is more difficult than ever for teachers to feel comfortable discussing such matters.
"There are people that are feeling hesitant since Act 10," Froelich said.
Baraboo School Board member Peter Vedro said he wants more dialogue with teachers. In an email, he thanked the BEA for collecting the survey information. Vedro said he appreciated the communication and understands the frustrations with the initiative mandates.
"I appreciate the attempts to bridge the communication gap," he said.
He said state initiatives have "complicated issues tremendously by creating divisiveness that makes people feel less valued, that their voices can't be heard."
Vedro said every school in the state faces similar issues, but the problem goes even further.
"This is across the board, not just in schools," he said. "We have a committed board and administration that is trying to balance the challenges."
His solution is to engage in "more and more, deeper and deeper dialogue."
Be the first to know
Get local news delivered to your inbox!