A $10,000 gift will allow area students to see an educational theatrical performance for free this week in Baraboo.
Heather Henson's Ibex Puppetry is bringing "Ajijaak on Turtle Island," a New York stage show, to the Al. Ringling Theatre. The historic playhouse and the International Crane Foundation joined forces to bring the production to town, with evening performances Thursday and Friday to be preceded by daytime performances for students.
Working through the Greater Sauk Community Foundation, an anonymous donor gave $10,000 to support the educational component of Henson's visit. Both matinees are full, with more than 600 students from Baraboo and around the region set to attend each day.
"We're super excited about all these kids coming from all over the state and even from Minnesota for the youth shows," said Stephanie Miller-Lamb, executive director of the Al. Ringling Theatre Friends. "Thursday and Friday morning will be exciting."
"Ajijaak" was developed by the daughter of famed puppeteer Jim Henson and her college classmate Ty Defoe, a Wisconsin native. It's a spectacle of dances, puppets and kites that demonstrates the interconnected nature of all living things. Evening performances will benefit the Al. Ringling and International Crane Foundation, which claims Henson as a board member.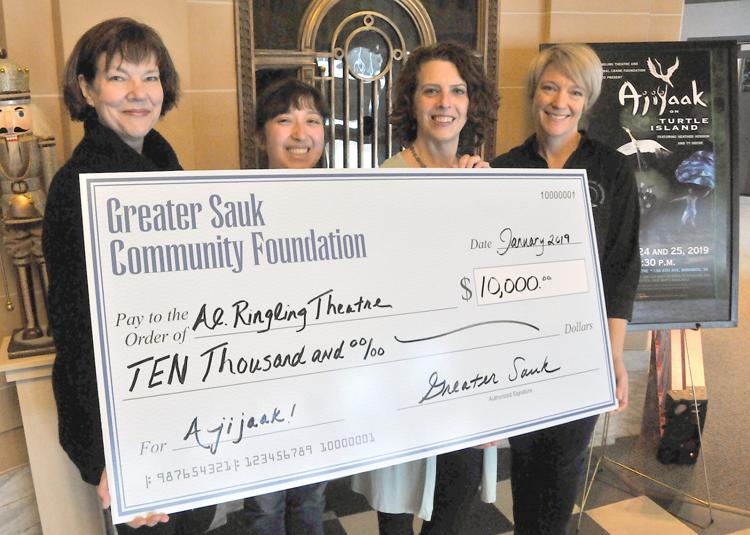 The local performances are the only ones that will be held in Wisconsin, and Baraboo is one of only four cities nationwide that will host "Ajijaak." In the production, the crane migrates alone for the first time, learning the importance of survival and perseverance.
The lavish piece uses non-traditional storytelling and blends performance styles to create an immersive experience that leave audiences thinking about their relationship to the environment.
During the day Thursday, students from three Baraboo elementaries and other schools around the area will attend. Friday's daytime show will bring students from all around Wisconsin.
"Our friends at ICF have done a great job in getting the word out to the schools, with some crane study materials going to the teachers in advance," Miller-Lamb said. "It's been a fantastic partnership and one that will benefit so many people across the state, our own little version of the Wisconsin Idea."
Tuesday's gift will support students' ability to attend. "We're thrilled to be bringing in this number of youth to enjoy this show free," Miller-Lamb said. "We're expecting bus after bus of happy kids."