Democratic U.S. Rep. Mark Pocan would like to see voters hand his party control of the U.S. House of Representatives next month, but he worries about how a lame-duck Republican majority might react.
Experts predict the GOP will narrowly maintain control of the Senate, but likely lose its House majority. During a Wednesday visit to Baraboo, Pocan said the largely idle 115th Congress might produce a late flurry of legislation upon returning to session after the Nov. 6 midterm election. Newly elected senators and representatives would take office in January.
"This could be their last crack at things," Pocan, of Madison, said. "My guess is we'll have a very active lame-duck session."
He lamented Congress' poor productivity since the 2016 election. "For the past year and three quarters we've passed a tax bill and that's about it," Pocan said.
That could change, depending on the midterm election. "There's all kinds of things that could happen," Pocan said.
Pocan faces no Republican opponent for his 2nd District seat. Another Democrat, U.S. Sen. Tammy Baldwin, faces a challenge from Republican Leah Vukmir.
The congressman visited Baraboo to tour its new Municipal Building, the construction of which was financed with help from a federal program.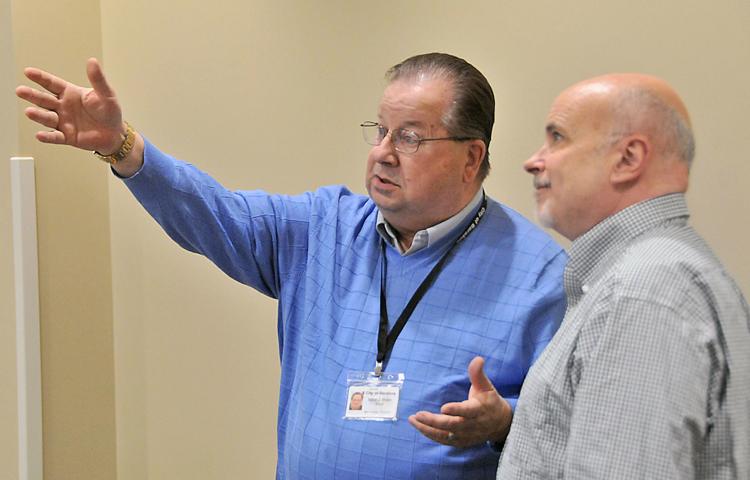 Fred Behn of the Sauk County Republicans said he's optimistic about the midterms. Many voters are asking for campaign signs and showing support for Gov. Scott Walker.
"I hear a lot of strong support for Leah," he said of the U.S. Senate campaign. "I'm cautiously optimistic that carrying the more rural parts of Wisconsin will help her get a victory."
Judy Spring of the Sauk County Democrats said local activists are concentrating their efforts on state-level legislative campaigns this fall. They've been canvassing on behalf of Art Shrader, a Reedsburg Democrat running against Wonewoc Republican Tony Kurtz for the 50th District Assembly seat. "I try to stay focused on the state races," she said. "If we take care of things locally, we'll make inroads that way."
Spring said prospective voters have told her they're not happy with leaders in Washington and Madison, and want to see the government to spend money on roads, health care and education. "As we're knocking on doors I'm hearing a lot of frustration," she said.
"I don't think it's going to be a sweeping victory for the Democrats," Behn said. "I think the Republicans are picking up ground."